AlgaEraser and LittleScrape are two new aquarium maintenance tools from Two Little Fishies which may look simple on the surface, but don't underestimate Mr. Sprung's attention to detail. Metal scrapers for cleaning aquarium glass are nothing new, they've been around for years but there's a big difference between grades of stainless steel that can withstand corrosion in freshwater, and those that can remain immaculate when regularly exposed to seawater.
You can't tell from just looking at it that the Two Little Fishies AlgaEraser and LittleScrape are incredibly rigid, practically inflexible, which should make it much easier to apply force while cleaning tough algaes from the aquarium glass. Each scraper comes with a set of three different blades: one thin stainless steel blade for regular algal films, one thick stainless steel blade for cutting through coralline algae, and one molded plastic blade specially designed for use on acrylic tanks.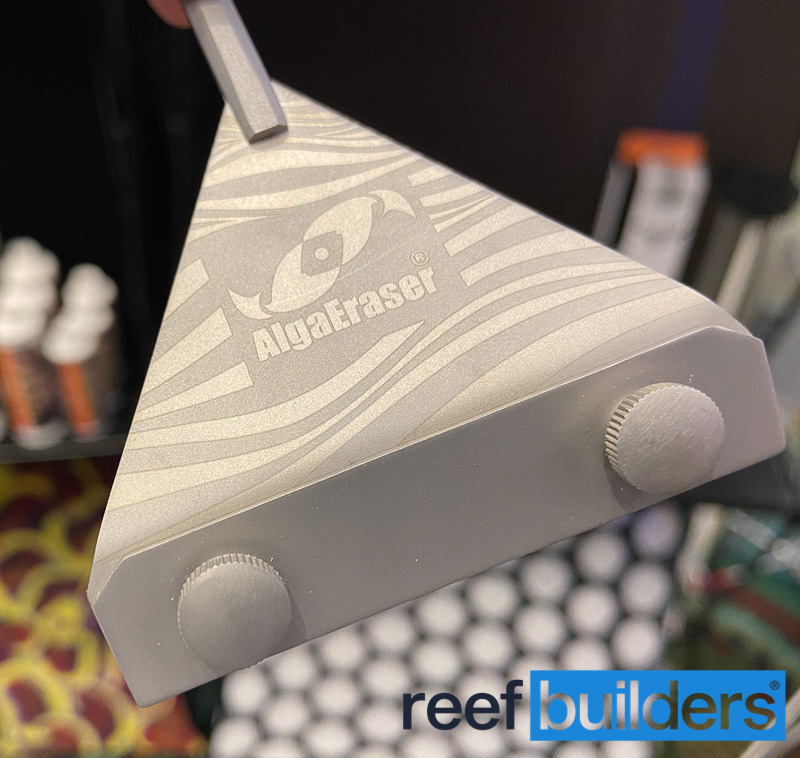 One detail that is easily overlooked is that the low profile of these super rigid AlgaEraser and LittleScrape allows them to scrape around crowded aquascapes, enabling users to clean tough coralline algaes between closely spaced rocks and aquarium glass. The price of the the AlgaEraser and LittleScrape has a suggested retail price of $42.99 and $39.99 but it tends to be slightly cheaper online and while we don't yet have a precise date for worldwide availability of TLF's new cleaning tools, they should start making the rounds around late July or early August.
Two Little Fishies may have designed these smaller scrapers for smaller tanks but we think they'll be a great option for keeping cramped and nano sumps in show condition, and we really love the faux-Damascus steel pattern as a tasteful flourish. If you're a neat and tidy aquarium freak like us, keeping the glass spotless, cables managed, sump pristine, and skimmer cups cleaned twice a week, having the right tool for the job can really bring much more enjoyment from polishing things up, and the new AlgaEraser and LittleScrape will certainly find a place in our aquarium maintenance toolbox.