The IL Lumination is a new reef aquarium light fixture which is the first hybrid of LED and inductive fluorescent lamps that we know of. Produced by an Italian company called H.V. Innovation, the IL Lumination uses a unique and powerful all blue electrodeless fluorescent lamp in combination with a cluster of multicolor, multichannel LEDs to provide a truly innovative way to light a reef tank.
If you're not familiar with induction fluorescent lamps, this is a technology that uses magnetic fields instead of electrodes in order to power a circular or linear fluorescent lamp at much higher power than the VHO and T5 fluorescent lamps than what is typically used over our aquariums. We've written about induction lamps as far back as 2011 when LED lights were still a faraway future, and fluorescent lamps without electrodes appeared to be the logical successor to fluorescent tubes.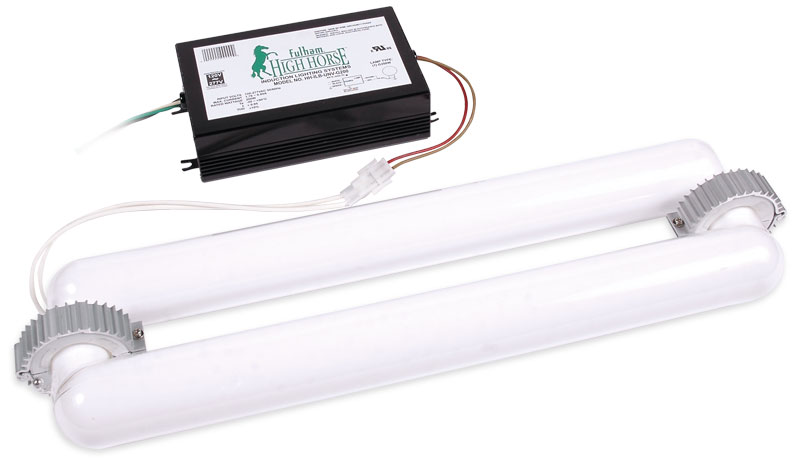 What makes induction lamps so interesting and exciting is that since they don't use any electrodes, the fluorescent lamp can be evenly powered over the length of the tube and doesn't suffer from the same kind of burn out that requires the frequent replacement of fluorescent bulbs with electrodes. Due to the way that induction fluorescent lamps are powered, they can last ten years or more since there are no electrodes to wear out, although we are less familiar with how the light output changes or decreases over time as we are with T5 lamps that will certainly shift spectrum and lose much of their intensity after less than a year of daily operation.
Until now, most of the interest in Induction Lamps has been in horticulture application where specialized 50/50 lamps have been produced with a combination of low wavelength blue light on one side, high PAR warm spectrum light on the other side, being used to stimulate the growth of foliage. At one time we believed that this tried and tested approach might be employed on our reef tanks but the rise of LEDs sucked all of 'the air out of the room' in the reef aquarium lighting market.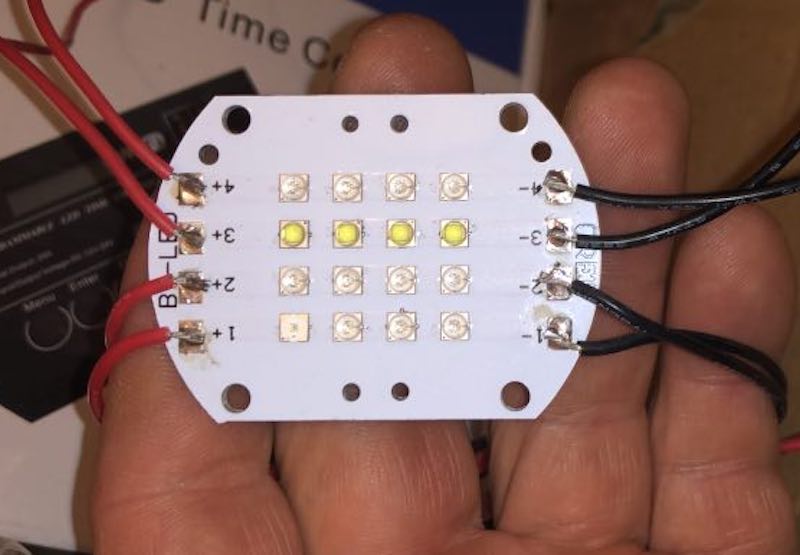 It's been more than a decade since induction fluorescent lamps first hit our radar but the unique hybrid fluorescent and LED IL Lumination is the first really compelling option to be offered to reef aquarists, especially those seeking the benefits of controllable multichannel LEDs as well as the power and even light distribution of fluorescent lamps. H.V. Innovation is offering their new light in two sizes, one with a 120 watt solid blue circular induction lamp that is paired with two 48 watts clusters of LEDs, and another with a 200 watt blue lamp that is coupled with four, 48 watt clusters of LEDs.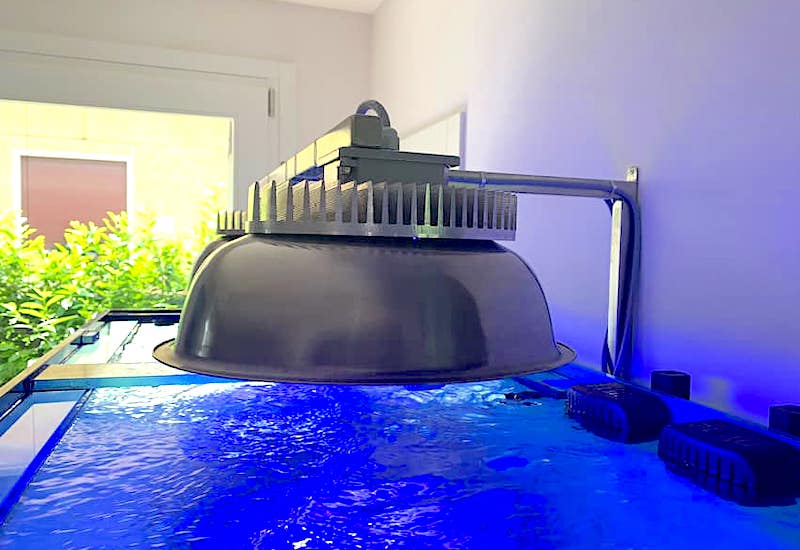 Both models of the IL Lumination light are of a wide spotlight form factor with the LED clusters nestled within the circular induction lamp, and the fluorescent lamp itself ringed with a round spotlight style reflector. We haven't seen it for ourselves but the induction lamp should produce a nice, very even light distribution as a foundational baseline of PAR, especially in the blue spectrum, while the LED clusters introduce some shimmer, colorful pop, and white light spectrum to balance out the fluorescent lamp.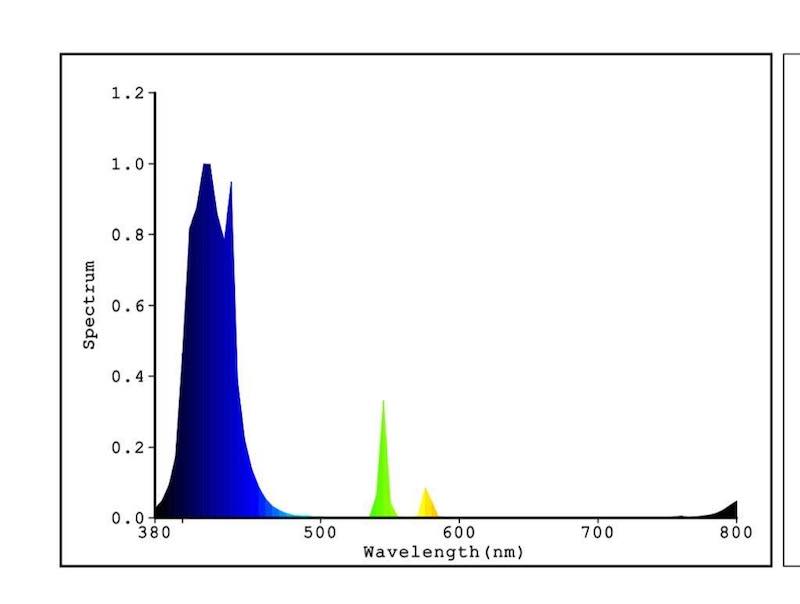 The IL makes for a very interesting combo since the induction lamp should last as long as the LEDs and the 120 and 200 watt lamps are a significant amount of lighting power that provide an evenness of light distribution that is usually a detractor of clustered LEDs. Furthermore the nature of fluorescent lamps means that the light emitted follow more of a curve instead of a series of peaks, providing broad spectrum within the blue spectrum for which it was designed, and some especially nice representation within the ultraviolet wavelengths.
Meanwhile each of the 16 diode, 48 watt LED clusters give users the kind of controllability that they are used to with modern LED lights, helping to fine tune to the overall color balance of the light shining within the aquarium. These clusters are only backed up by their primary lenses so they should be particularly 'shimmery', and the native 120 degree distribution should blend very well with the broad light emission of the induction lamp.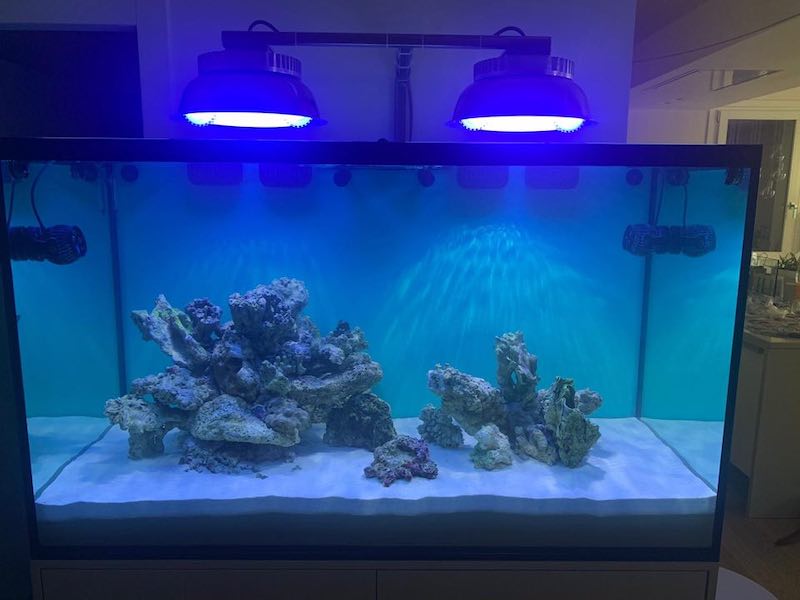 The IL Lumination is certainly one of the more exciting new light fixtures to be offered to reef aquarists and we're very interested to see how well the LEDs and fluorescent lamps blend together, and how the smartphone app interacts with the control of the four different LED channels. The cost is not exactly cheap but it does reflect how much power these lights produce with the 120 watt induction lamp and 96 watt of LEDs model being priced at 1199€ (~$1462) while the larger 200 watt induction lamp and 192 watts of LEDs retailing for 1599€ (~$1950).
We are more curious about the new IL Lumination from H.V. Innovation than any other new light released on the market in a long time and while we wait for this light to start powering reef tanks, Italian blogger Danilo Ronchi has gotten his hands on a fixture and produced plenty of PAR measurements on his own website. The IL Lumination is still being made in small batches to order so if you're interested to learn more about it or for general inquiries reach out to H.V. Innovation through their facebook page.