Leptoseris was once a completely overlooked group of corals in the aquarium world but recent years have seen an explosion of appreciation for these low light corals. Over the years reef builders have come to understand that these plating and encrusting corals do their best in fairly low light conditions but there's at least one species that has adapted to live without light altogether!
Leptoseris troglodyta was first described in 2012 from Indonesia and the West Pacific in underwater caves of Cebu, Palau, and Indonesia at depths ranging from 5 to 35 meters – you could freedive to the shallower ones and SCUBA dive to the deeper ones. But what made this coral so interesting is that these corals were living in complete darkness which was a first for low-light adapted but still photosynthetic Leptoseris corals.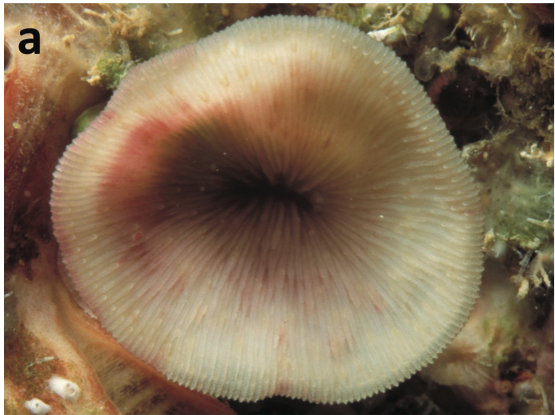 These azooxanthellate stony corals were a real curiosity and it raised the question of whether the genus had originated as non photosynthetic corals that evolved to become symbiotic with Symbiodinium, or have always been photosynthetic and Leptoseris troglodyta is a rare offshoot that has adapted to live without light. we may never know the answer to this chicken and egg conundrum but we do know that Leptoseris troglodyta is much more widespread thanks to a new paper published by Pichon et. al.
All the way across the far western region of the Indian Ocean, between mainland African and Madagascar there is a small French territorial island called Mayotte. Recent surveys of deep reef areas surrounding Mayotte documented the reef life living at depths between 65 and 90 meters, almost 300 feet, and the underwater caves at these depths had a pronounced abundance of the small mostly solitary Leptoseris troglodyta corals.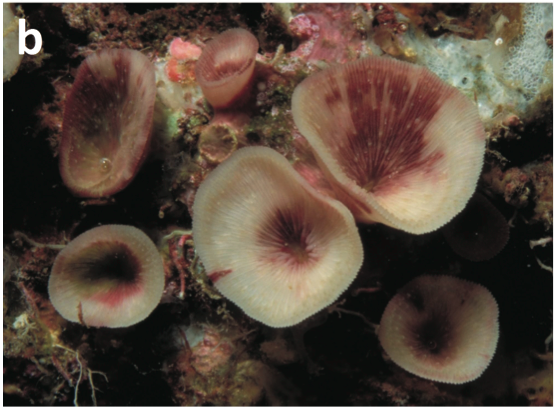 Up to ten individuals of L. troglodyta per square meter were found growing on upper walls and ceilings of these caves mostly close to the openings, we presume to be able to capture the scant amount of food they require to grow without zooxanthellae. Curiously this small cup shaped Leptoseris was not found at depths shallower than 35 meters or 100 feet and while there is no clear explanation for why the Indian Ocean populations of L. troglodyta occur so much deeper than their Pacific counterparts, but at least we know this very unusual NPS stony coral is much more widespread than we previously knew.