Centropyge nahackyi is a gorgeous colorful pygmy angelfish from the central Pacific Ocean that is rarely seen by aquarists or divers since it lives mostly outside the ranges of where people visit natural coral reefs. The Nahacky angelfish has a distribution centered around Johnston Atoll where setting foot on the island is restricted to special-use permits.
However, every now and then some larval angelfish get swept to the Hawaiian Islands where these isolated individuals called waifs end up living solitary life where they can only rub fins with flame, potters and fishers pygmy angelfishes. We've reported on a couple of these stray C. nahackyi which have been documented on the Big Island of Hawaii but a recent video filmed in Oahu by Dr. Brian Greene is one of the best closeup views we've ever seen of this little known pygmy angelfish.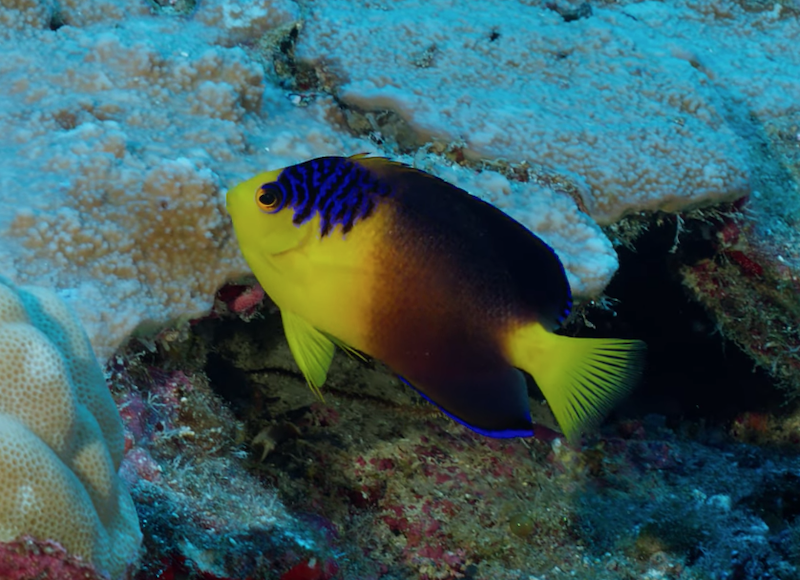 Compared to some of the smaller lonely individuals of Nahacky angelfish of the past, the individual captured in this video appears larger with a more developed, mature coloration and pattern that demonstrates the final, discrete coloration of this attractive small reef fish. No doubt the Nahacky angelfish bares a lot of resemblance to the multicolor angelfish which is characterized by a largely white base coloration and a patch of blue & black above the eye and on the top of the head, but this feature is much more prominent in the Nahacky pygmy angelfish.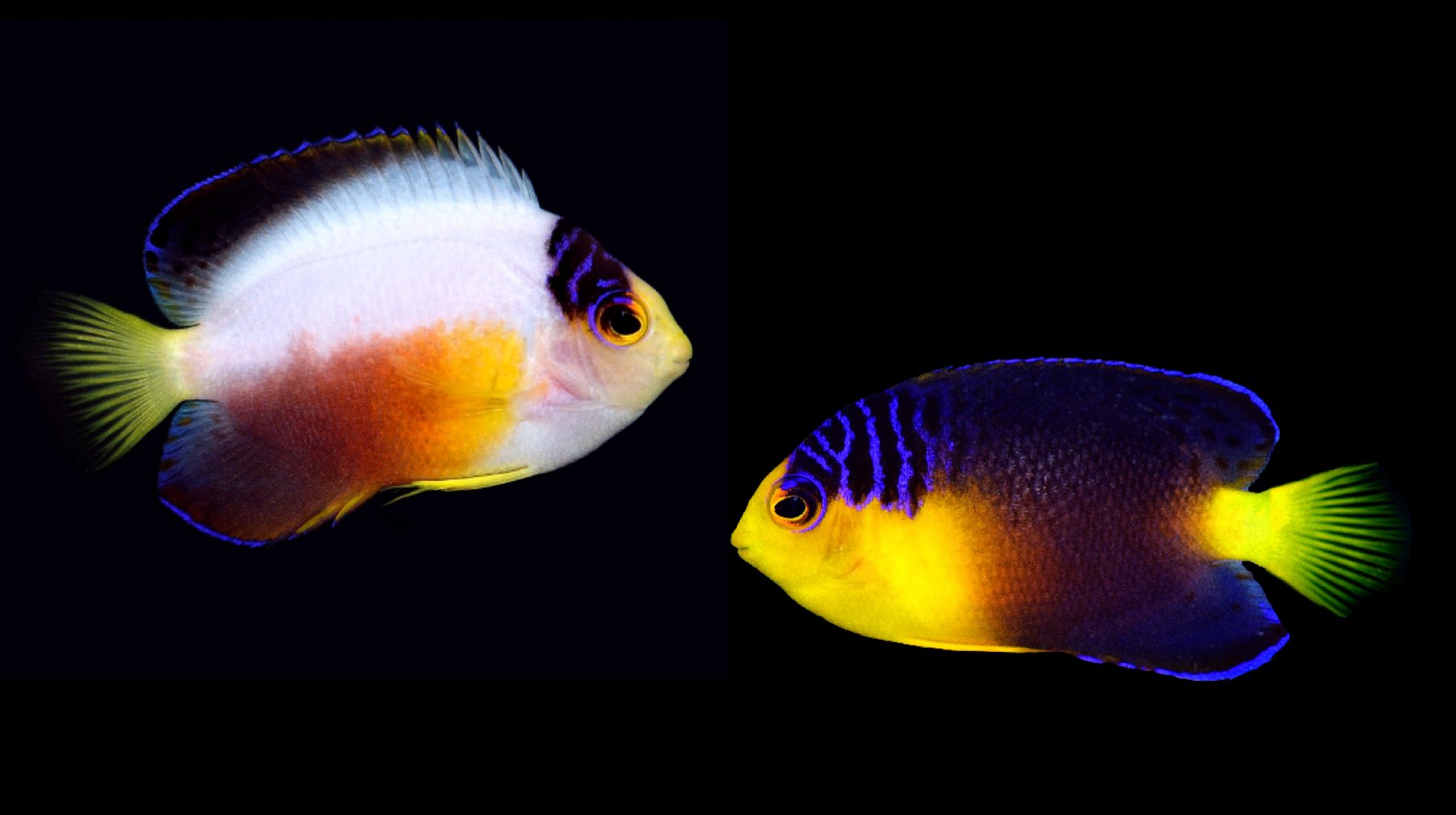 Compared to the multicolor angelfish which is relatively common in the aquarium hobby, the Nahacky angelfish is darker overall but it does have a much brighter yellow chest and tail fin, and more pronounced blue outline to the dorsal and anal fins. large mature specimens of multicolor angelfish can get brighter yellow chests as they age and mature, and they can also become very dark when they are kept in reef aquariums with a large amount of ultraviolet spectrum which tends to 'tan' many different species of fish.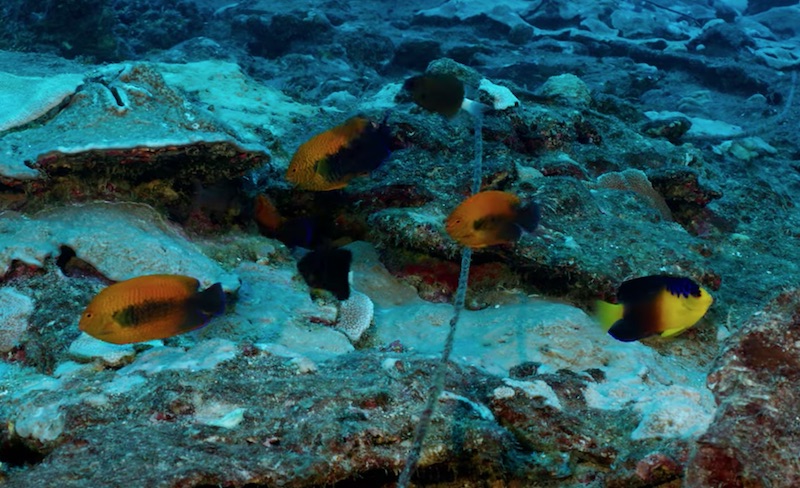 One of the most tantalizing aspects of finding Nahacky angelfish in Hawaii is seeing it participate in a harem of the gorgeous potter's angelfish which is a Hawaiian endemic. It's safe to say that this large Nahackyi angelfish is probably mature enough to breed and we have to imagine that there's some cross-fertilization occurring between the two species and the prospect of a potters x nahacky angelfish hybrid could result in a truly sensational hybrid.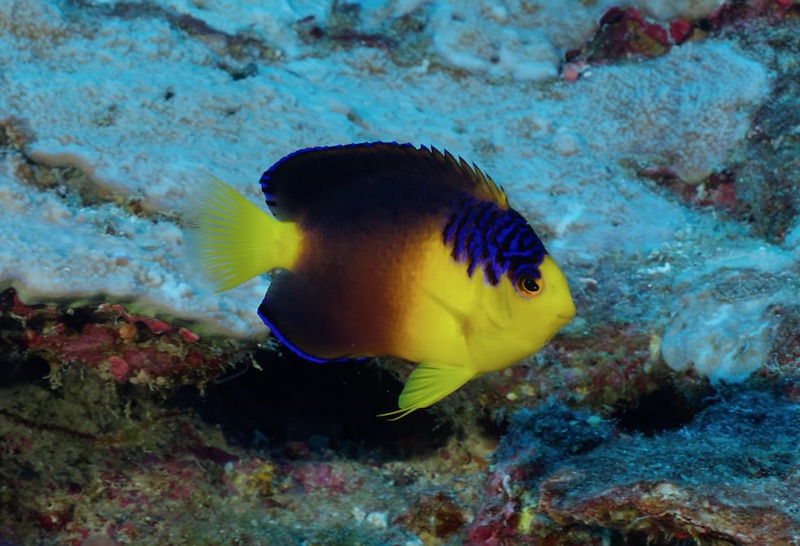 One thing that really caught our attention about this adult Nahacky angelfish is the nearly bicolor coloration between the yellow front and the dark back which is reminiscent of the joculator angelfish from the Indian Ocean. Big thanks to Dr. Greene for his efforts in capturing this Hawaiian resident of Nahacky angelfish and editing the clips into a lovely video from which all the screenshots were taken.