We still remember where we were when we first received images of a 'red' elegance coral and we instantly dismissed the authenticity of the photographs. It wouldn't take more than a few months until we saw a red elegance coral for ourselves and verified that the red Catalaphyllia jardinei is indeed a real legitimate color of the beloved wannabe anemone-coral.
Not long after this first encounter Bali Aquarium shared images of some bonafide red elegance corals and while these colonies certainly had some true red coloration, it's not the kind of glowing red pigmentation that we come to expect from other LPS such as Blastomussa or Lobophyllia, it's more of a subtle and fleshy red. The way this red coloration is expressed in Catalaphyllia is also quite variable with the red usually appearing around the mouth or the entire oral disc up to the tentacles and it sometimes appears a pastel red that borders on pinkish.
However one recent colony of red elegance coral is literally expanding our conception of what how red a Catalaphyllia coral can be with this specimen being nearly solid red all over including all the tentacles. The original image is posted above and we edited this photo posted below to only increase the shadows just to better see what is going on throughout the living tissue of this red elegance coral.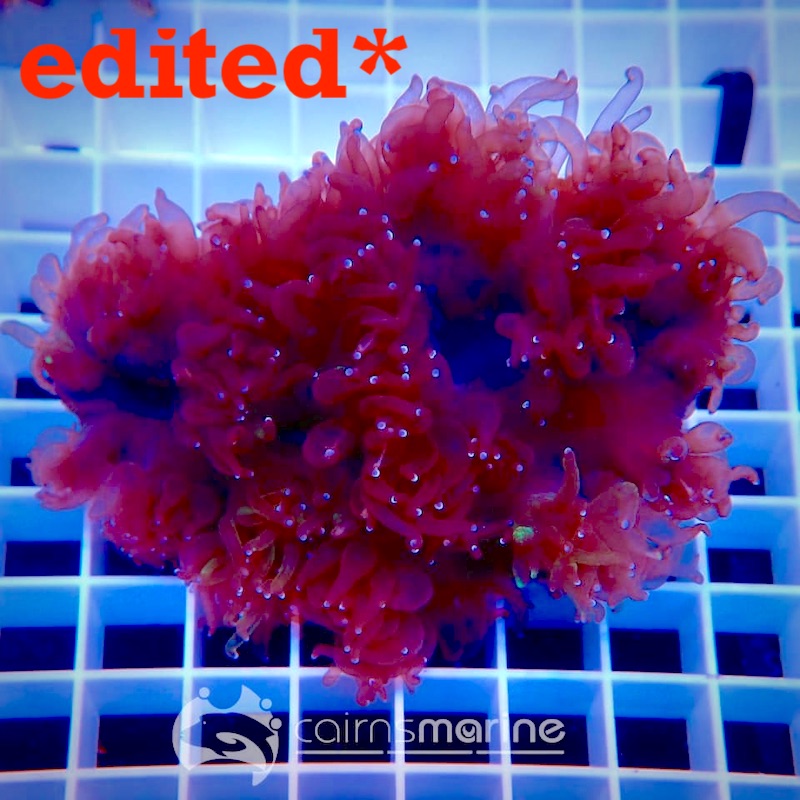 This red elegance coral was collected by Cairns Marine in Australia and it is nearly solid red all over save for a bit of dark black coloration which often also present in other rare colonies of red elegance coral. There are plenty of elegance corals with 'rich brown' colored tentacles which can often appear red or pink in photos with questionable settings but from what we can see in the original photo and Cairns Marine's propensity for honest coral photography we don't believe this red elegance is being misrepresented at all.
The only adornment to Cairns Marine's red elegance coral is a very small blueish tentacle tip and a few imaginary green streaks which are nearly lost in the bouquet of red tentacles. The red of red elegance corals is not even close to the vividness of a red carpet anemone or a red monti cap, it's more of a subtle coloration that will become all but lost in deep blue light so to best enjoy a piece like this you'll certainly want to offer it a balanced daylight spectrum.
Thankfully the hobby has better understood how to grow and even propagate elegance corals so we sincerely hope that this red elegance colony will land in the hands of a talented coral farmer in the hopes that it will be grown to a size when it can be large enough to frag because a solid red elegance coral is a coral we would love to add to our collection.