The ARKA myAqua 1900 is a complete modern water purification device with some compelling propositions of features and value. Seeing the twist-in replacement cartridges and membranes the myAqua 1900 initially reminded us of the AquaticLife Twist-In RO Filter but in fact it's more like one of AquaticLife's original products, the Power Deluxe RO unit which we used for many years.
Like both of these industry leading water purification devices the ARKA myAqua 1900 uses twist lock canisters for both the cartridge and the membrane, they have integrated quick-disconnect inlets and outlets which are clearly labelled, and the coup de grâce is an included booster pump for the most efficient pure water production possible. It was cool to see ARKA make their own version of the newfangled twist locking cartridges and membranes but the integrated pressure boosting water pump really takes things up a notch.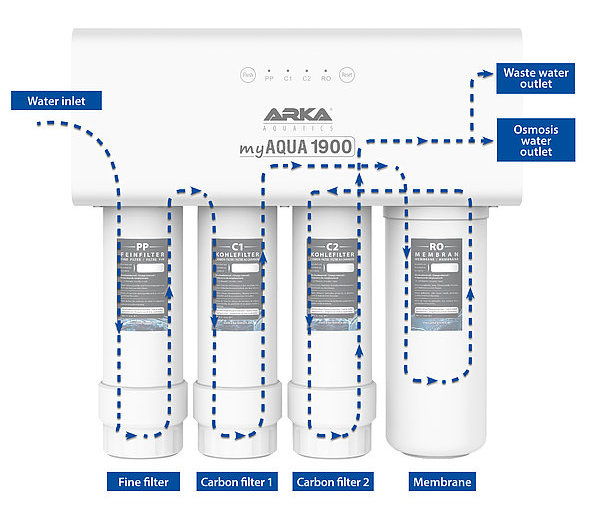 For those of you who've never used one, a booster pump increases the pressure to the RO membrane that makes for significantly better performance with a faster water production and a more efficient ratio of waste to pure water. Indeed the '1900' model number of the myAqua produces an astounding 1,900 liters of purified water per day which equates to 500 gallons per day, and it's about as much as you'd expect to produce from a larger way more expensive commercial water purification unit.
All of the quick disconnect fittings, cartridges and efficiency boosting water pump are already more than enough to be worth the €349 asking price but the ARKA myAqua 1900n has a few more tricks up its sleeve. The life-extending membrane-flushing feature is easily accessed by the press of a button and useful indicator LEDs corresponding to each chamber of the myAqua 1900 communicate the status of each component, letting users know when it's time to replace them.
Besides the primary stage mechanical filter, dual carbon blocks and a final stage membrane cartridge, there's also an optional deionization cartridge in the same twist lock mechanism but we haven't got a clue where it's supposed to be connected specifically. The high performance prefilter and carbon blocks are reasonably priced while the specially designed membrane is a slightly pricey €129 but not when you consider its 500 gallon per day output of pure reverse osmosis water.
If it lives up to its specification sheet, the ARKA myAqua 1900 has the potential to dramatically raise the bar for our expectations of how much water a water purifier can produce, and how little it should cost. The value of the ARKA myAqua 1900 is undeniable so long as the cartridges remain available in a wide range of markets, which remains a European market exclusive for the time being. [ARKA]