No doubt there are a lot of reefers anxiously awaiting all the great deals coming up later this week and as we've loudly proclaimed, we'll be going out of our way to visit as many local fish stores in our area as possible. As we've been jotting down all the things we need for the Reef Builders Studio, we've also made an ancillary list of things everyone can afford to stock up on through their local aquarium shops.
The big ticket purchases like lights, pumps, skimmers, corals and fish are a no-brainer but if you've got all that and aren't in need of any major investments for your reef tank at the moment, perhaps it's not immediately clear what purchases you can make for the #LFSSaturday Aquarium Holiday. If you're as inclined as we are to actively support your LFS this shopping season, here's a list of many different categories of aquarium goods and supplies that will help you show your support for the retail establishments that fuel our beloved hobby.
Clean up Crew – Most reefers rely on a whole army of invertebrates to perform cleaning duties on their aquariums. Some of these inverts don't have the longest life spans so if it's been a while, consider bolstering your populations of snails, emerald crabs, hermit crabs, peppermint shrimp, turbos, astreas, sea hare, sand sifting starfish, and if you can find them, abalones make a great algae eating machine.
Food – All the corals and fish in our reef tanks need to eat so stocking up on food while the prices are favorable is always a good buy. We always use #LFSSaturday to stock up on prepared foods like flakes and pellets, we never have enough frozen foods including brine and mysis shrimp, live foods like blackworms, phytoplankton and copepods always make a nice treat, and while you're at it don't forget to top up your supplies of coral foods as well.
Media & Water Purification – Almost all reef tanks benefit from some degree of chemical media treatments from time to time, so if you know you're going to us them up you might as well pad your stocks of GFO ferric oxide, activated carbon, aluminum oxide, your filter socks might also get used up, and if you use a calcium reactor you're certainly going to need to top it up with some new calcium reactor media. Most reefers also purify their water so make sure you won't be running out of prefilters, carbon blocks, DI resin, or an RO membrane if you replace it around once a year.
Additives, Dips & Salt – If you've got any kind of saltwater aquarium, certainly you'll be needing some salt mix for making seawater and water changes so grab some of that precious white powder that you know you're going to need. Also if you've got a reef tank, which most of you reading this will, calcium, buffer, magnesium and trace elements don't come from the tap so you know you're going to need those additives, be they dry or premixed, and if you're the kind of reefer who is still collecting make sure you have enough disinfecting coral dips to last you throughout the year.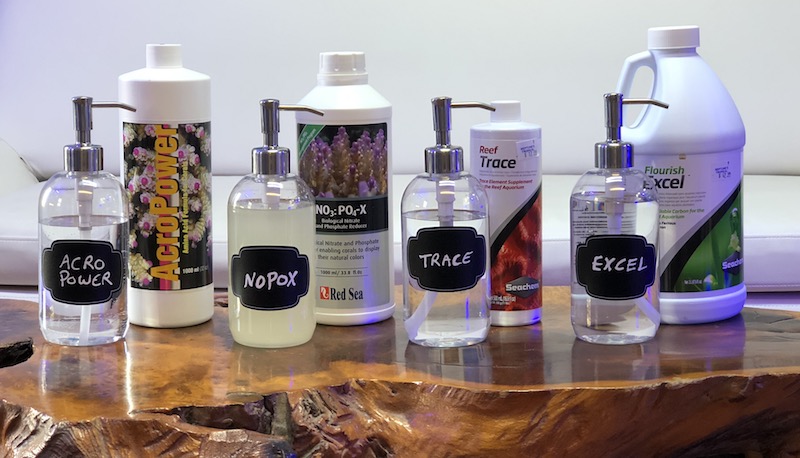 Test Kits & Reagents – There's no way to know where your chemistry levels are at without testing your water so test kits are always a good annual investment. We've got plenty of magnesium test kits but we'll definitely be padding our supplies of reagents for our Hanna Checkers including calcium, alkalinity, and especially our favorite new test being the Nitrate Checker.
Fragging Supplies – Reefers who are really 'active' with their corals, frequently fragging and sharing them in some form or another will always be in need of fragging supplies. You can never have too much super glue, or too many frag plugs and tiles and while you're at it, might as well shore up your collection of frag racks for the bottom of your tank, or magnetic racks for the tank walls.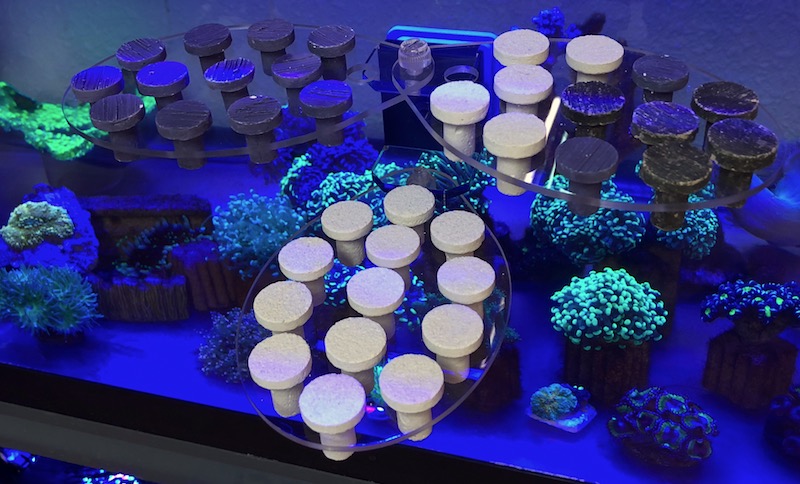 Accessories – There is one category of aquarium supplies which isn't as obvious to stock up on until you actually need them but which may come in handy over the course of a year. It's the little things like airline, rigid tubing, valves, airstones, basters, and perhaps a bulkhead or two that we want to ensure we have on hand before we jump into any projects which may require them.
We are very much looking forward to continuing our annual tradition of visiting as many reef aquarium stores throughout the wider Denver metro area and seeing how all these establishments have changed or held up since the last visit. We hope to see and meet many viewers, readers and listeners while getting out into our local reef aquarium community and happy hunting to those of us who'll be keeping a keen eye out for used livestock like fish and corals that have been traded in to our LFS.