Tropical Marine Centre has launched a new DC wave pump range called Reef Flow 2.0. Available in three sizes, 2.0 replaces the previous Reef Tide S range and features a new slimmed-down controller, improved electronics, and a choice of three included nozzles to produce normal, wide, or narrow flow patterns.
The three models produce maximum flows of 4000, 8000 and 16000lph, (or 1057, 2113, 4226 gallons per hour,) for 15, 26, and 52 watts respectively, and flow can be controlled via a wired controller.
The controller has just two buttons – one to flick through one of three modes – continuous stream, pulse, and reef, and one to increase power in 10% increments on stream, or to control the frequency of pulse in pulse and reef modes.
Open the box and the first thing you'll notice is just how small and compact these new powerheads are. Even the 8000lph, medium-sized model is small, but the 4000lph model is baby in comparison to an average wave pump at just 48mm diameter – less than 2" across.
This makes it super discrete and perfect for providing extra flow in nano reef situations. We'd even call it cute, it's so tiny. Especially considering its 1057gph output, and it sticks to 15mm thick glass.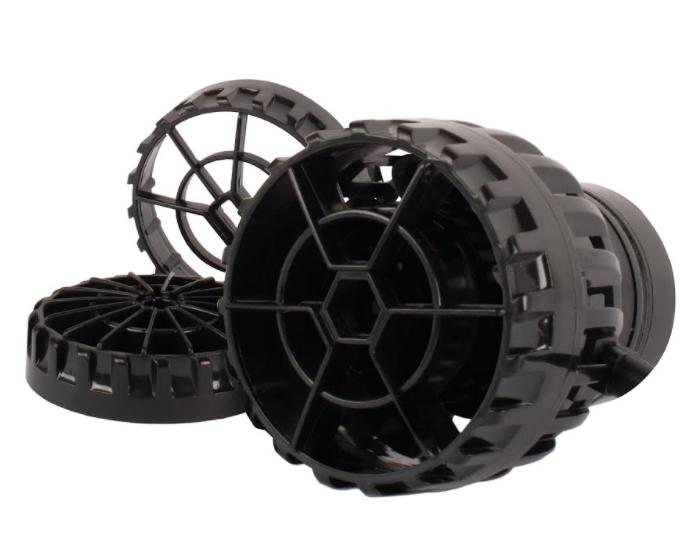 Three interchangeable nozzles
The three nozzles are more like flattened circular discs that simply twist onto the snub face of the pump to alter the flow. The 4000's narrow nozzle pushed water across three feet of reef tank no problem, with the other two providing shorter, wider streams. We even had some waves lapping at the other end when on pulse mode.
Choose a nozzle, choose a mode, and choose power or frequency, then set it, and forget it. Like so many reefers, we played with it first before reading the instructions, and even then it was quick and simple to use.
There is no app or wireless control with Reef Flow 2.0, but considering the few short seconds it took to install and get it going, we didn't miss it, and especially when you consider the price point.
Once in place, the wet side can be angle-adjusted by up to 30 degrees in a rubber dish-like cup, which then has built-in vibration dampening on the rubber side and further dampening with a foam pad on the other side of that. The dry side of the magnet comes with a foam pad too and the noise was at best, inaudible.
Reef Flow 2.0 looks modern and compact, with just about all the features a puck-shaped wavemaker should include, apart from Wi-Fi control. It just feels a little lightweight in the hand – because it literally is…
Installation and operation are super easy and those nozzle options made us wonder if we'll see the 3D printing fraternity produce their own nozzles to retrofit TMC's Reef Flow 2.0 in the future.
Prices are £109.99, £129.99 and £169.99, respectively.