It's been nearly three years since we first learned that the trailblazers at RVS Fishworld were planning to set up operations in Papua New Guinea. After a very healthy wait, with lots of global delays, Golden Ocean PNG Limited is finally up and running collecting fish, invertebrates and corals which will soon be shipping all over the world.
It was the summer of 2019 when the announcement was first made that commercial collection, harvest and mariculture of all marine life would begin in PNG's capital of Port Moresby but the global lockdown/shutdown/slowdown put a serious damper on any kind of progress at the Golden Ocean facility. After years of planning and months of building out their facility the fish, coral and invert holding systems are running smoothly with some of the best equipment available to keep all their marine life in top shape until it is ready for export.
This week Golden Ocean is hosting the first of many training seminars to certify all of their ornamental collectors to catch the precious fish and unique species that are only known from PNG in the most sustainable and conscientious way possible: Fishermen Island Golden Ocean PNG Ltd Net Training Program 12.13 & 12.14 20221 for 40 divers men & women Our goal is to give sustainable livelihood to the coastal communities here in Papua New Guinea by educating them on how to mariculture corals and collect live ornamental tropical fish in an environmentally-safe way through the proper use of monofilament nets.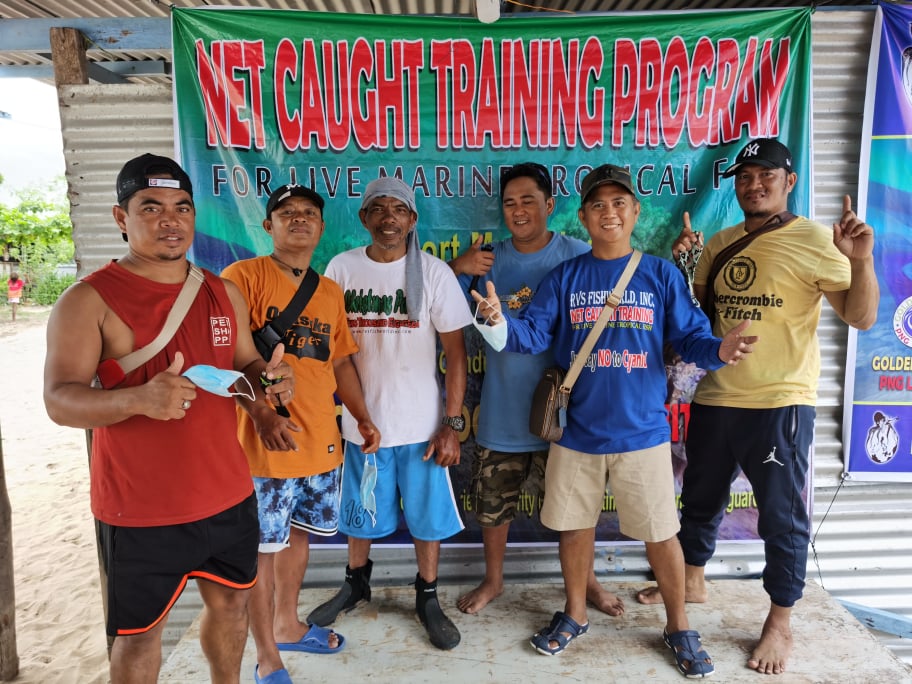 The harvest of local marine ornamentals will follow the blueprint set by RVS Fishworld in the Philippines which is totally transparent and inclusive of local communities, governments and all pertinent stakeholders. This new enterprise will result in the creation of many jobs in Papua New Guinea's tropical coastal communities and add value to reef ecosystems which previously had only been seen as a source of food and some building materials.
Golden Ocean has published the first of what we expect will be many video stock reports and already we see some very interesting corals and tantalizing fish not the least of which are some very unique wild true percula and the highly sought after black strain of the Clark's clownfish which we first enjoyed from PNG nearly thirteen years ago! The pygmy angelfish are also sure to be very popular with the PNG coral beauties having a certain 'west pacific' feel about them with brighter orange and purple coloration that is rare from other parts of the world.
Fish from Papua New Guinea (PNG) begin to trickle into the aquarium trade
There's been tons of unique new species of reef fish described from Papua New Guinea over the last ten years which come from nowhere else on earth so we can't wait to see when Golden Ocean starts fishing up these fish we've never seen in the aquarium trade before. But the hardcore coral reefers will be glad to hear that we'll soon be seeing new corals coming from this important and species rich region of the infamous Coral Triangle and these will both be harvested from the wild and maricultured for even greater sustainability and job creation in this country.
With so much volatility in the regulation and supply of marine aquarium animals from other parts of the world we couldn't be more excited that RVS/Golden Ocean is finally ramping up and beginning to share the biological wealth from Papua New Guinea. The first test shipments were sent off last week so cargo permitting, we hope to see these exotic fish, corals and invertebrates from Papua New Guinea permeating aquarium markets all over the world throughout 2022 and we'll be keeping tabs on all the coolest animals that Golden Ocean comes across.