Coral fads and species hype comes and goes – Chalice corals had a nice long run, neat Favias were hot that one year, shrooms exploded onto the scene and are still going hot, and these days reefers rave over different varieties of torch corals and wildly colored Acropora tenuis. But if there's one group of corals that grabbed our attention and never let it go, without a doubt we have been enamored with the bizarre growing deepwater or naked Acropora that are predominantly collected in Indonesia and most often available maricultured from Bali.
Our imagination first ran wild when we received our copy of Corals of the World and saw for ourselves the incomprehensible variety of smooth skinned, delicately branching Acropora that appeared to be devoid of corallites over much of their branches, hence the 'naked Acro' moniker. Of course the Acropora suharsonoi just didn't compute as a typical Acropora at all, but other species like A. lokani, A. tenella, A. elegans and A. pichoni completely reset our expectations of what these highly diverse small polyp stony corals could look like.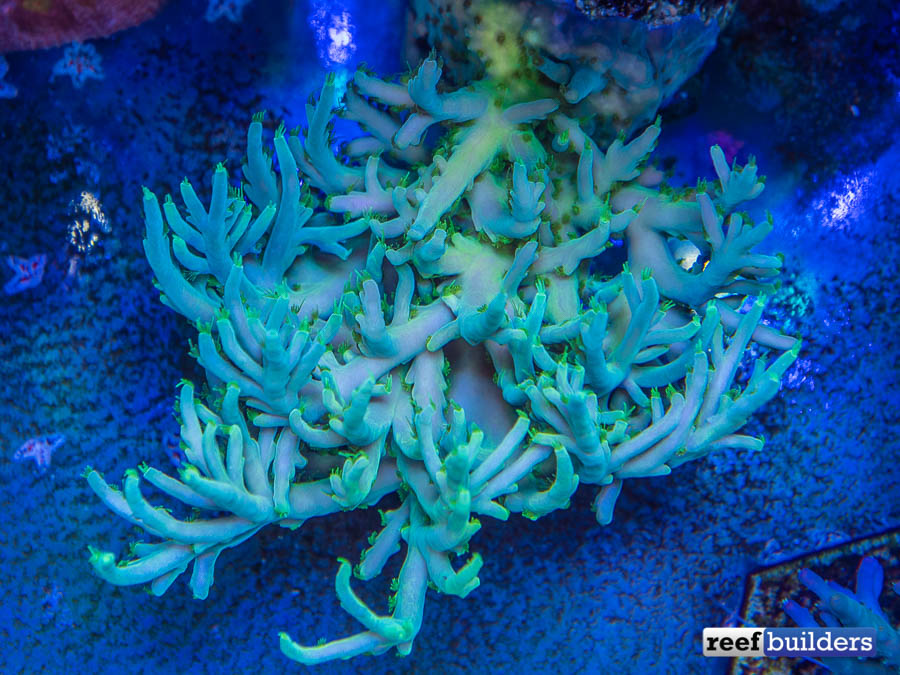 When we first saw the very restricted distributions of these hyper exotic corals we immediately tamped down our expectations of ever seeing these Acros, let keeping and growing these corals for ourselves but it was just a few years later, around 2003-2005, that these magnificent corals started making their reef aquarium debut. Without much understanding of the captive care of these corals we purchased one frag of the illustrious A. suharsonoi for the monumental price of $100 – a lot for any frag back in those days, especially for a college student – and proceeded to learn what not to do with these SPS oddballs from much calmer reef environments than the stags, tricolors, and millies we were used to.
In the ensuing decade we learned a lot more about this unique group, the lower energy reef zones that they are adapted to grow in, and were fortunate enough to scuba dive with them in their natural environment with guidance from Vincent Chalias, the godfather of deepwater Acros in the reef aquarium hobby. Nowadays Bali is still the epicenter for naked Acros but we understand that these lower light adapted SPS corals can actually be found in many different tropical countries with unique species like A. rongelapensis hailing from as far away as the Marshall Islands in the Central Pacific Ocean.
We've been fortunate enough to hone our reefing skills for many different groups of corals but the one which we find among the most rewarding are these beloved Naked Acros which we enjoy in several tanks across the Reef Builders Studio. One thing that is always delightful is how these deepwater Acros arrive from Bali with a usually dull somewhat muted coloration and barely hint at their full potential, but in the proper environment it's only a matter of time until they come around, gracing us with the most elegant branches and subtle and not so subtle colors that are barely present upon importation.
No doubt it's this delayed gratification that has relegated the deepwater/naked Acros in the shadow of their ostentatious relatives that shine with intense fluorescence. It's an interesting time to be a naked Acro enthusiast because they are often crowded out of shipping boxes by the corals which are in highest demand, but there's also not nearly as much competition for the colonies that do make it through, so we're not forced to reexamine our financials any time we want to add some more to our collection.
Our fascination with the unique smooth skinned species of Acropora is one that has only grown as our expertise in keeping them has improved, and we will never tire of these corals which we once believed would be so exotic that they would never be available in the reef aquarium hobby.