Small reef tanks can be a lot of fun, allowing reefers to experiment with different ideas and techniques with a much smaller investment of time and effort. For years reef builders have been wondering how small we can go and we believe we've found the answer to that question, the 'Planck Reef', with PNW Custom's all in one Micro Reef-Ready Tank that we've just set up for ourselves.
The creation by PNW Custom is less of a typical AIO nano reef than a miniaturization of nearly all the features we come to expect from a full sized reef tanks complete with tank, stand, and an adorable little LED light. Instead of using a small external drain the PNW Micro has a shrunk down overflow box complete with dual drains that we were able to lightly modify to create a more silent continuous siphon which immediately reduced the salt spray happening in the 'sump'.
As we mentioned in the video, the 40 ounce volume of this novelty setup is absolutely not recommended for beginners as there isn't enough inertia in the 1182ml of tank water to buffer against temperature swings or rising salinity due to evaporation – you really want some experience to tackle this kind of challenge in miniature reefing. Acknowledging the unique obstacles to keeping a small saltwater tank like this with coral is the first step to success and with this in mind we proceeded with respect as to what this Micro Reef-Ready aquarium will need to thrive.
After filling the tank with water from an existing reef aquarium we added two small plugs of zoanthids, one small frag of green Anacropora, several tiny branches of thin branching red Manilla Spy Montipora and one mostly encrusted tile of Meteor Shower Cyphastrea. There's still room to add a single polyp of Caulastrea or Duncan but we want to wait and see how much calcium and carbonate the 40 ouncer consumes before we overload it with too many stony corals.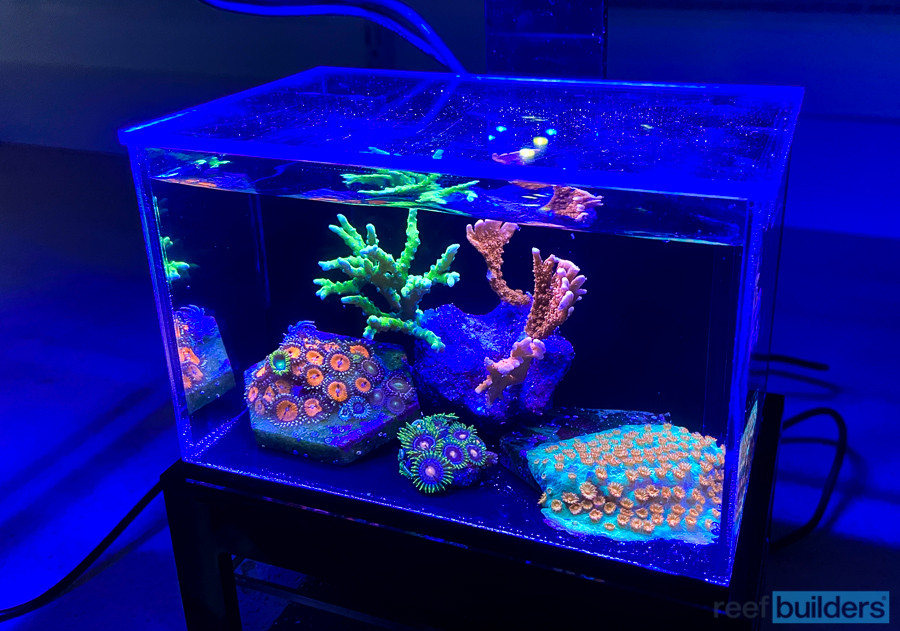 Likewise we will wait until the palm-top reef tank grows a little bit of algae and biofilm to add a few Aquilonastra (Asterina) starfish and a pair of Stomatella snails to help with the cleanup and add some life to the concept nano reef. We will entertain adding a tiny ornamental shrimp in the future, something like a sexy shrimp or better yet a Pederson's shrimp to swim around would be very welcome.
Altogether we are incredibly pleased with how the experiment in miniaturization turned out and while we don't know if we'll keep it running in perpetuity, we're going to aim to see what it can do over the next six months. We're curious to see which other reefers will 'rise to the challenge' of trying PNW Custom's Micro Reef-Ready Tank and what they'll do with it but this kind of tank is a fertile ground of experimentation with specific types of setups and miniature showcases of reef aquarium life.