Shipping corals across and around the country is a feat that is performed thousands of times per day but it wasn't always so, and it wasn't always a great outcome. In the last twenty years the hobby has grown collectively more experienced at relocating our precious polyps across state lines and time zones but these are primarily frags, and there's still a lot of tricks and precautions that can be made to ensure not just a live arrival, but also a great condition of the coral when it gets to the reef hobbyist.
As we all know coral colonies have varying degrees of toughness in their growth forms, moon brains are basically living stones while thin branching Anacropora is so delicate that you'd be hard pressed not to have a few loose a few branches in transit. Somewhere in between falls the fleshy Euphyllia, Fox corals, Pectinia and bubble corals which require an extra level of gentleness in their transit if they are going to arrive without any abrasions or skeleton tearing through the tissue.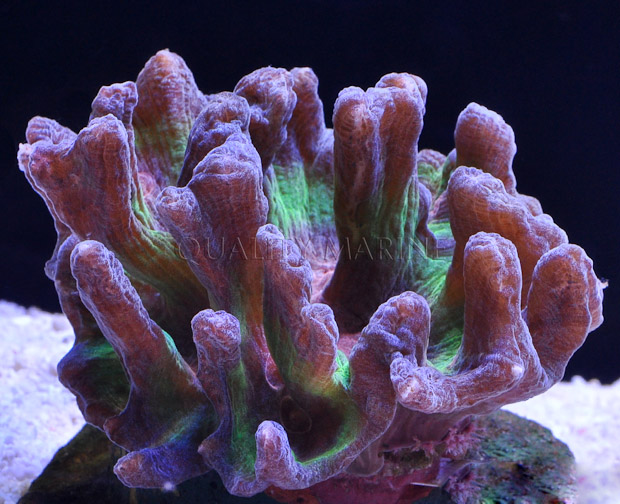 Most dealers will probably be familiar with the challenge of shipping Pectinia but for us the white whale has been branching bubble corals which really don't respond well to any kind of damage from shipping or aquarium neighbors. The slightest tear of the tissue or abrasion from rubbing against the bag often leads to infection or some kind of recession that is just not a great way for any new coral to start out its life in your tank.
One way to protect corals and frags is to offer them some kind of 'cage' to protect against shipping damage and while we've seen frags inserted into small plastic condiment cups, we just received a branching bubble from Lucky Corals shipped secured into a larger cup and it couldn't be in better condition. Not only does the coral not show any sign of shipping damage or stress, it was so undisturbed that the polyps are even partially extended which is unheard of with this delicate species.
We couldn't be more pleased with the condition of this colony upon arrival as we've had some really mediocre experiences with trying to obtain Plerogyra simplex in perfect health. Thanks to a little extra care and effort from Lucky Corals, this specimen has the best chance of settling well into its new reef aquarium home where we hope to grow into the huge branching colonies we've observed in the wild.