The CarbonDoser v2.0 is the new second generation of the first popular 'electronic' carbon dioxide regulator for aquarium use. First revealed all the way back in 2009, although it enjoyed plenty of refinements and tweaks it only took a dozen years for the Carbon Doser to get its first proper revision or major update.
This time around the second generation CarbonDoser has enjoyed some engineering support from Tunze to make the device more robust, more quiet and generally more durable especially around the hot and perpetually humid environments of our reef tanks. The first major change to the CarbonDoser v2.0 is that it is no longer attached to a parent dual-stage regular and the unit is remotely attached so you can more easily service and replace the regulator or CO2 tank when needed.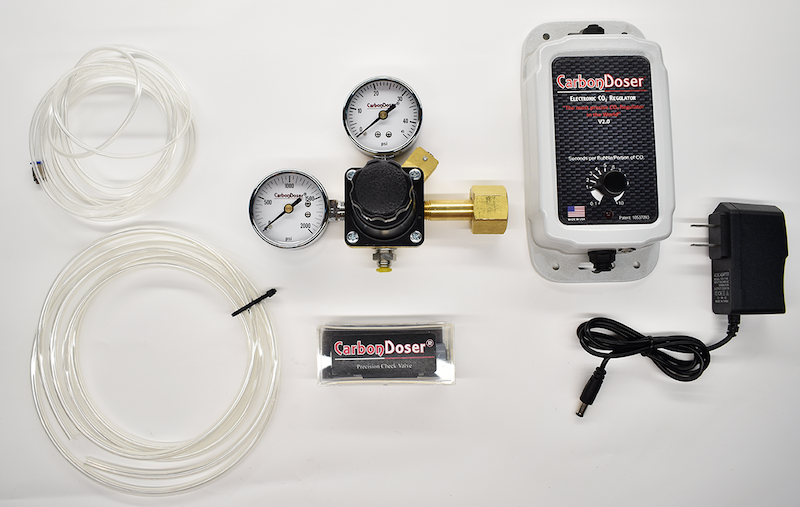 The new housing for the CarbonDoser v2.0 is no longer just a random plastic box but a battle-ready durable box from PolyCase which has multiple levels of moisture resistance and  much thicker plastic. For their part Tunze engineered the second generation CarbonDoser to be much quieter so that users will can enjoy a more silent peaceful dispensing of acidifying carbon dioxide for their planted aquariums or calcium reactors.
The one small quirk about the CarbonDoser v2.0 is that it now uses extra thin gas supply tubing for which the Tunze CO2 regulator has been specially outfitted with matching a 1/8″ quick connect fitting. One aspect about the CarbonDoser that hasn't changed at all is the adjustment knob which is calibrated for 'seconds per bubbles' – this is great for administering smaller amounts of CO2, but only 10% of the dial ranges from 1 to 0.1 where many planted tanks and larger calcium reactors require a supply in the 'bubbles per second' range.
The second generation CarbonDoser x Tunze collaboration is priced at $349 for the electronic bubble meter alone or $399 when paired with the Tunze CO2 regulator with a CGA connector, or $419 with the DIN477 connector. [AquariumPlants]