Like so many other hobbies and industries, 3D printing has carved out a niche within the broader aquarium world mostly creating small accessories that are of modest utility. 3D printed probe holders, controller holders, frag racks and pump guards are nice to have and can improve the reefer's aquarium experience but for the most parts these additively manufactured plastic parts are gadgets that we can live without.
All that changed when we purchased fancy frag of Euphyllia torch coral from Coral Vault at ReefStock Denver a few weeks ago and were quite surprised at the 'packaging' that it came with. We've seen corals packed in specimen cups, and we've used plenty of 3D printed frag carrying containers, which are fine for keeping frags from moving around but the new coral transport 'cradle' really takes things up a notch.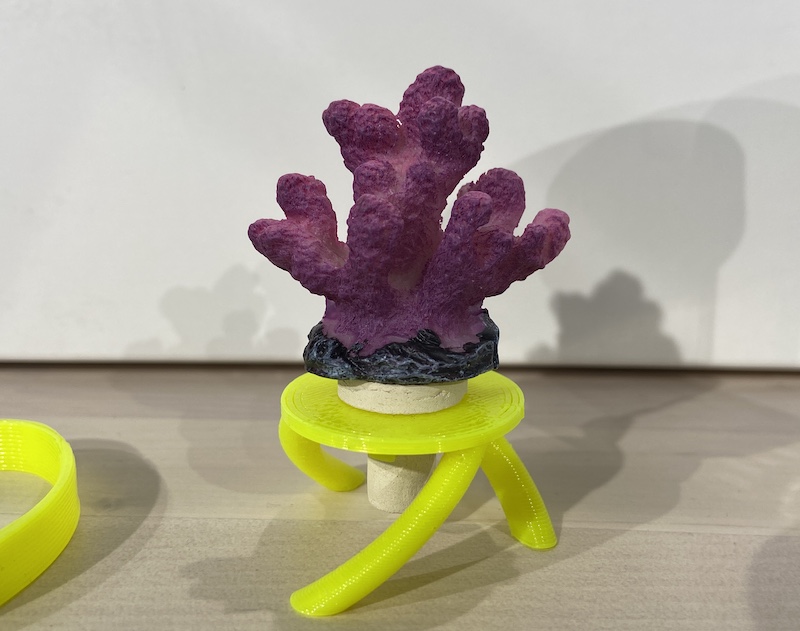 Firstly the 3D printed base of the cradle fits perfectly within a typical specimen collection jar and it also has a few flexible tabs so that the frag can neither rotate in place or fall out of the hole. But what elevates this 3D printed coral holder to the next level is the attachable brace which secures the entire assembly into the specimen jar – so if the jar is on its side or even if it's held upside down the frag won't jostle around or bump into any part of its carrying jar.
We don't expect every single coral to be treated with such TLC and protection but it's actually quite nice to get a pricey polyp of torch coral home and it's still open in the jar because it hasn't bumped or been damaged in any way. This entire assembly might cost a few bucks, which is way more than a $0.02 plastic bag, but it's such a great solution to a problem we just learned to live with that these cradles are likely to get reused over and over again, especially for very premium coral strains and varieties.
Strangely enough we don't know who came up with this iteration of the braced coral holder, we just know we got it from Coral Vault and we suspect that many different 3D printed houses will be cranking them out if they aren't already.