You might have heard of a seed bank but have you ever heard of a Living Coral Biobank?
A relatively new initiative by Great Barrier Reef Legacy is taking place in tropical North Queensland, Australia. Right on the doorstep to the Great Barrier Reef where they are aiming to use coral farms, public aquariums and eventually reef builders come citizen scientists just like yourself at home to hold all 400 odd species of (stony) coral found on the Great Barrier Reef, and eventually all coral species globally in our own systems like an interconnected 'coral ark'.
The project is well underway with a large number of GBR species already logged into the database and being held at facilities that are partnering up for the project such as Cairns Marine, a well known and long standing aquarium collection company, Sustainable Reefs, a fully operational coral farm in Cairns dedicated to fragging and propagation and the Cairns Public Aquarium that is currently building a large room that will be solely for this project. The project is gaining a decent whack of momentum and attracting the attention of philanthropic people eager to help the project along in various ways.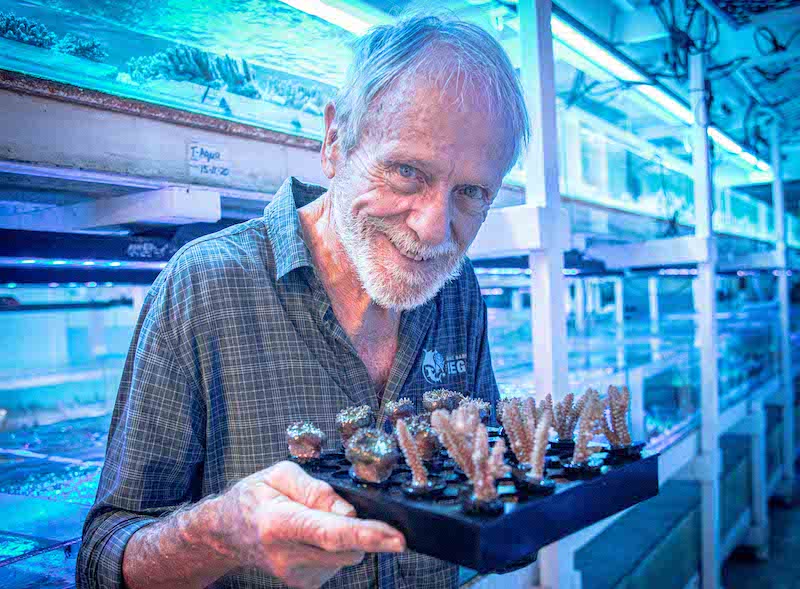 Each and every piece of coral that is part of the Biobank Project will have been identified in situ by Dr Charlie Veron, the 'godfather' of stony coral. After collection the colony is made into frags and put onto a specially designed frag plug with a built in RFID chip. The chip links to a database that holds a range of information such as the GPS location of the parent colony, water analysis at the time of collection, photos of the dive site, genetic analysis of the coral tissue and other invaluable data.
These coral fragments could end up being an extremely important living representative of a Great Barrier Reef species or any coral species for that matter. Since the parent colony and all of the frags made from it will have interlinking RFID chips, the database of information can be shared with scientific or educational institutions around the world along with a piece of that coral that you as a hobbyist could one day supply for research or reef restoration efforts.
People eager to participate as citizen scientists will be able to access the database to upload growth, colour, water chemistry and other information required for their frag so the changes (if any) can be tracked in a way never before seen. Right now via Great Barrier Reef Legacy you'll be able to register your intent to host a coral fragment for the Biobank Project in your own aquarium when they become available, or even sponsor a fragment in the program if you can't physically host one.
This is an exciting new facet to reef keeping that gives us all another reason to focus on water quality and aquarium husbandry skills to ensure you are safeguarding your biobank to give coral reefs to future generations.