The Reefi Uno 2.0 is the newest generation of the 'craft led light' made in America that has gained a cult following by some of the more curious reefers in our hobby. Reefi first released the details of their second gen Reefi Uno 2.0 a couple months ago but there's something about seeing the fixture light up that really touches the soul and gets our minds imagining what this new spectrum will do over corals.
One thing that makes the Reefi lights such a unique and compelling light over reef aquariums is the sheer amount of features and value that it offers with the new Reefi Uno 2.0 being priced at $450 for 260 watts of power. But Reefi doesn't take the cheap approach to bolstering their power specifications since it distributed that power across 114 diodes for an average of 2.3 watts per diode, within the sweet spot of power efficiency.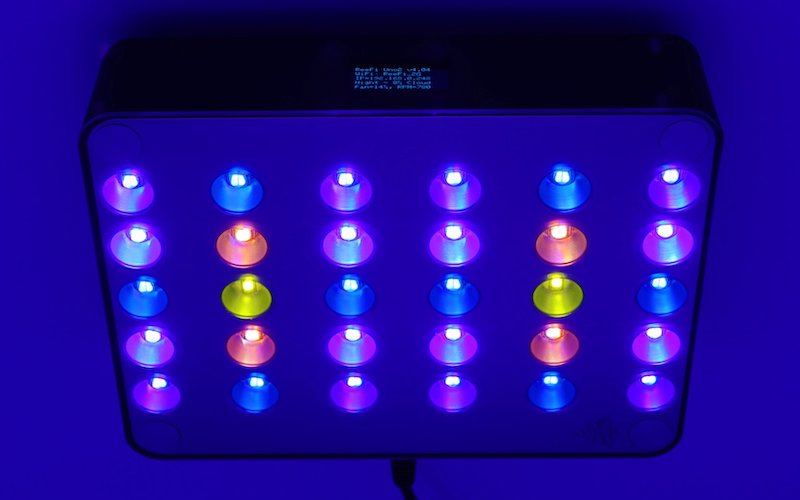 If the built-in OLED display doesn't catch your attention with all the pertinent diagnostics of the fixture then perhaps the rainbow of different LED colors will be the greater interest. We already knew that the Reefi Uno 2.0 is packing cool white, warm white, PC amber, lime, blue, royal blue, violet, deep violet and two shades of near-UV but it's certainly more engaging to see the fixture powered on.
We can't tell you how grateful we are that Reefi has been successful enough to carry the torch of small batch LED lighting design and manufacture from NanoBox Reef and is offering reefers a new and improved second generation light. Reefi is offering their newest Uno 2.0 light fixture for preorder at 20% off and expects to start shipping their latest creation next month in August.