Italian wholesaler Whimar has an interesting auto water-changing product called the Smart System AWC. Coming in Pro and Lite models, both are complete water level management systems capable of topping up evaporation via an optical sensor and pump but also manual or timed automatic water changes. The Pro model comes with a digital display, temperature sensor, a pump for topping up, a pump for removing the water to be changed, and an additional pump for restoring new water. The top-up can be paused while one pump pumps water out before another pumps new water in from a reservoir, or both pumps can work simultaneously to pump water in and out at the same time and are safeguarded by anti-siphon devices and the water level sensor on the device itself. Unlike Kamoer's X2SR with app control and stepper motors the Smart System just uses tiny powerheads and onboard controls to keep costs down.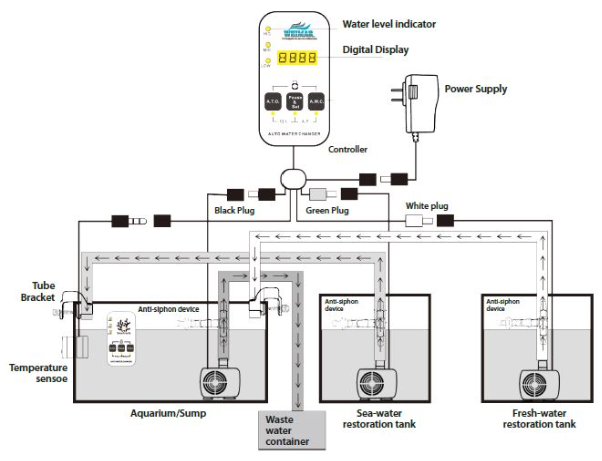 The amount of water to be changed can be set, the number of times per day and the exact time per day, so in theory, the device can be set and it will carry on its business while you're at work, asleep, or even away on holiday. The Pro will even cut off the water change if the water going in is cold enough to negatively affect system water temperature, and the whole 9x5x3cm diminutive device attaches to aquarium glass up to 15mm thick via magnets. The Lite model does away with the temperature sensor and comes with two pumps – one for the ATO and one to pump water out, so we presume if you wanted full water change via automation with the Lite model you would require a gravity-fed top-up with raised up reservoir to return water, and a separate float valve.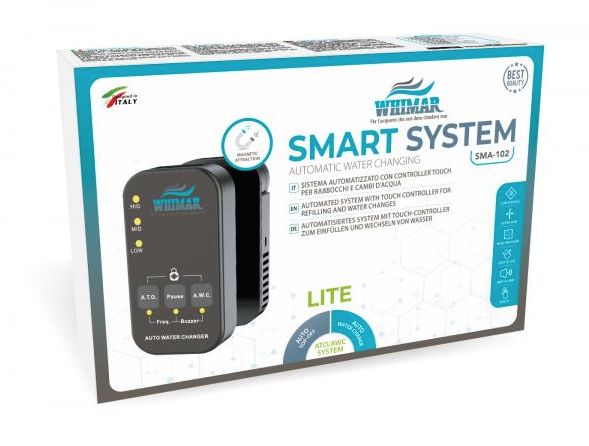 On the face of it, the Smart System AWC does exactly what people crave in an automatic water-changing device. It can pump water out first in order to achieve a true water change or pump in and out at the same time as well as compensating for evaporation via the ATO. You can set how much water it changes, when, and how often, and we spotted the Lite and Pro on sale in Italy for a reasonable €164,90/$164 and €246,90/$246.