SeaTak is a totally new kind of adhesive and is the first substance of its kind that uses biomimicry to adhere and join different materials underwater. For hundreds of years people have wondered and been impressed by the ability of mussels and other bivalves to attach to reef and underwater structures and it was a big topic of discussion in many of our marine science classes.
The SeaTak solution mimics the chemistry of bivalve adhesive to create a long-lasting, durable, nontoxic, easy-to-use bonding agent at long last harnessing the power of the humble mussel. SeaTak seems to be really targeting their underwater adhesive towards underwater reef restoration, which can be very lucrative and supported by very expensive treatments, so hopefully SeaTak isn't wildly expensive.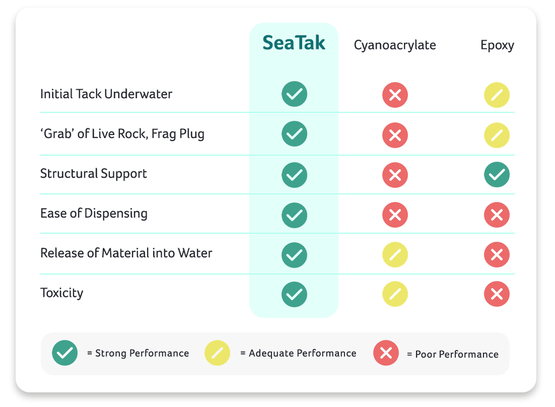 The company exhibited last weekend in Milwaukee where they demonstrated their product's ability to bond corals to frag plugs within a few moments, and they claim it fully cures within five  minutes. Since SeaTak was developed by mimicking the biological polymers of mussels the product is completely non-toxic, reef safe, and their tagline is that SeaTak is "Stronger than the Reef Itself".
Unlike super glue which is excellent at bonding smaller things, SeaTak will also be available in a caulking tube for serious underwater joining of rocks and larger colonies, more applicable for true reef restoration but should come in handy for underwater aquascaping of existing live rocks. We don't have any reservations about SeaTak's claims for reef restoration but we're eager to discover how well the adhesive will perform in a reef aquarium setting, whether it will excel for frags and/or rocks, and especially whether it will be cost-effective compared to the adhesives we already use.
The natural polymer-based SeaTak looks very promising and we sincerely look forward to trying it our for ourselves when it finally becomes available. Anyone can request a sample tube from the SeaTak website and we sincerely hope the new adhesive lives up to its lofty claims.