CoralVue launched a new power supply at MACNA 2022 called the Kraken. An extension to their constantly evolving, ever-expanding Hydros controller range, Kraken is aimed at replacing up to eight 24V and four 12V power supplies, the likes of which are used to power popular aquarium DC devices such as pumps, ATO's and LED lights. Cable management is a conundrum that affects every reefkeeper and Kraken is aimed at simplifying and consolidating nearly all your aquarium device's power leads into one plug-in unit, powered by one super-sized industrial-grade MeanWell power supply.
The MeanWell Driver can handle up to 20 amps and 480 watts total power and comes with the Kraken, but Hydros manufacturer CoralVue says that if you need an even bigger driver and longer power extension leads, (like for coral farms,) these could be purchased separately and will work with the Kraken device too. 
What does Kraken do?
Most DC aquarium devices come with an inline black plastic power supply and a plug. The device plugs into the power supply via one cable, and another one on the other side connects the power supply to the mains. Kraken does away with that black power supply and mains plug altogether, although you will then need a cable to connect to your device cable at one end, and the Kraken power supply at the other. CoralVue hasn't confirmed just how many cables and of which type will be supplied with the Kraken, but many different types should be available in the future and they should be able to connect to virtually any 24V or 12V DC pump, light, or other aquarium devices.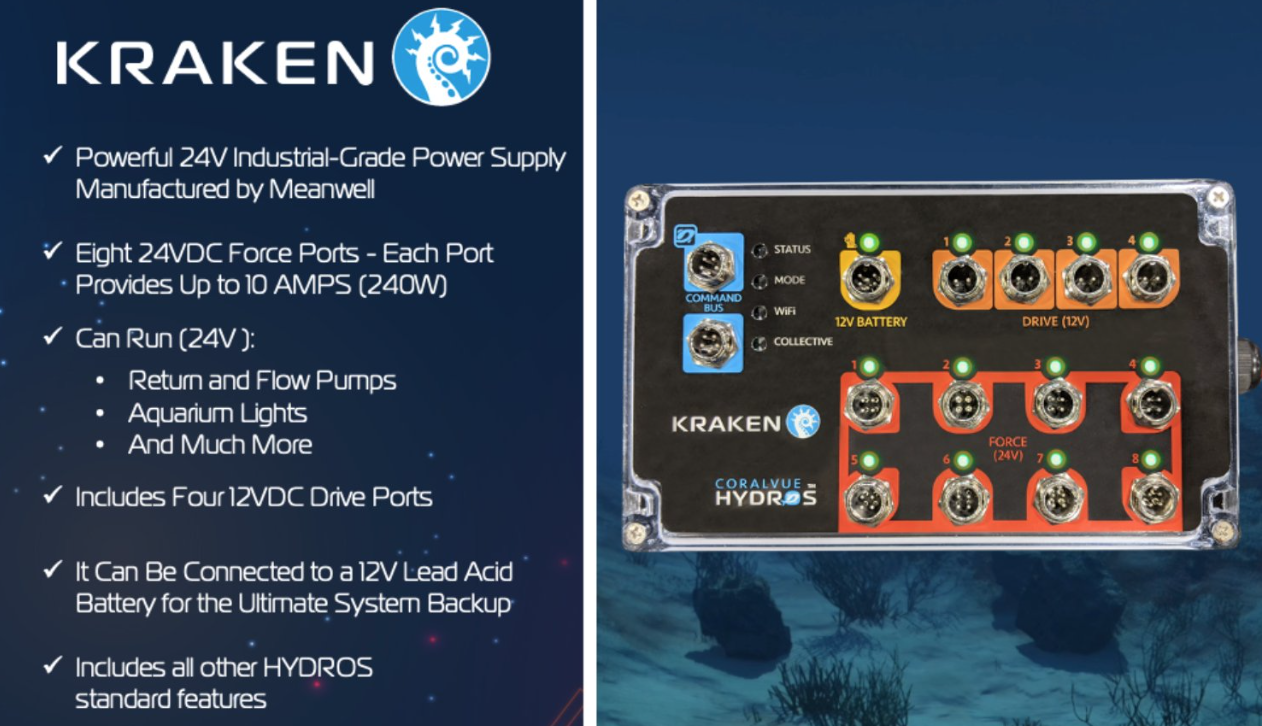 Is Kraken an aquarium controller?
No, it's a power brick that does away with some, but not all of your wiring. It won't control a DC pump's speed or flow settings for example and you would still have to use the pump's inline controller if it has one, or opt for a separate Hydros controller. The DC voltage and 480-watt limit also mean that you won't be able to plug everything into it like a heater, but you can connect any 12V lead acid battery to it and use it as a battery backup for DC pumps and lights if the mains power is cut off.
Kraken helps reefers deal with some of the cable issues and removes up to eight 24V power supplies from inside your cabinet. If fully utilized the front of the Kraken will still look like a cablefest but it removes more cable components than a standard power brick and that quality MeanWell driver is probably a heck of a lot more reliable than the cheap power supplies some devices are supplied with. The cables all lock into place for security, you get that Hydros splash-proof, dust-proof facia, you can mount it, connect it to the Hydros Wi-Fi app, and you are provided with a much tidier, more integrated interface.