The Kamoer A1 Dosing Pump and STR1 Magnetic Stirrer are just the latest in a long line of new dosing pumps introduced to the broader aquarium hobby over the last several months, some of them from Kamoer. One look at the Kamoer A1 and it's clear to see that there's something completely different about this new dosing pump since it looks more like a small spray bottle than an aquarium device.
The reason for the unusual appearance of Kamoer A1 is that it sports a large flared base that functions as a built-in reservoir for whatever you want to dose to your aquarium, eliminating the need to hook up the pump to the reservoir, but limiting the volume to the built in 500 milliliter reservoir. There might be a single button on the top of the Kamoer A1 dosing pump but the primary means of interacting and programming it is the wireless app which functions with either bluetooth or wifi, probably with many of the same features and functions that we've experienced with the Kamoer X1 and follow-up models.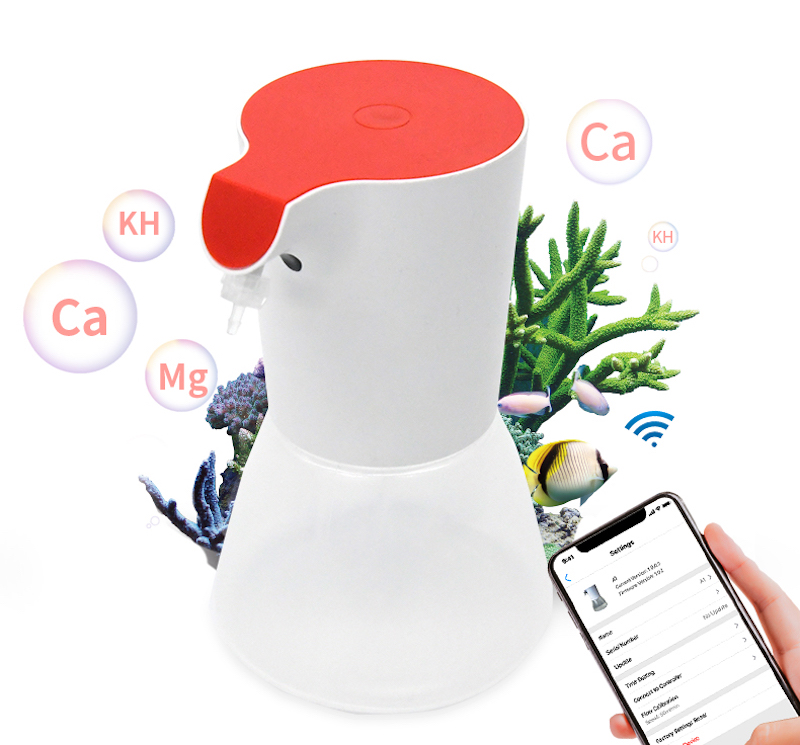 You'd think it would be enough for Kamoer to create this clever little union between the dosing pump and its reservoir but there's also the STR1 magnetic stirrer which fits neatly on the base and plugs right into the dosing pump so no additional power supply is required. Unless you use very concentrated solutions you wouldn't normally want a magnetic stirrer for dosing calcium, magnesium or buffer but the Kamoer A1 dosing pump and STR1 magnetic stirrer would be a great combination for standalone dosing of particulate foods or nutritious additives like Aquavitro Fuel or Red Sea Reef Energy AB+.
The Kamoer A1 Dosing Pump and STR1 Magnetic Stirrer haven't been formally announced so we don't know about pricing for either gadgets but a product webpage is available and completely loaded with details and information about both. Kamoer's new dosing pump and stirrer combination are one of several dozen models from the dosing pump specialist but we're still eagerly awaiting the launch of the Kamoer KH Carer.