Tropical Marine Centre has closed one of its three British wholesale livestock branches. The TMC Bristol facility had served the South West of England and Wales for nearly twenty years and was instrumental in the company's growth when they also opened branches in Manchester in the UK and Iberia, Portugal. With easy online ordering, however, and speedy overnight delivery from other TMC branches versus the huge cost of energy in the UK right now affecting everyone involved in aquatics, they've taken the decision to close their least busy branch.
"Increased energy prices now present us with a new set of challenges," said TMC's CEO Brian Schaff. "We are implementing various internal energy saving initiatives to reduce overhead cost pressures, without compromising our TMC commitment to service and quality. It is however evident that these steps alone will not be enough to protect the longer term stable base for our customers to operate off. With this in mind, and like many other businesses we will need to consolidate our logistical operations. It is therefore with a heavy heart that I am informing you that we will be transferring Bristol operations to London and Manchester from 1st November 2022."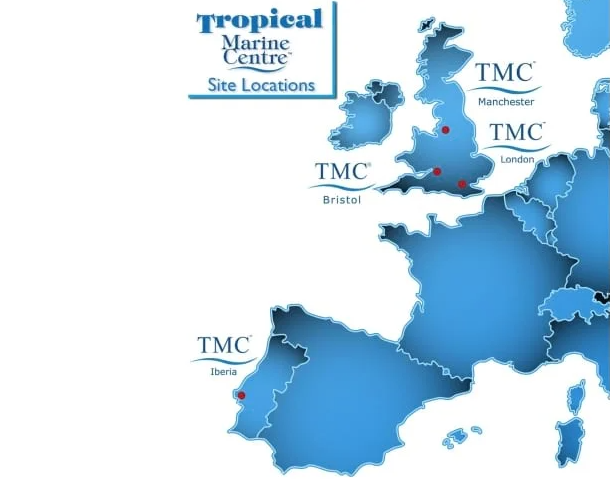 Implications
So does this mean that TMC is closing? 100% no, far from it, but it does mean that aquatic stores who like to hand-pick their livestock and used to travel to Bristol, will now have to travel further to either Manchester or Chorleywood (North London.) If they want to save on fuel they just order from the dealer portal and their livestock will arrive via courier. Tropical Marine Centre is the dominant force in marine livestock supply in the UK and will continue to be. It's also one of the largest suppliers of associated dry goods, but the British and European marine industries are facing unprecedented pressures right now from Hawaiian and Australian livestock bans to an increase in shipping, packaging, and all-time high energy pricing. A UK cost of living crisis is causing a downturn in the saltwater aquarium hobby and if fewer people are buying fish, corals, and aquariums, it affects retailers, and ultimately, their suppliers.