The pump people at Panta Rhei have come up with a novel way to rethink their products to suit their customer's requirements. For wave pumps, they have the Hydro Wizard 42, 63, and 75 models, delivering 11280lph, 51,000lph, and 159,000lph respectively, but up until now if you wanted the significant output of the 75 model it came in a large, long form factor, and used 658 watts at full throttle. It could also cause cavitation. So what would happen if they stuck three Hydro Wizard 63s together?  
"The output is very similar to the Hydro Wizard 75, 159000 l/h (42003 gal/h) vs. 160000 l/h (42268 gal/h)." Panta Rhei told Reef Builders. "The main benefit is the diameter of the impeller at 3 x 80 mm vs. 140 mm, so the circumferential speed is 57%, and there is no cavitation in oversaturated tanks anymore. This cavitation generated fine gas bubbles in highly oversaturated tanks."
"The next benefit is the smaller footprint, so it's easier to place them in smaller tanks (1000 gallons plus). With the use of three individual motors, controllers, and power supplies you get a lot of redundancy. With the option to regulate the controllers individually, you can even change the direction of flow by +/- 15° without changing the mounting of the unit, so you get much more control over your flow scenery in the tank."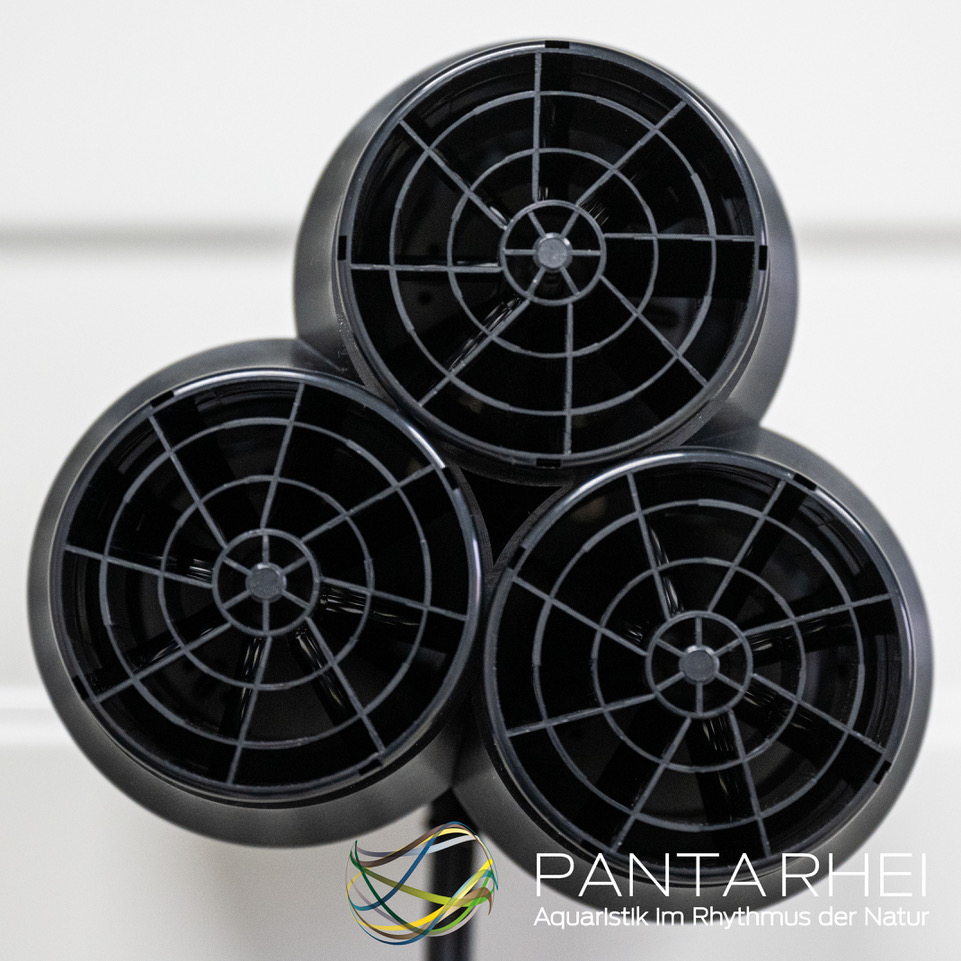 Pros and Cons
The price of the Hydro Wizard 63 xXx is 10% more than the cost of a single 75 model, although the wattage is virtually halved, at 360 watts, when all three 63 pumps run at full throttle. It's also a much more compact form factor yet still only uses one mount – important for public aquaria displays.
Having individual control of the three pumps also enables you to "bend" the flow, as stated above, by having the right unit on 75% for example, and the left on 25% or the top unit on more or less flow to generate more or less surface agitation, although it's not as versatile as three separately mounted pumps in three separate locations.
For most of us, we don't need to consider the flow requirements for 1000-gallon plus tanks, but if we ever do, we know we have options! The Hydro Wizard 75 is €4900, so we can expect the Hydro Wizard 63 xXx trio to command a price of around €5390/$5727.