Polish Equipment manufacturer Reef Factory has started shipping its new Smart Roller Filter today and releasing more precise information on its size and features. Named the Smart Roller M, this new fleece filter boasts a slimline design yet a wide filter roll, as well as app control and notifications of how long the roll will last and if it gets jammed. The unit itself is 24.7cm long by 47.9cm high and 11.7cm wide (front to back,) and incorporates a 20cm wide, by 40-meter-long filter roll. 
According to its makers, it can free stand or hang, takes 32mm or 40mm pipe connections, and can handle a maximum flow rate of 11,000lph. It's rated for aquariums from 300-1500 liters and uses between 0.5 and 5 watts of energy per rotation. It also incorporates a Red Sea-esque media basket underneath.
As with all Reef Factory equipment it connects to and is controlled by the Smart Reef Application. Inside the app, you can switch the unit on/off remotely, view daily statistics of roll length used, and select your choice of advancement length per turn. You can also set delay timings for feeding or maintenance.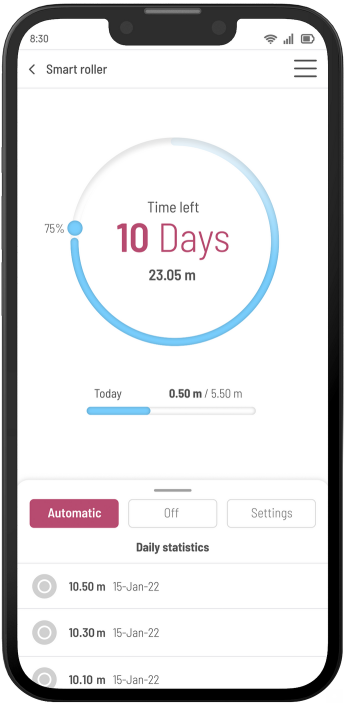 Increased competition
This new roller comes roughly one year after Red Sea's award-winning ReefMat rethought the fleece filter, and in Europe at least, if the Smart Roller M works as it should do, it will become a three-horse race between this, the ReefMat and D-D's much improved Gen 3 Clarisea. The Clarisea is only just over 12cm wide too, and with a tiny footprint, whereas users love the front mounting, flexy hose, and roll changing of the Red Sea. Red Sea and Reef Factory are app-controlled, whereas D-D and Reef Factory use float switches versus Red Sea's sensors.
We love roller filters and hate filter socks, and now Reef Factory devotees get a roller filter that can integrate into their app. We look forward to using one, listening to other user feedback, and watching this new filter and now the ever-more competitive roller filter market as it develops. Our reef tanks will be cleaner for it.