It's hard to believe it's twenty years since Pixar launched the computer-animated adventure of clownfish Nemo, his dad Marlin and the forgetful Blue Regal tang Dory. We think we've watched it 50 times since then, first on DVD and a widescreen TV, and most lately streamed over the internet on OLED.
We worked in an aquatic store when it first aired, and kids (and their parents,) have been referring to Amphiprion ocellaris as Nemo ever since. The award-winning animation actually created a spike in internet searches for saltwater aquariums, in 2003/2004, and when you look back to the saltwater aquarium companies which formed at that time, EcoTech Marine and Reef Builders being just two of them, we have all been riding the wave of much more mainstream marine keeping ever since. But was it a good thing?
We remember media reports that anemones were being stripped of their clownfish on the Great Barrier Reef as a result of much greater interest in keeping them at the time, although there are much bigger Clownfish exporting countries than Australia, and tank-bred clownfish were already established in the industry when Finding Nemo launched. It did make more people want to keep them, however, and we have been advising newbies on what exactly they need in order to keep Nemo ever since.
The captive bred Clownfish industry has boomed since then, supply massively outstripping that of wild-caught common and percula clowns, with dozens of aquarium strains to choose from. Aquacultured clownfish is a good thing, and it not only made the genus available for people to keep, it made them hardy and far less disease prone than wild clowns, and they didn't need those tricky anemones to keep them happy. Common (tank-bred,) clowns are the biggest-selling saltwater aquarium fish in the world.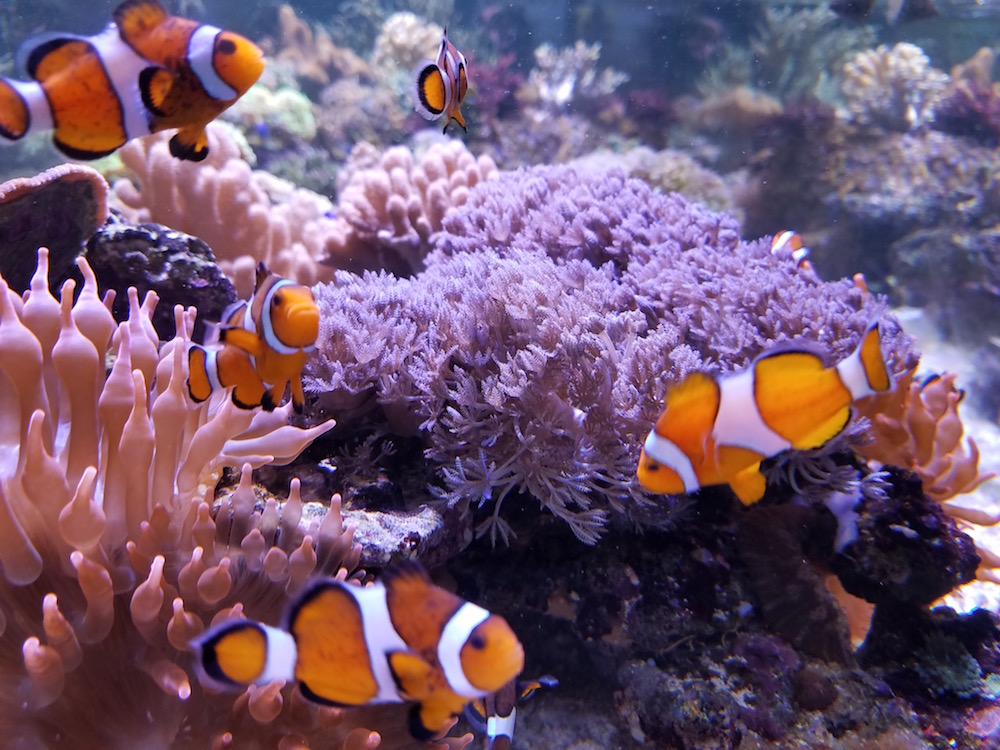 Finding Dory
The same captive breeding boom didn't happen for Dory, Paracanthurus hepatus, however, and although they were first captive-bred in Taiwan in 2011, then later again in 2016, the progeny were possibly swallowed up by an exclusivity agreement and the vast majority (in Europe at least,) still come in wild-caught to this day. Unlike tank-bred common clowns and percs, wild-caught Blue Regal tangs are still disease prone for newbies and, when they hit eight inches in length will need a lot of room, unlike Nemo who you can keep in a Red Sea Max Nano long term. 
Finding Nemo boosted aquarium keeping in general, and although those families first entered aquarium stores wanting Nemo, a large percentage were still happy to leave the store with an aquarium aimed at other orange fish, like Platies, or Goldfish. And as an industry, we really refined ways of keeping Nemo, like compact All-In-One aquariums, better diets, better protein skimmers, and eventually, low-voltage LED. 
Twenty years ago many retailers would wince when a consumer told them that they wanted to keep Nemo, but now keeping a pair of clownfish is almost as easy as keeping tropical or coldwater fish, and if they want to progress to keeping corals we can hold their hands and help them succeed there too.
Twenty years on, now reefkeepers are the future for coral reefs because now we know how to propagate corals and even breed growing numbers of saltwater fish, and that will help protect them for the future. That uptake in interest and injection of cash into the industry helped drive that innovation and motivation for aquaculture saltwater aquarium livestock. And that may, in no small part, be down to a cartoon about Clownfish by Pixar. 
Spikes in reefkeeping
So did we get the same spike in reefkeeping interest when the Finding Dory sequel launched? Not according to Google trends, as all aquarium-related searches remained flat. The sequel just isn't as good for a start, and audiences are now spread far and wide across the internet. Searches for (and purchases of,) Axolotls have boomed, however, due solely to them being included in Minecraft. The phenomenon is the same, only with a different aquatic species, and on a different platform. Before Nemo, it was Ninja Turtles on video tapes…
The aquarium industry did again peak during the Global Pandemic as we all stayed at home, looked into, and invested in our aquariums, and anything fish related is good for recruitment into our hobby, with The Little Mermaid film being next. Keen reefing eyes will spot Cirrhilabrus spp. Fairy Wrasses. We don't expect a spike in their keeping but if the magic of under-the-water imprints on just a few more minds it will pay dividends to the hobby long term.