3D printer 4D Aquatics has produced two third-party interchangeable nozzles for all three of EcoTech's VorTech wavemakers. The MN Series push-on nozzles offer either straight, more focussed narrow flow, or wide flow more like that of the stock housing, but the removable face plates can also be angled inside the nozzle to offer angle adjustment of up to 18 degrees.
The VorTech is a lot of things, but angle adjustable isn't one of them, so those who crave a more movable jet stream or just being able to point more at, or away from, the water surface will no doubt find these useful. It has EcoTech Marine's blessing too, as its Production Director (and EcoTech founder,) Tim Marks, who put us onto the product.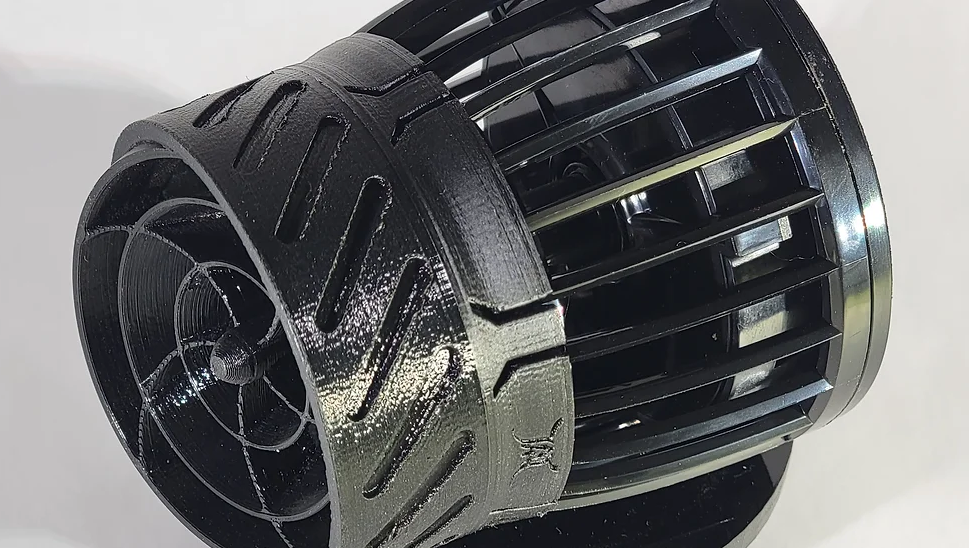 What we think
This isn't the first third-party VorTech nozzle we have seen, and we've covered several over the years from nem guards to a Flow Director that features angled outlet fins built in. Up until now though, most have served to replace the Vortech stock nozzle and combine a redesigned inlet and outlet nozzle in one. The MN Series pushes onto the existing Vortech outlet, however, not replacing it, or altering the inlets. We welcome the choice of interchangeable outlet plates and wish that more manufacturers offered them as an option, as they offer almost infinite design opportunities for future flow directions and patterns. 
The question remains if EcoTech will ever launch its own angle adjustable nozzles, designed, molded, and manufactured by EcoTech itself, if they are holding the feature back for a future Vortech model or revamp? Or if they are happy for the 3D community to continue to keep coming up with their own designs.
An angle-adjustable VorTech only adds to its already massively popular appeal. 4D Aquatics' VorTech moveable nozzles are available from $39.95 – $69.95, depending on the model.