Rolf C Hagen has further invested in its aquarium Ultra Violet Clarifier offering after dipping its toe in the water with the 3-watt Cold Cathode Inline Clarifier. The new, larger FX UVC In-Line Clarifier doubles its power to 6 watts and uses that same 253nm Cold Cathode fluorescent lamp technology to zap water-bourne bacteria and free-floating algae in fresh or saltwater aquariums up to 1500 liters/400 US Gallons, and with maximum flow rate of 2130lph/563gph.
It is called the FX because it was designed primarily with Fluval's Monster Truck FX external canister filters in mind – the largest and most rugged on the market – and although this model has a more conventional UV shape and design versus the tiny 3-watt model, it's been cleverly designed to mount either to the top of an FX canister filter or fitted inside an aquarium cabinet in the usual way. It comes complete with 25mm/1" fittings to match the FX filters as well as 16mm/?" to fit more standard external filters, or in our case, return lines and manifolds.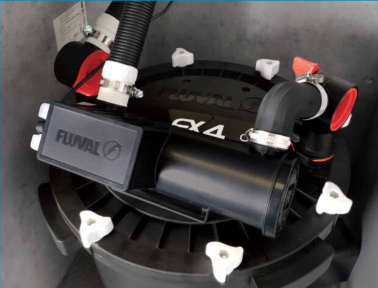 Low running costs
That low energy 6-watt lamp, relatively large void space, and high turnover capability do place this unit firmly in the Clarifier category, so don't expect to fit one and prevent Ich. But if you just want to benefit from clearer, more algae and bacteria-free tank water and for low running costs this unit boasts 20,000 hours, or more than two years, of effective bulb life. And being a compact 8" unit you could virtually set it and forget it on freshwater tanks, although we'd recommend more regular checks to clean any calc build-up in reef tank situations.
Fluval FX filter owners will no doubt welcome this new compatible addition to their favorite canisters and, although there are arguments for and against the use of UV in reef aquaria, the vast majority of freshwater fish keepers just want crystal clear, polished water.