A good product is one that you didn't know you needed until you tried it, and Maxspect's new Pastel Reef Magnifier and Filter Lens has proved to be exactly that. In essence, the reef magnifier is similar to what we have seen before – a 3x magnification magnifying glass that you stick to the front of your tank, using a magnet, that enables you to focus in and view your corals and critters closer up. But there are a few tweaks that we found really useful.
First is the size. It comes in medium and large sizes, and the 4 ½" diameter lens of the large model that we tried out enables most shop-bought coral colonies to fit in the viewer. We have the latest Gen smartphone coral lens but this is twice the diameter.
Next is the built-in light. Maxspect calls it a blue LED softbox light but to us it's more of a mini ring flash, circling the inside of the magnifier and casting a small blue light over the coral you want to look at. This is powered by two AAA batteries (not supplied,) which highlight the coral while giving some added pop, and can be turned on and off at will.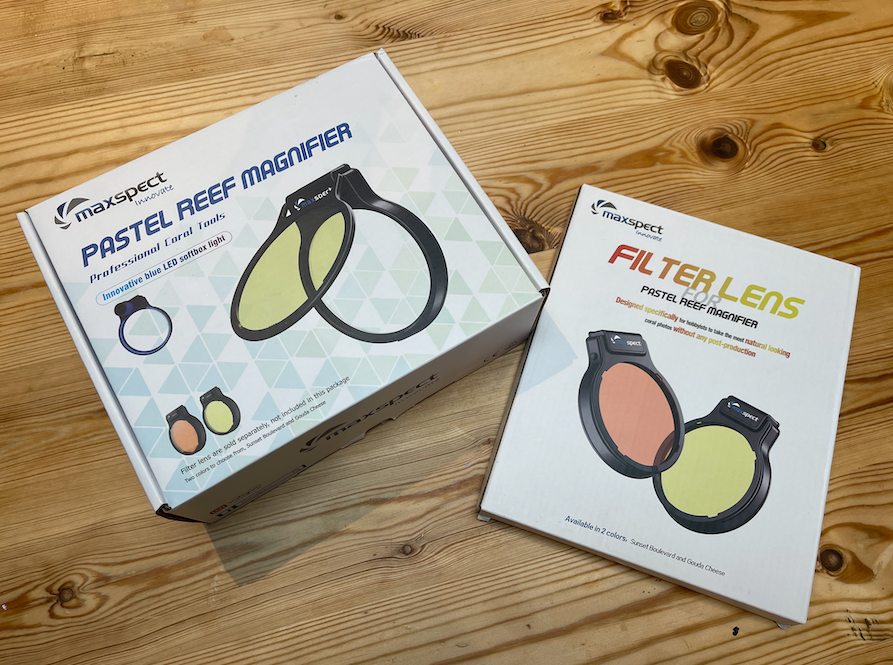 Filter Lens
On top of that though is the option to turn your Reef Magnifier into a photo filter for your camera, by adding one of two clip-on lenses, novelly named Sunset Boulevard for the orange filter, and Gouda Cheese for the yellow one. Combine the magnifier, blue light, and one of the two filter lenses, and you have a zoomed-in, full frame, color-corrected coral that you'll want to stare at and take pictures of, and since fitting the lens to our nano tank we haven't wanted to remove it.
The pair of lenses do have to be bought separately, and you will miss out on a lot of the fun if you don't buy them, but invest in lenses and magnifier in combination and you'll have hours of fun fixing the lens to the front glass and viewing your highlighted corals more closely. It will aid in spotting pests too.
Pricing is to be confirmed.