The Radion XR30w PRO is Ecotech Marine's next-generation version of the wirelessly controlled Radion XR30w LED light fixture. The Radion XR30w PRO will come standard with the Total Internal Reflection (TIR) Lens and will also be populated with more and differently colored LEDs.  As we speculated by the extra wells in the TIR lens, the Radion XR30w PRO is now equipped with 42 top-binned LEDs in eight different colors. In addition to new LED models, the Ecotech Radion XR30w PRO will include six channels of control, and more diodes in the blue end of the spectrum.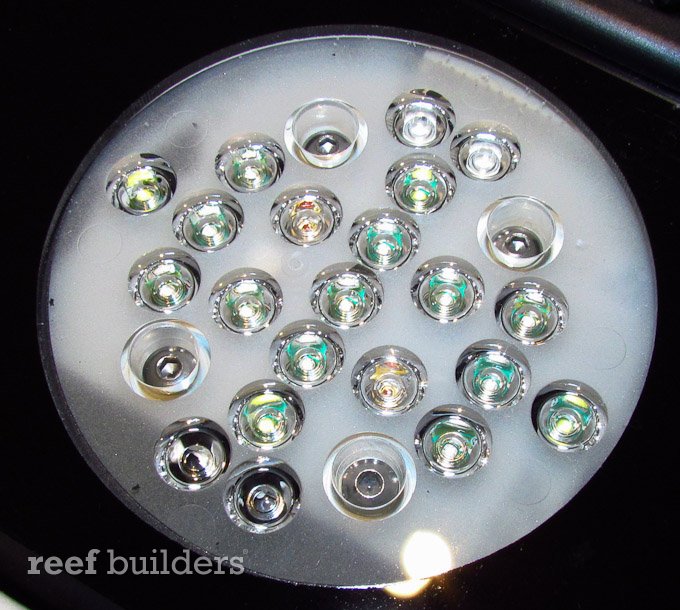 Deep blue and near-UV LEDs with spectral peaks around 405 and 415 nm will bring out more fluorescent colors than ever before. If the previous Radion XR30w was binned with XPG LEDs we suspect that this the new Radion XR30w PRO will be rocking Cree XTE for most of its diodes, save for the Osram reds that Ecotech uses as PAR-boosters. With Cree's blue XTE now rated for up to 5 watts of power each, we suspect that the Radion XR30w PRO will also be receiving a similar boost in overall power and light output but we are very curious to see how the overall ratio of LED colors are distributed in the new LED cluster.
The new Radion XR30w PRO will be shown off first at MACNA in Dallas in two weeks and it will cost $949, a couple hundred bucks more than the original Radion. Current Radion XR30w owners fear not, your light is not going away or being replaced as an upgrade path including new TIR Lenses and LED clusters will be announced in the future. The Radion XR30w PRO LED will be available in early 2013 and it goes up for pre-order November 1, 2012.
EcoTech Marine is pleased to announce the latest addition to the Radion line of aquarium LED lighting systems: the XR30w Pro.

Expanding on the technology found in the standard Radion XR30w model, the Radion XR30w Pro represents the cutting edge in LED technology, power, spectrum and spread. Utilizing EcoTech's TIR lenses and outfitted with 42 top-bin LEDs representing eight different colors and running off of six channels, the XR30w Pro delivers unsurpassed full spectral output from 405nm (Ultra Violet) to 660nm (Hyper Red). The XR30w Pro's premium LED's provide efficient and precise light output, while six channels of control allow users to adjust each color group individually.

The Radion XR30w Pro:

Is ideal for users who want to achieve the highest PAR ratings, have a deep aquarium or want wide light spread with broad spectral coverage.
Integrates seamlessly with the existing EcoSmart Live web-based controller platform.
Features the same unprecedented modularity found in the base Radion XR30w, allowing for future upgrades and backward compatibility within the entire Radion line.

The Radion XR30w Pro will be formally unveiled at MACNA, Sept. 28-30 in Dallas-Fort Worth.

Priced at $949, the Radion XR30w Pro begins shipping in early 2013. Pre-orders will be accepted beginning Nov. 1. Details of an upgrade path for existing Radion XR30w owners to upgrade their lighting systems with Pro components will be announced in the near future.