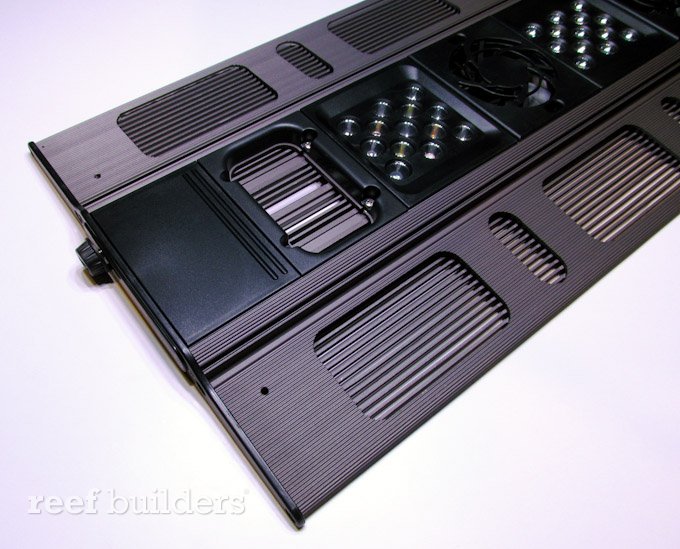 The Maxspect Razor (or R420R as it is often referred to) is incredibly thin, quiet, easy control with a great color pop which has us seriously impressed. Although the main LED body is not mindbogglingly thin at 0.9" (which is still really thin), the tapered heatsink wings give the fixture a much appreciated slim and minimalist look. Interestingly it is not only the form factor of the fixture that has us impressed, the LED color combination is also just plain dope! Keep reading for the full run down.
A combination of Cree XT-E cool whites, warm whites and royal blues along with Cree XP-E Blues and Epileds Dual core "super actinic" LEDs in the Maxspect Razor really result in an awesome spectrum. We're not sure if it is the warm whites or the Epileds 410-420nm LEDs but the Maxspect Razor makes red and oranges in both corals and fish seriously scream. But more on that in the full review.
The on board interface of the Maxspect Razor is intuitive and easy to use, allowing dual channel control with up to six time points. The interface additionally allows quick manual dimming and an on/off function straight from the home screen. No crazy fancy features, but it works great and should offer plenty of controllability for the average user. Since we saw the Razor at Interzoo two fans have been added, not a big concern but a change to keep in mind if you for some reason prefer passively cooled LED fixtures. That said the fans are dead silent and stay off most of the times anyways
We're currently testing the Maxspect Razor over real life aquariums so expect a full review soon. You can see additional pictures of the MaxSpect Razor from our InterZoo coverage and check out the full specs in another previous post.
[nggallery id=760]