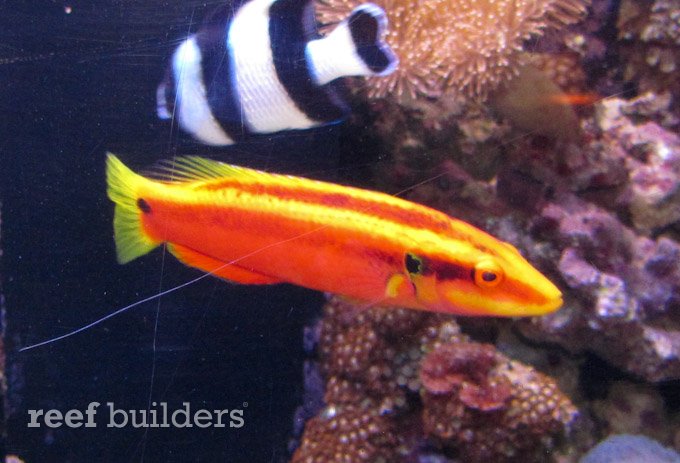 If House of Fins hadn't already made their mark on the marine aquarium world with their annual SPLAS anniversary sale, this year's event proved to be quite the fertile place for spotting (and buying) exotic reef fish. Whereas previous years SPLASH seems to have headlined a few uber rare fish and many other scarce piscine specimens, twenty twelve was loaded to the gills with amazing rare fish with representatives from the angelfish, basslets. wrasses, anthias and more Xanthichthys triggerfish than you could shake a stick at.
There were even a few cool oddball fish like a golden moray, spotted drum and a picture perfect cross-eye squirrelfish from the Plectrypops genus. With so many rare fish abounding in the tanks of House of Fins, you know that HoF pulled out all of the stops to score at least one headliner fish specimen – a Dr. Seuss Fish – which was the first time that many of us ever got to see a Belonoperca pylei in real life.
Another great sight at SPLASH this year was a very unusual and large specimen of what appeared to be a wild-caught tomato and clarki clownfish hybrid. In some ways the Tomato-Clarki looked so familiar with the features of both species but having broad clarki stripes on a fat tomato clownfish body was pretty weird. We've got some video coverage coming up of some of these rare fish, especially the Dr. Seuss Fish, but in the meantime we hope you'll enjoy these snapshots from another great rare fish watching weekend at House of Fins.