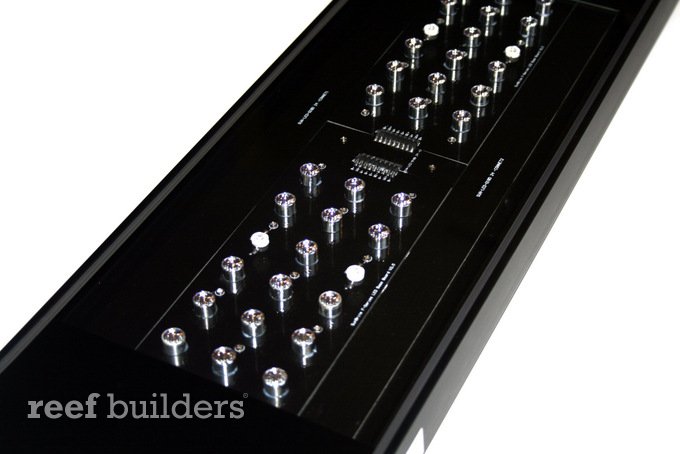 The SunBrite F2 series V2 is SunBrite's latest and greatest LED light offering many cool features such as wifi integration and a wide variety of different LED colors. Although the SunBrite F2 series V1 has been out for less than a year the F-Series V2 is an improvement in intensity since each LED is wquipped with individual mini reflectors. Solid, sleek, and with very intuitive smartphone apps, the SunBrite F2 series V2 offers a great feature set in a slim and stylish package.
The body of the SunBrite F2 series V2 is stunning. The design might be simple with exposed heatsink and a matte black finish, but it is very sharp looking. The fixture is completely passively cooled, and doesn't appear to have a single moving part. This means that the fixture is dead silent, but  it also means that there are very few things that can actually break with normal usage. This is a good thing, since the SunBrite F-Series is absolutely closed shut. The fixture itself does not have any visible screws, and it appears that if you wanted to open it up you'd have to remove a silicone lining on the bottom, which would ruin the exterior. The driver box is slightly more accessible although the screws do appear to have been glued down. Long story short, if something breaks you'll have to send it back for replacement. Whether this is a bad thing or not is up to debate, but it is something to keep in mind if you like to fix things yourself.
[nggallery id=805]
Now, the wifi. The SunBrite F2 series V2 is specifically built for wireless control since any kind of on-board control is nonexistent. There is some configuration possible without wifi, but it won't let you do much more than set some time points. The limited control certainly reminds us of the Giessemann Teszla "controller" interface. Where the Teszla is build for controllers however, the SunBrite is build and optimized for smartphones. With over half the population owning smartphones, and likely a much higher percentage along the tech savvy reefing crowd it certainly wasn't a strange decision, but it does overlook those who do not own smartphones.
[nggallery id=806]
The built-in Wifi is located in the power supply/driver and works out of the box. The user needs to simply attach the included antenna that was removed for shipping, and the box will start streaming wireless signals. To control the fixture through your smartphone download the iOS or android app (the android app is at this time not yet available on the playstore, but can be found on the SunBrite website), install the app, add your IP address along with some other details and you're all set. The app offers most advanced features you might expect to find on desktop software, and allows each color channel to be controlled individually.
While we have one of SunBrite's F-Series V2 LED fixtures on hand, we took time at Reefapalooza to check out the amazing display they had set up at the Age of Aquariums booth. Even with the three foot fixture mounted more than 24″ above a four foot aquarium, the lighting spread and color was pretty impressive. The responsiveness of the F-Series LED fixture through wifi is lightning fast with no lag at all. With an incredible build quality, a diversity of LED colors and the kind of immediately accessible wireless controls that demanding reef aquarists are looking for, the SunBrite LED F-Series will surely garner a following in the reef aquarium community, ourselves included.
[vimeo width="680″ height="450″]http://vimeo.com/53440393[/vimeo]