The ZooMed AquaSun LED HO replacement modules we spied this week took us by surprise and it signals a real sea-change in the way major manufacturers look at LED lighting. When it comes to aquarium LED lights for the masses, first we had Marineland's refined Double Bright LED striplight, then we had Current USA's Satellite + striplights and now ZooMed?
To be honest, we didn't know what to make of their simple Aquasun LED HO fixtures but now that the replaceable modules have been revealed all the pieces are falling into place. The stock ZooMed Aquasun LED HO fixture comes with a standard mix of two 6000K white LEDs for every one 465nm blue LED, about 15 watts worth of solid state lighting power for every two feet of fixture priced at a very modest $79.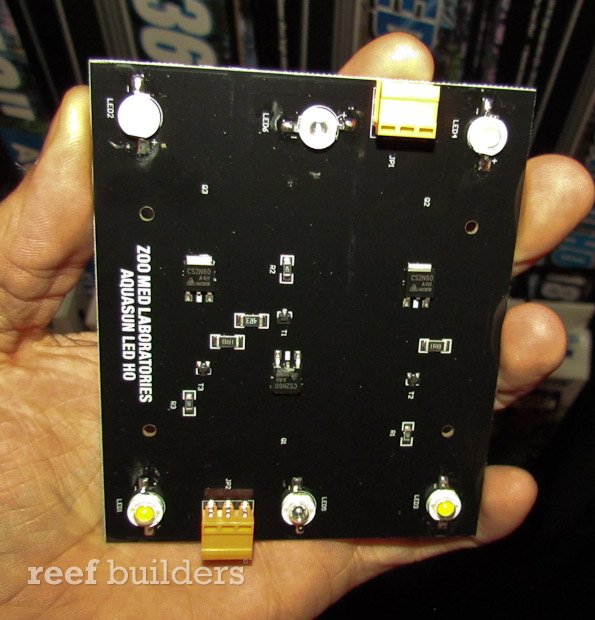 Fifteen watts of efficiently driven LEDs for eighty bucks is a pretty decent deal, especially for first time LED user/buyers. But where the real value comes in is the replaceable modules that ZooMed already has blister packaged and ready to go, which will likely be available at your garden variety LFS, PetSmart, PetCo etc. The best part is that these replaceable LED modules for ZooMed's Aquasun HO fixtures will come in three colors and are expected to retail in the neighborhood of $20-25!
Forget about the niche LED lighting market with top of the line, blindingly bright LEDs in exotic colors for a second and consider that now Marineland, Current USA and ZooMed are on board with LED lighting for the soccer moms and kids first fish tank. We don't expect the Aquasun LED HO fixtures to starting lighting up the next Tank of the Month, but at this rate we are firmly headed away from the use of fluorescent lighting for our aquariums, and straight towards a solid state future with replaceable LED modules that last years instead of tubes every 12 months or so.