The much awaited Hydra fifty two and Director from Aqua Illumination has finally launched in Asia, debuting in the Singapore reef scene via Reef Depot. RD's open house and AI launch event last weekend delivered the much awaited LED fixtures, as well a few surprise and exciting new prototype products from Deltec as well as Polyp Lab. We were happy to be a part of the event and managed to get some exclusive scoops on some new reef tech.
We got a chance to see the new Hydra fifty two in action, and while we have covered a brief review of it already, we can't help but mention how incredibly bright and spread out the lights are from this unit. The standard 20 LED diode Hydra is perfect for a 2ft x 2ft spread, and is suitable for most medium sized tanks, but when compared to 52 diodes on the Hydra fifty two, it's clear that the latter is a much more powerful unit for larger and deeper tanks. Covering a spread of roughly 3ft x 3ft, it's perfect for wider tanks if placed correctly.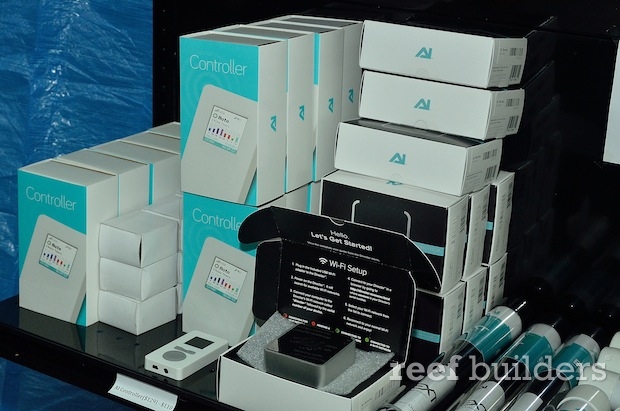 We got a chance to take a quick look at the sleek and very shiny looking AI director set, which boasts a new standard in wireless light control via your PC or smart phone mobile devices while connected through the AI cloud server. The director boats some cool and easy to use features such as
– Weather
– Realistic cloud sweeps
– Lightning Storms
– Provided an Internet connection, the Director can pull live weather from user configured locations on Earth
– Lunar Cycle
– Coral Acclimation
– Test Run
– Plays your entire day's timer configuration in fast forward.
– Dynamically recognize changes in LED configurations using PowerPuck™ technology
– Up to 100 control points per LED color per group for a given day.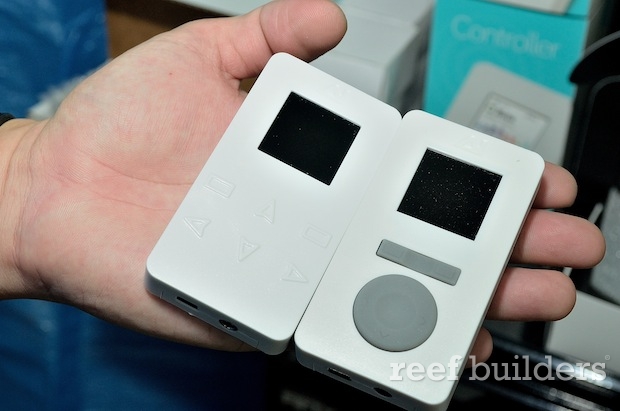 If you liked AI's controller for all its cool and awesome features that we've talked about in the past, then you might be interested to know that the controller has been redesigned with the arrow directional keys in a circular touch pad format.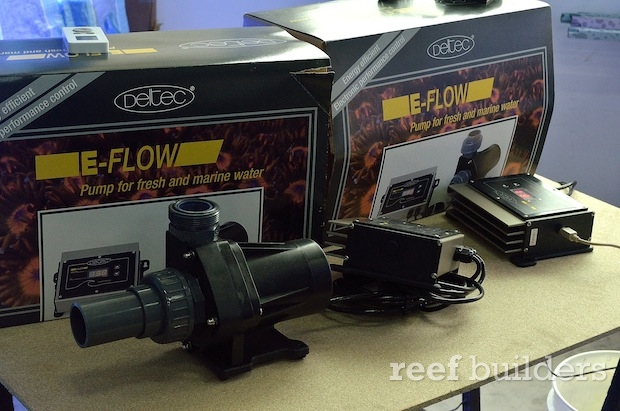 Even more exciting are brand new unreleased products from Deltec and Polyp Lab. These products are still under testing and are in their early prototype stages. Here we have two pump units from Deltec – a return pump and a wavemaker. These are custom built for very large systems or public aquariums and are built as per request by S.E.A aquarium of Singapore's Resorts World Sentosa.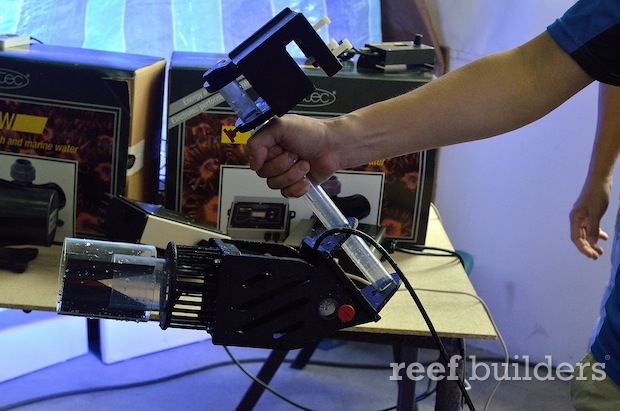 The idea behind this wavemaker was brought upon by as mentioned, S.E.A aquarium in Singapore who needed a bigger and better shark proof (yes you heard us, shark proof) product for their large displays. Seet of Reef Depot recently met up with the boss of Deltec in a recent meeting in China, had a little meeting and ta-da. The current beta was out and shipped to Reef Depot for the public aquarium's evaluation during this developing stages.
Of course, what use would a product be without live demonstration. We were floored by the power of the new Deltec "e-stream". The three videos above show some of the capabilities that are not even yet at full strength. The flow rate is estimated to be around 82,000L/ variable, as the speed and flow can be fully controlled. Power consumption at max usage is at 130 watts.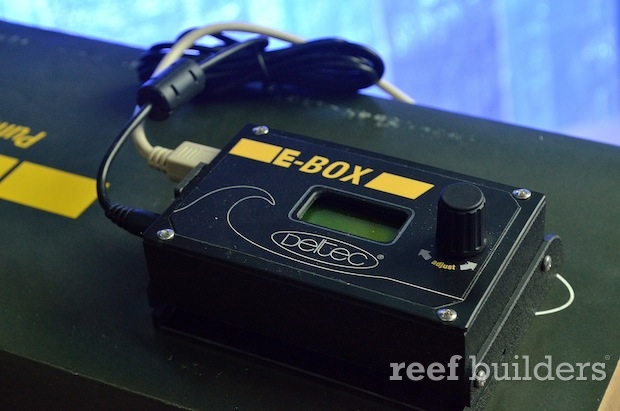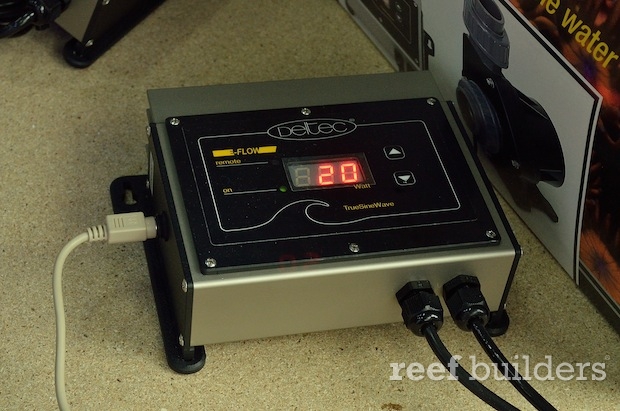 The Deltec return pump E-flow 16 also made an appearance, but unlike the "e-stream", we did not get to see this bad boy in action. However, Deltec did a showcase for their E-flow 16 at least year's interzoo, and a video is available below. At a maximum water head of 9.4 m and a maximum volume of 15,000l/h, this is a pump suite only for really large tanks. Power consumption is at 180 watts.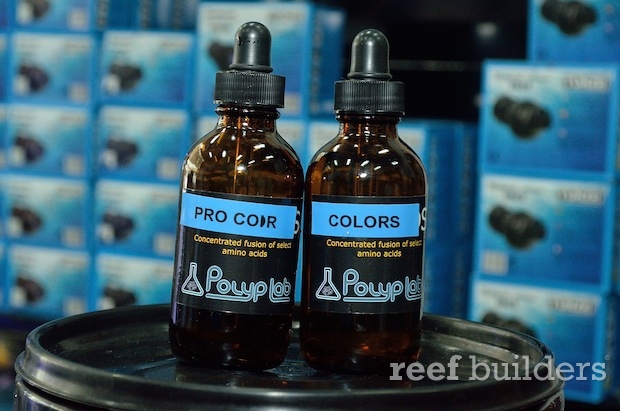 Polyp Lab also had new products that were on display at RD's open house and launch event, but like the Deltect products, these are still under testing. Since Reef Depot took over the helm of Polyp Lab's distribution in Asia, they worked together on developing two concentrated strengths of amino acids for the most demanding of systems or for very large systems with way too efficient filtration. Hence, Reef Depot and Polyp Lab, or "The Lab", formulated the Polyp Lab "colors" and "pro color", a concentrated fusion of select amino acids.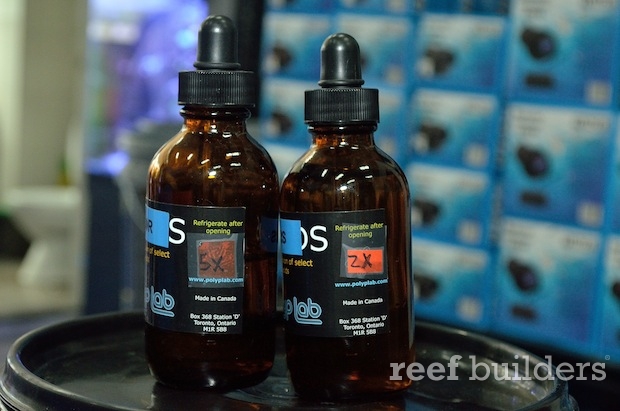 Pro-colors features the strongest concentration of select amino acids at 500%, and colors at 200%. These are extremely potent and concentrated products that require minimal and careful dosing, or for use in a very large aquarium. The current beta tests dosages are as 1 drop for ever 25 gallons or 100 liters of water. Now that's economical.
Visitors were treated to a frag sale organised by Marine Aquarist Society Singapore as well as a lucky draw from Reef Depot where a brand new set of Hydra fifty two was up for grabs. It's events like this that truly epitomise the spirit of reefing and togetherness. What kinds of events do you have where you live? And are you a member of a club or society? Frag swaps, lucky draws and open house events are all part of the fun of reefing!
A big thanks once again to Seet and Simon from Reef Depot, and also the team from Marine Aquarist Society Singapore. MASS is a non profit organisation set up with the aims of promoting awareness, husbandry as well as knowledge sharing between hobbyists on a local as well as international scale. Chaired discussions, talks, networking as well as event organisation are part of what they do, and they have liaised with schools and other public organisations for cultivation of reef awareness.
It is awesome that such societies exist and if you know one or are part of one, do let them know that they are appreciated and do lend a helping hand. Our hobby is growing by the year and it's wonderful that awareness as well as knowledge are shared via such platforms.