The Profilux 4 is an exciting new update to GHL's flagship aquarium controller. Earlier this year GHL announced three new models of the barebones Profilux Mini, Light and Terra, but it seems that GHL was also working to give us the next generation of their best aquarium controller, the Profilux 4.
The GHL Profilux 3 is the most popular aquarium controller to come from Europe, and now with the Profilux 4 it's set to get even better. The Profilux 4 takes many design and engineering cues from the GHL Doser 2, with the most notable new improvement being the addition of built-in wifi, and direct wireless connection for controlling and programming the Profilux 4.
One of the engineering directions that GHL has always taken with their Profilux controllers is to combine as many of the features and functions in a single housing. So instead of a web of interconnected modules, the Profilux aims to give its users a single head unit from which most of the probes, sensors and cables originate.
This is even more evident in the Profilux 4 which combines an insane number of ports in a single housing. The number of ports on the new Profilux 4 are way too many to list but they include 4 BNC connectors, 6 x 1-10v interfaces, AUX, DCF, control pad, USB and many, many more.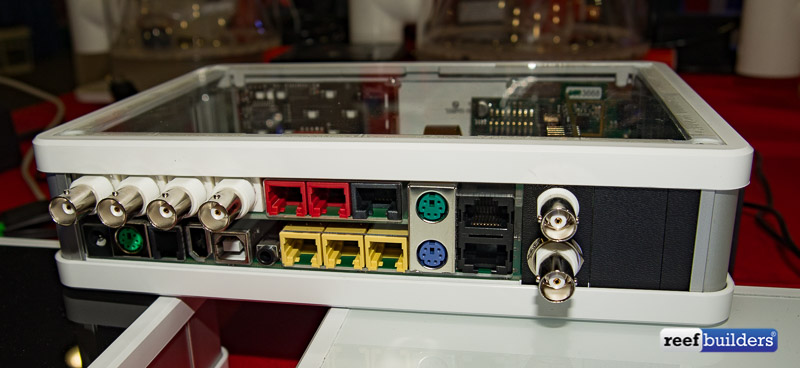 Of course if that isn't enough, or if you want even more functionality, the Profilux also has a few flexible expansion slots. So instead of buying another module to wire up you can simply insert an expansion card into an available slot to give your Profilux even more BNC connectors, interfaces and sensors.
But one thing which we really love about the Profilux 4 is that several of the BNC connectors will be flexible. A stock unit is designed to read temperature, pH, ORP and Conductivity but it will be possible to reassign one or more of these so you can have two pH probes for example.
Interestingly, despite packing in even more functionality under the hood, the Profilux 4 is actually smaller than the Profilux 3, with a footprint that is approximately 20% smaller. However if you do manage to max out your Profilux 4 head unit, you'll still be able to grow your system with an expansion box.
Best of all the Profilux is completely backwards compatible with all GHL accessories, especially their power bars, lights and dosers. There's still so much we could say about the Profilux 4, we're probably missing some notable features, but we'll updating you leading up to the Fall release of the Profilux 4 which is expected to retail at around $600 for the head unit.