The Tunze DOC DC 9410 Skimmer is one of the veteran company's first ever controllable protein skimmer models. We've been using this model on a 60 gallon reef tank for half a year and we couldn't be happier with the long term performance and ease of use of the DOC DC 9410.
Tunze has been making skimmers just about as long as anyone in the hobby, and with this strong heritage and long lineage, Tunze has retained a skimmer design all their own. In a sea of different skimmer with conical bodies, the same rebadged pumps and virtually identical designs and appearance, it's easy to overlook Tunze's skimmers as being small and different.
We know we are guilty of not giving Tunze's skimmer designs enough consideration in the past. But despite their small size and distinctive appearance, the simple designs hides a lot of great features which make using this skimmer a complete pleasure.
We always scratch our heads when 'high end' in-sump skimmers have cups that are tricky to take off, either by screwing them on, or overly tight bayonet fittings. The Tunze DOC DC 9410 doesn't even use an o-ring in a compression fitting, with the cup simply sliding in and out of the body making emptying and cleaning it a simple, one-handed affair.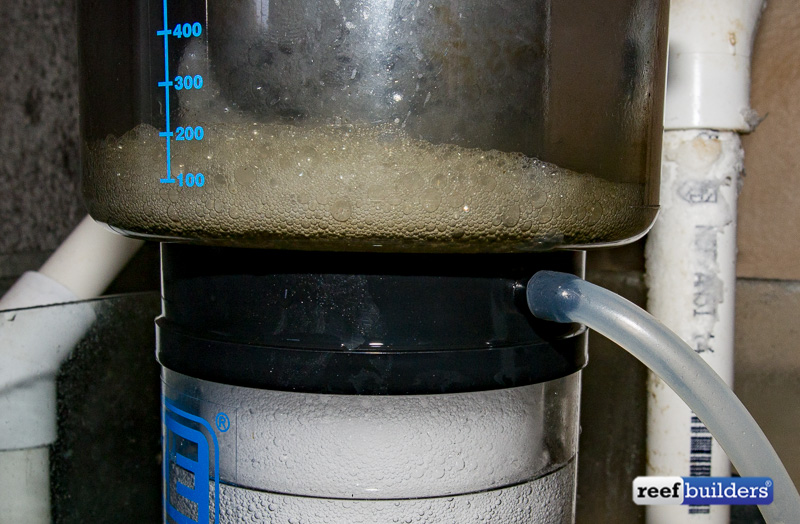 Better yet, while virtually all other protein skimmers have a dedicated air silencer to quiet their massive air draw, Tunze has taken an different approach. Instead of making a separate silencer that you have to clean, the Tunze DOC Skimmers have a silencing feature built between the cup and the body.
This is a really innovative feature because it renders the protein skimmer extremely quiet, but it also moistens the air intake. Cleaning the air intake of venturis and air aspirator valves is normally a chore that must be performed to prevent clogging but since the needle wheel pump only draws in this humid air, we haven't had to clean the venturi of the DOC DC Skimmer at all yet.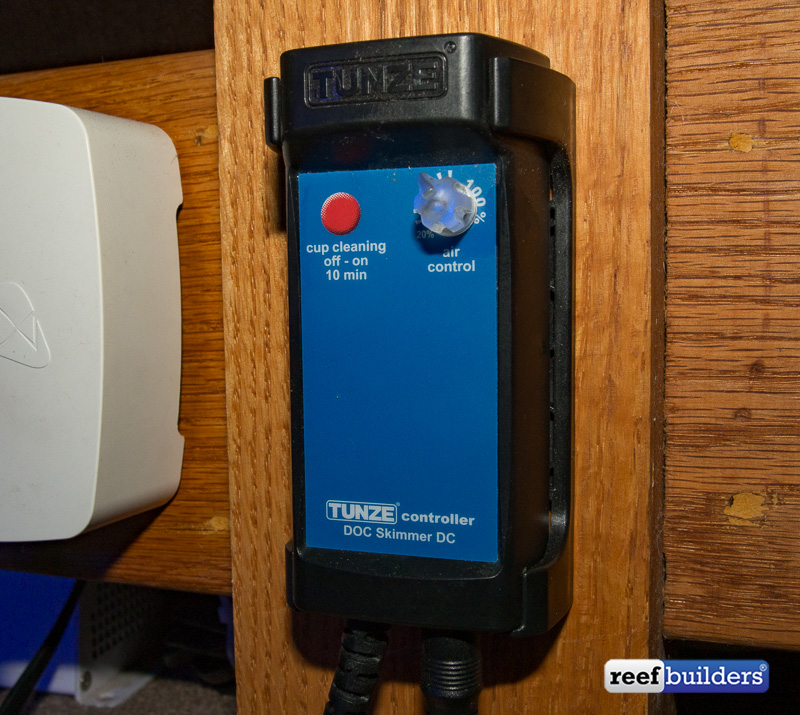 The controller for the Tunze DOC DC Skimmer is rather simple but all it really needs to do is help you dial in the rate of protein skimming anyway. A simple 'feed' button essentially pauses the pump for ten minutes which more than enough time to clean the easily removed skimmer cup.
The self-leveling feature of Tunze's unique protein skimmer design means that you don't have to adjust water level at all with a riser pipe or wedge pipe. The only adjustment is made with the controller, and it's really not hard to adjust, but we do wish that the dial was larger because the current one is a little small, making fine grained adjustment a little bit harder.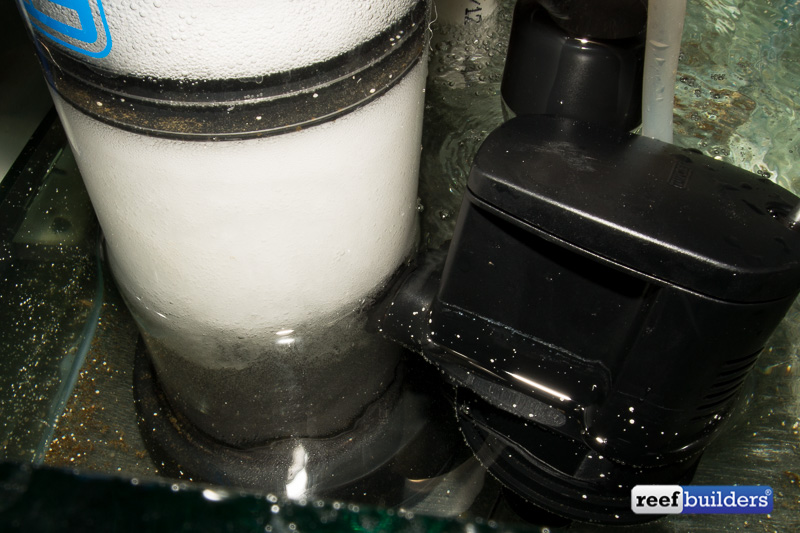 The one solid criticism we have for the Tunze DOC DC Skimmer is that the pump threads onto the protein skimmer body. So it takes two hands and multiple spins of the entire pump body to remove it for cleaning and if space is limited, you might have to remove the entire skimmer assembly to service the pump and needle wheel for cleaning.
Also, one thing that might throw off users from Tunze's in-sump skimmers is the odd micron sock that Tunze put on the outflow pipe. We presume this accessory is there to prevent microbubbles from entering the sump but we actually found this accessory to be superfluous and louder than the standpipe on its own, and haven't used it since day one.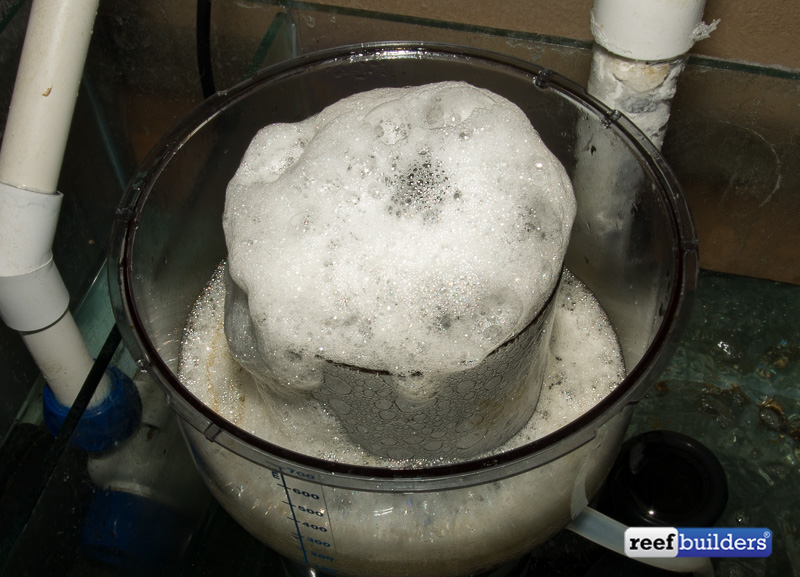 If there's one key feature that will surprise users of the Tunze DOC DC Skimmer 9410 is how quickly it skims after cleaning and disturbances. Unless you've just fed some frozen mysis shrimp, almost nothing seems to collapse this protein skimmer and getting a good head of dry foam skimmate is simply a matter of dialing the skimmer pump higher or lower.
Our interest in trying out the Tunze DOC DC Skimmer came simply from the desire to have a small controllable protein skimmer to use on our 60 gallon cube reef tank. Cube shaped aquariums have become really popular in recent years, but the one drawback is that their small footprint relatively to their volume leads to a lack of space in the sump.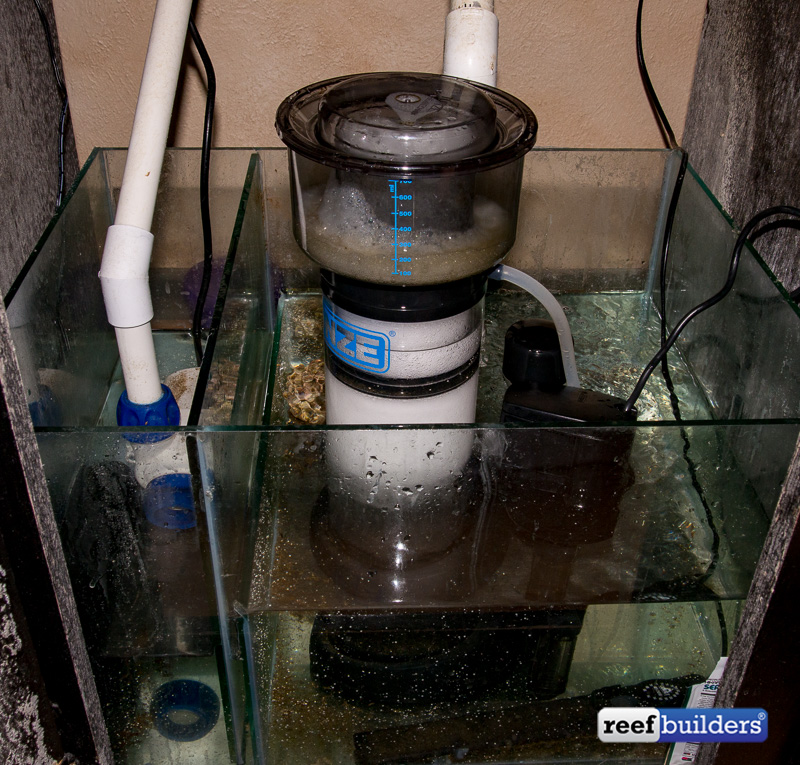 Pound for pound, the Tunze DOC DC Skimmer 9410 is hands down one of the best protein skimmers we've ever used; it's very quiet, very easy to adjust and control, it's easy to service and clean, and it produces an incredible amount of skimmate for its size and footprint. We don't make statements like that lightly, but after more than 6 months of use with virtually nothing critical to say about it, this skimmer is one of the best reef aquarium products released this year.
We were given this product for review but our opinion and review of a product is never affected by how we acquire it.