Aqua-Marina Diving Tenerife
The Aqua-Marina Dive Center is located on the island of Tenerife, the largest and most populated island of the seven Canary Islands. Here you can dive on historic shipwrecks, stunning drop-off's and walls, or simply enjoy the crystal clear water and abundance of marine life.
No matter your experience level Aqua-Marina has something for everyone. Entry level dive sites start at 6m (20 feet) depth, with more advanced dives down to 40m (130 feet).
Due to the volcanic formation of the island, there are many striking geological features to enjoy, from towering columns of basalt rock to caves and swim-throughs formed by rapidly cooling lava or pockets of gas. Other areas provide sheltered sandy bottoms in which we may enjoy diving with turtles, giant stingrays, and Angel Sharks.  You can read more about the resident marine life here.

Dive Conditions
Temperature
The water in Tenerife is between 19?C in February and March through to 24?C in September and October. When diving Tenerife, it is best to have a 5mm wetsuit in the summer and at 7mm or semi-dry suits the rest of the year.
Currents and Tides
The current in Tenerife are not particularly strong. Currents run parallel to the coast and change direction with the incoming or outgoing tide. Stronger currents are experienced when diving close to headlands, drop-offs or seamounts, but they are usually relatively weak and non-existent at slack tides.
Visibility
Tenerife has some of the clearest water in the world often exceeding 30 meters visibility. If crystal clear visibility is what you are looking for, you will want to avoid diving in the Spring. This is the only time when the visibility diminishes due to phytoplankton bloom.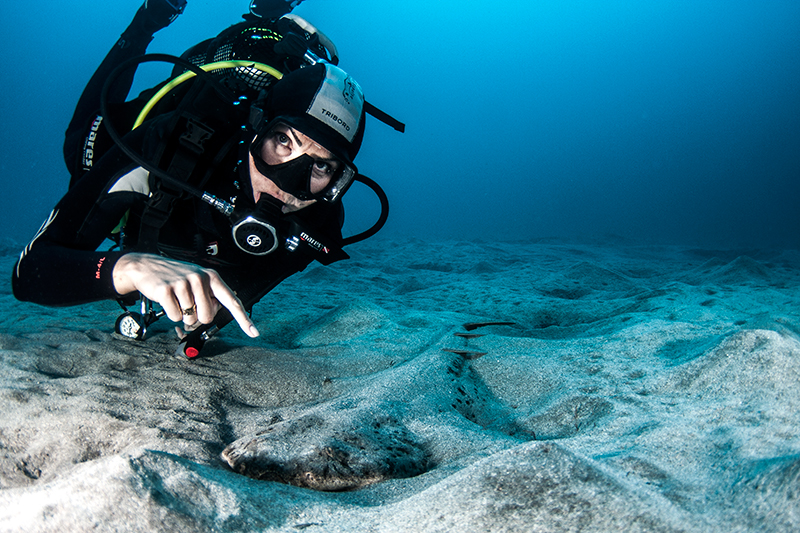 Learn To Dive
Aqua-Marina offers PADI scuba diving courses from entry level Discover Scuba Diving to professional PADI Open Water Scuba Instructor. With its fantastic visibility and limited current Tenerife is an excellent destination to learn scuba diving.
Aqua-Marina is a professional dive center which puts safety first. They strive to provide fun and excitement for adventure, exploration and personal development with a team or instructors and divemaster dedicated to providing personalized service.


The Aqua-Marina dive center is voted #1 for boat tours and water sports in Tenerife with a 5 star rating and TripAdvisor certificate of excellence. Visit the Aqua-Marina Tripadvisor page to read what others are saying about their recent diving experience.
To learn more about Aqua-Marina or book your dive trip, visit the website at www.aqua-marina.com or follow them on Facebook here.