Abyssrium
Abyssrium is an app for IOS and Android that lets you create a mini aquarium inside your phone. We'll admit to being addicted for the past two weeks, tap, tap tapping, our way to a level 1000 corallite. This game has just the right amount of reward factor to get you hooked, but at this point, our interest is starting to wane.
The game starts with a lonely corallite, which should have just been called a rock because it's on this corallite that all your new corals will attach. Every time you tap on the corallite a vitality heart pops out the top. Corals and fish generate vitality without tapping, and as they level up so does their vitality reward.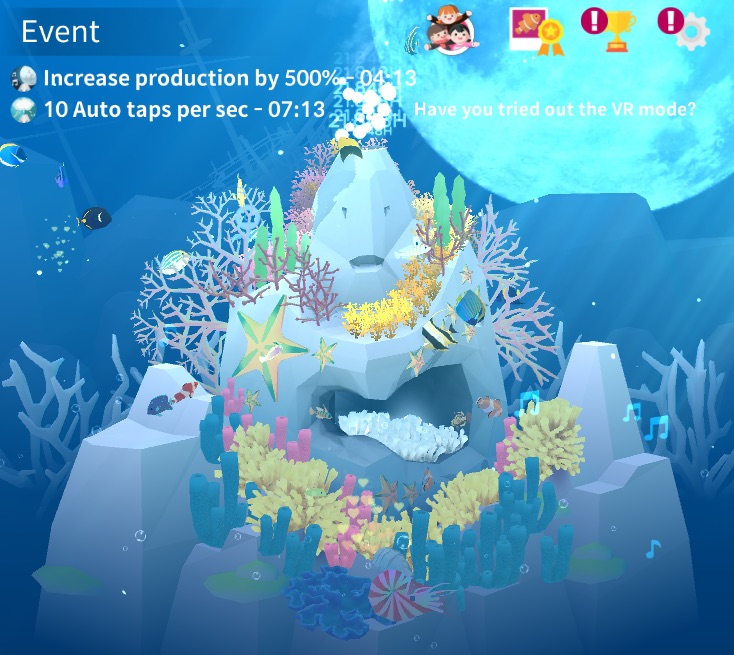 This game is all about collecting vitality which you can use to buy corals and fish, and to continue leveling up your corals and corallite. Abyssrium has a numerical point system which is a little odd at first. Collecting 1000.00A vitality becomes 1.000B vitality, and as the game progresses, vitality scores work their way up the alphabet. I am currently receiving 1000.00H vitality which becomes 1.000I vitality.
This system allows the game to tap into our subconscious addictive brain by always increasing the amount of earned vitality, while slowly ratcheting up the amount of vitality you need to level up corals. Equally, the cost of vitality per fish increases with every fish added to the collection.
Exceptional Selection Of Fish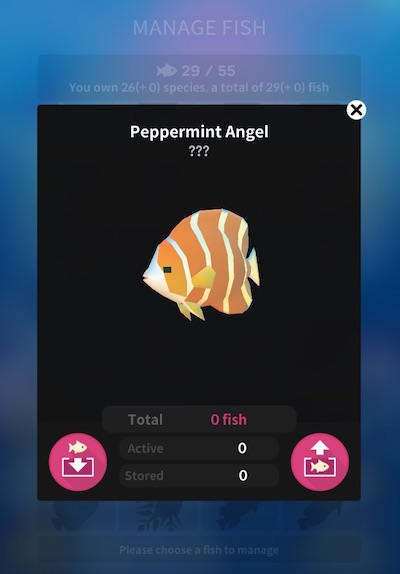 What got us hooked was the list of fish which are possible to collect in the game. I mean what other game do you know that offers a peppermint angelfish? The game starts off by letting you add clownfish to your aquarium, and as you collect more fish and achieve individual goals new fish are unlocked.
There are multiple mystery fish which all have unique requirements for revealing them in the game. The peppermint angelfish, rightfully so is the most difficult fish to unlock requiring a staggering 50 angelfish to unlock this prized fish.
Other secret fish challenges include playing the game five times at 4:00AM to unlock the Pygmy Seahorse, tapping the upper-left corner of the screen 1000 times for the Jewel Damsel, and opening application 20 times in one day for the Pajama Cardinal.
Like all 'Free' apps, Abyssrium comes with bundle of in-app purchases to help you pass the game faster. We had no intention to pay for this app and Abyssrium offers plenty of opportunities to collect gems (premium currency) and vitality as a slow steady pace.
Several times per day a mystery chest will appear on the corallite, containing vitality or gems. To unlock this reward you have to watch a 10-30 second video. There are skills which you can use to auto tap your corallite and again you can refresh these skills quicker by watching advertisers videos. We would consider paying a premium fee to remove all the advertiser's videos as they quickly takes us out of the peaceful game.
Calming Soundtrack And Detailed Graphics
Abyssrium comes with a soothing soundtrack and 5 star graphics, and offers the ability to zone out and stare at your aquarium with a VR headset. All of this however, does little to distract from the daily grind of tapping your screen and watching ads.
We wanted Abyssrium to be something great. The trick with an aquarium is to slowly build up your corals and fish and we wish Abyssrium rewarded players for the amount of time they've kept their aquarium rather than how many times they've tapped.
In the end Abyssrium is fun and addictive with an exceptional list of aquarium fish, however, the list of corals doesn't live up to the amount of effort that went into developing the fish list. Abyssrium is worth a download but could never replace the real thing. [Abyssrium]