Scuba Diving With Stingrays
Scuba diving with stingrays wasn't even on my radar, until last week when I had the opportunity to visit Stingray City. Diving with these elegant elasmobranchs will certainly go down as one of my most memorable underwater experiences.
Stingray City is one of the largest tourist attractions in Grand Cayman, and for that reason, I was happy to steer clear and stick to diving shallow sunlit reefs. After a morning of diving our skipper Crispy asked "who's coming to stingray this afternoon," so I decided to give it a go.
If it wasn't for the regulator in my mouth, you would see me grinning from ear to ear. The moment you have a stingray swim right up over your head, it's hard not to smile. As a diver we are told not to touch, tease or take anything underwater—Stingray City is the exception.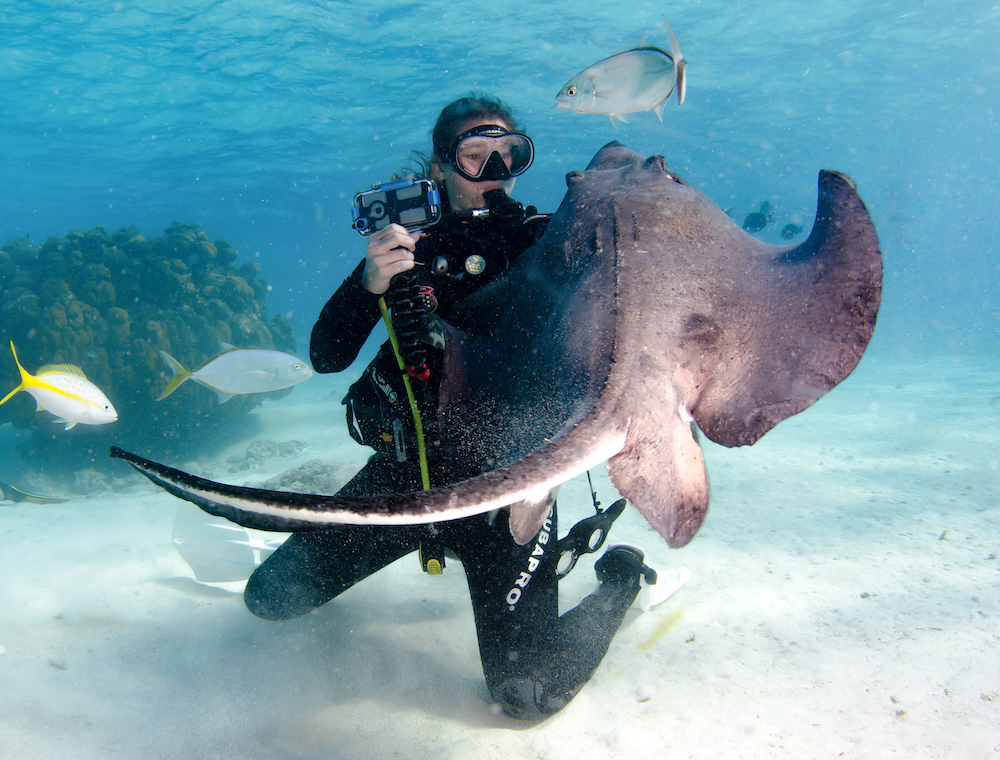 Stingray City
The schooling rays were first noticed in the early 1980's when fishermen returned from open sea to the calm protected sandbar just inside the lagoon. Here they would clean their fish and soon noticed huge black shadows circling under their boats.
Our skipper Crispy explained that Caymanian fishermen were great on the water but were not the best swimmers, so they assumed these shadows must have been "man-eating sharks." Divemasters on the Island soon caught wind of the mysterious shadows and went out to the sandbar to investigate.
What they found were dozens of Southern stingrays hanging around the boat waiting for an easy meal. From here Stingray city was born and is now one of the Cayman Island's more famous and favorite attraction.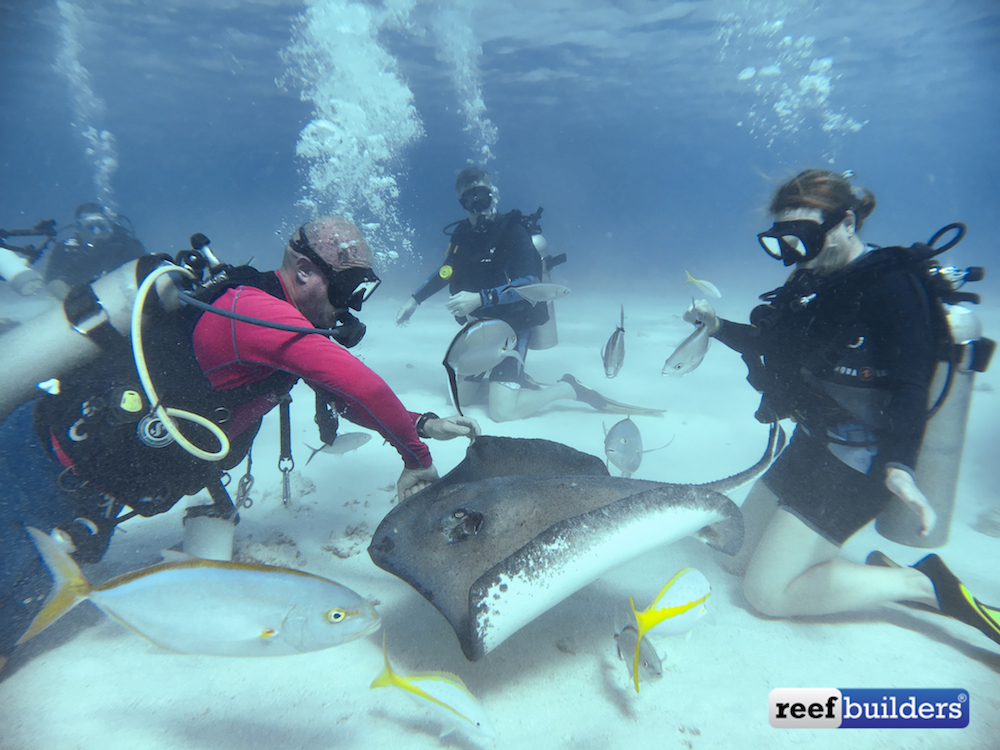 Southern Stingray
The southern stingray (Dasyatis americana) is found in tropical and subtropical waters of the Western Atlantic Ocean. The southern stingray has a diamond shape and is brown, gray or olive color with a white belly. The Southern stringray has no teeth and instead uses suction to extract prey and coarse grinder plates to pulverize and consume food.
These stingrays have a barb on the tail covered in a venomous sheath which they use for self-defense. However, Southern stingrays only get one use of their barb, and are unlikely to sting unless seriously provoked. Stringrays are commonly found buried in the sand and stings mostly occur from people stepping on camouflaged rays. While the sting is not fatal they are incredibly painful.
Stingray City Dive Site
The Stingray city dive site is a shallow sandbar 12 feet (3.5m) deep, and is located a short ten-minute boat ride from the North Western point of Grand Cayman. We visited Stingray city with Red Sail Sports and our skipper Crispy had some serious ray whispering abilities.
If feeding stingrays wasn't on your bucket list, go ahead and add it! And if you're visiting the Cayman Islands we recommend Red Sail. They have big comfortable boats, professional staff and over 25 years experience in the Cayman Islands.
This video was shot using the iPhone 6 and ProShotCase underwater housing.