Reef Builders Destination Sulawesi Indonesia
Here at Reef Builders we are fortunate to dive some of the worlds most lush and vibrant coral reefs, so last year we decided it was time to invite our readers along for the journey. This is how the idea for Reef Builders Destinations was born.
Last week we set off on our very first destination trip to Indonesia, and already five days into the trip we are more than impressed with the diversity of marine life.
Our trip will take us around the Northern Coast of Sulawesi, stopping at three resorts on either side of the island. You can read all the trip details here.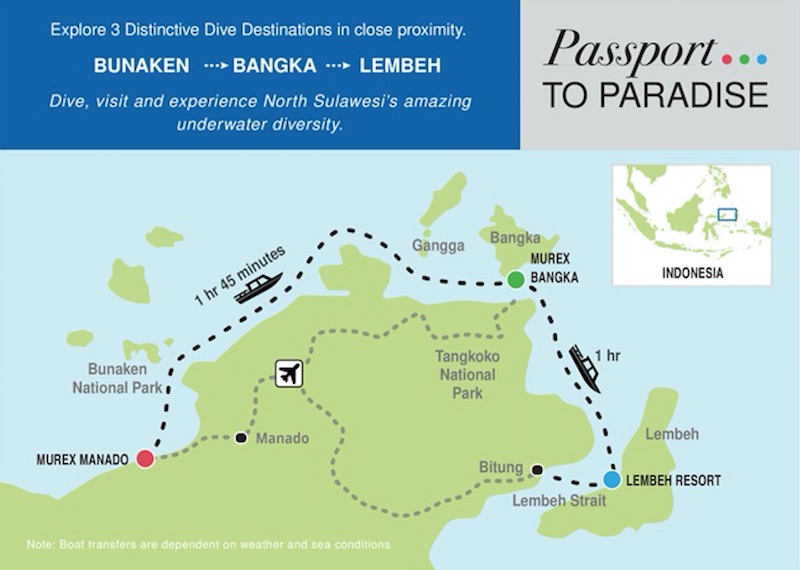 Indonesia is home to many of the coral and fish species we keep in our tanks so naturally, this was the first place we wanted our readers to visit.
As an aquarist, we already have a deep appreciation for marine life, but to see these animals in the wild is really something special. This article is our first travelogue entry from Manado and diving the Bunaken National Park.
Bunaken Park
We knew the diving in Manado was going to be exceptional, but it most definitely surpassed our expectations right from the word go. Manado is the capital city of the Northern province of Sulawesi and our hotel Murex Manado is located just outside the metropolis.
Our daily dives were in front of the resort either directly off shore or twenty minutes by boat over to the Bunaken National Park. Close to shore the dives are sloping reef and muck dive habitat, while the Bunaken park is mostly steep slopes and walls.
We planned three dives per day, two in the morning at the Bunaken Park and a third in the afternoon near shore. Day one we jumped in the water on a deep wall dive named Bunaken Timur 1. The Bunake park is located near the center of the Coral Triangle and boasts up to 390 species of coral! The top of the wall is a mix of leather corals and robust Isopora corals.
As you go over the edge and down the wall branching corals give way to all sorts of encrusting corals, zoanthids, sponges, and cryptic polyps. You could spend an entire dive on a 10 foot section of the reef and still pass over countless species.
What really stood out for us was the huge schools of fish cruising along the side of the reef wall. Schools of pyramid butterfly fish, trigger fish, anthias, tangs, and damsels dart between the wall and the deep blue.
I'm not much of a fish person but it's hard to look away when thousands of fish flutter by. And did I mention the turtles! We've never seen more sea turtles than diving in the Bunaken Park. If you want a guarantee to dive with sea turtles, Bunaken is the place.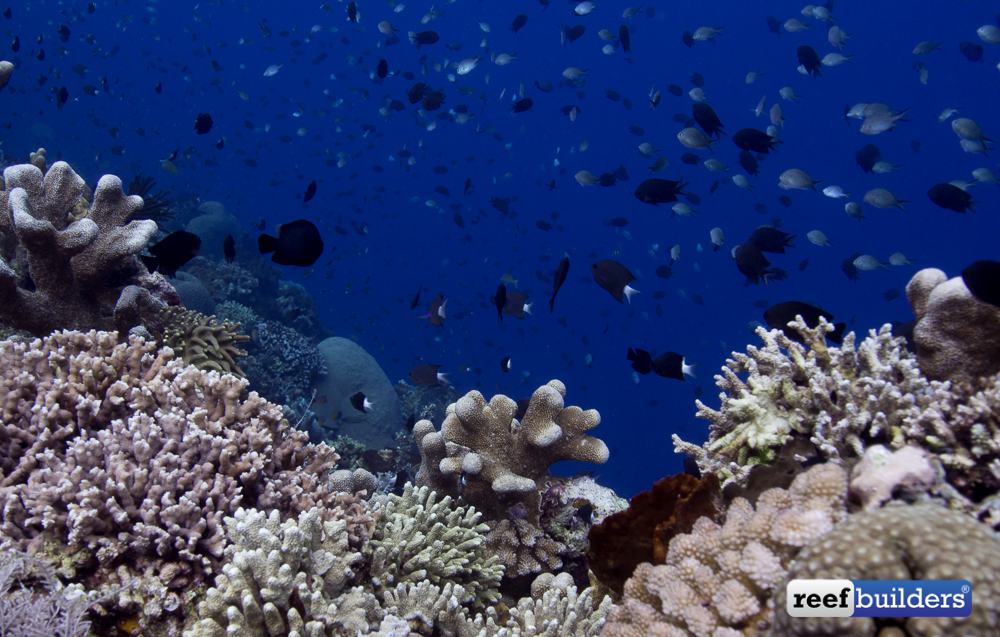 One of our favorite dive sites in the Bunaken Park has to be Fukui point. We were able to do this dive twice in three days and it was recommended to us as having some of the best coral in the area.
This dive site starts with lots of table Acropora, and some nice branching bubble corals.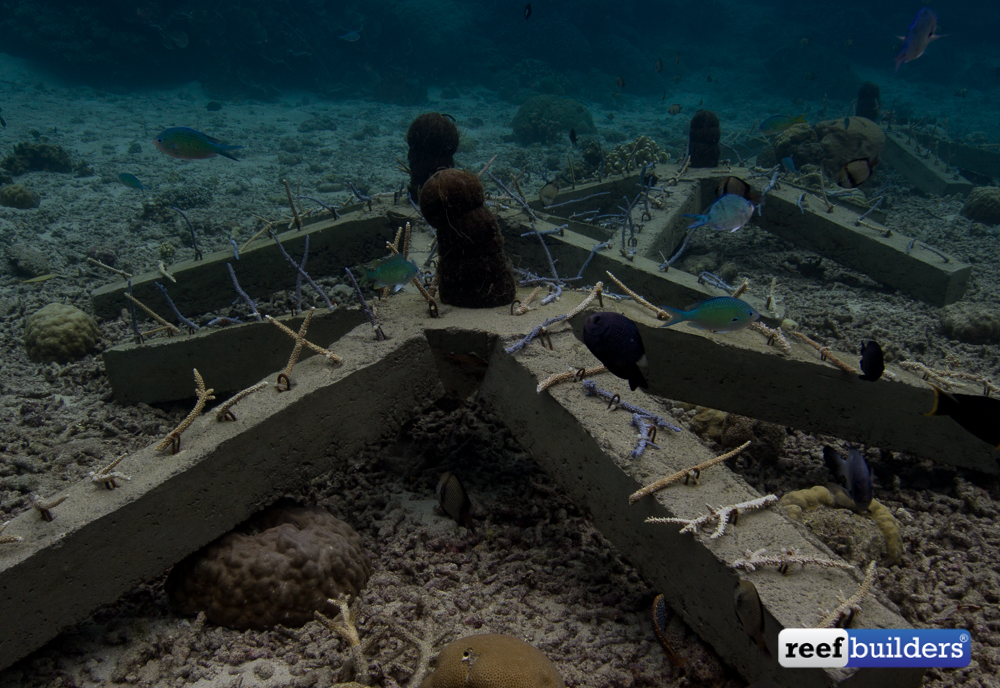 There is also small coral restoration project with some clever cement pedestals, although the corals they were trying to grow didn't seem to be the right fit for the shallow sunlit habitat.
As you go down the slope there were fields of plating Mycedium, Turbinaria, and Pachyseris corals. Down at the bottom of the slope around 30m (100 feet) we saw some big fish including a bumphead parrot fish, two blue fin tunas, and a black tip reef shark. There was also a giant Tridacna gigas clam, although it wasn't as big as the one we saw at Mioskon Island in Raja Ampat.
Manado Shore Dives
The daily diving around Bunaken was pretty awe inspiring, but even in Manado you don't have to look far to find unique habitats and unusual critters. Most dives are within a five-minute boat ride from the hotel, or you can just walk in from the shore and dive the Murex Manado house reef.
In the handful of shore dives, we did we managed to find a pair of ghost pipefish, although our pictures didn't turn out, we promise it happened! We also saw a flamboyant cuttle fish, and even got to see a pair of clownfish with a parasitic isopod on their tongue. The guides in Manado sure do know how to spot even the tiniest of details.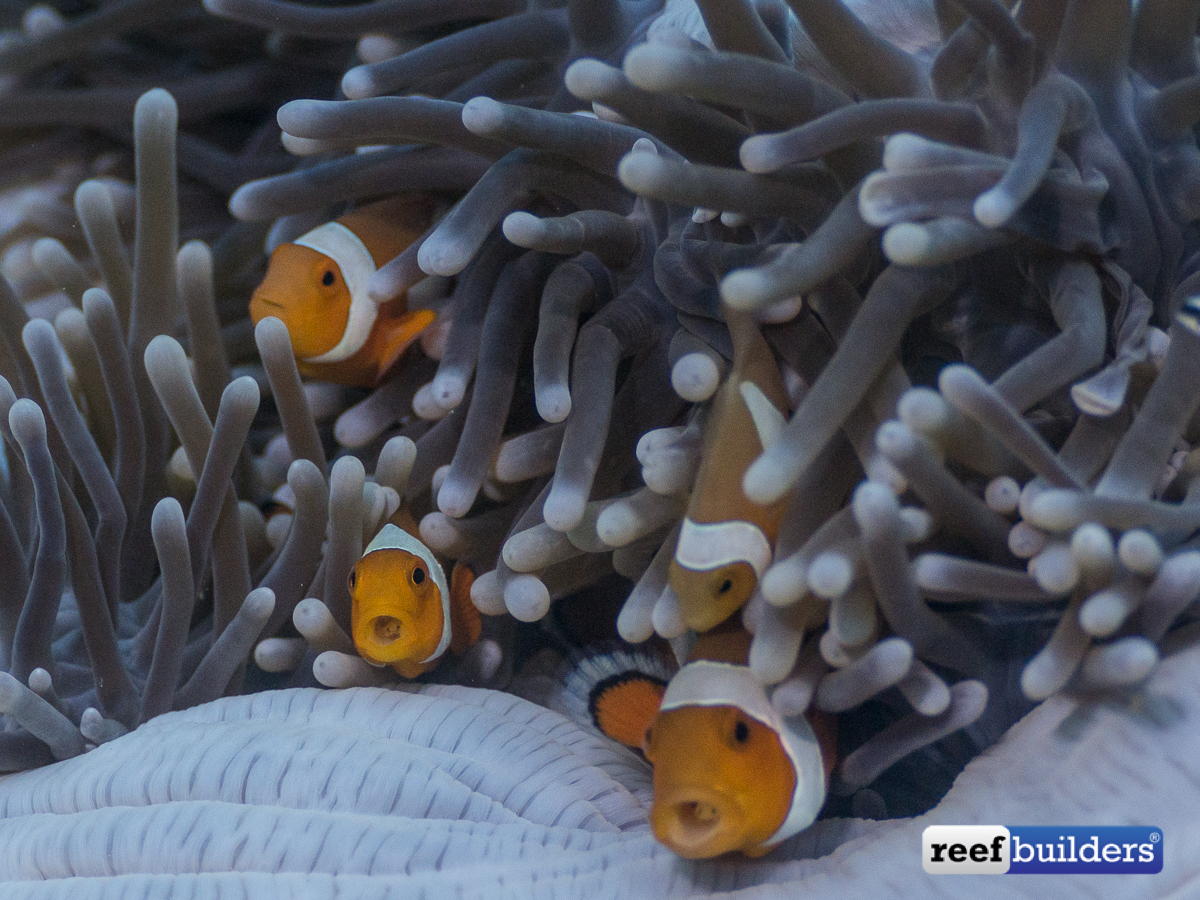 And if you've read this far, you're in for a treat. The pièce de résistance and ultimate must see dive in Manado is a small dive site called Tanjung Papaya. The dive starts as you decend the boat anchor line to an artificial reef made from old scooters.
There is plenty of life growing on the structures and its funny to see rows of old motorbikes guarding the boat's anchor line.
But what really makes this dive site special is the colossal field of Euphyllia coral just beyond the bikes as you swim towards the coastline. I had heard whispers of endless hammer coral habitats in Lembeh and when I brought this up to the dive guides in Manado they quickly identified Tanjung Papaya as the dive site for me.
The Euphyllia corals were located 3-6m deep and the water was slightly murky. The dive site isn't so far from the center of Manado city and only a hundred of so feet from shore. It would seem the idea habitat for Euphyllia is warm and nutrient rich.
Keeping corals at home helps us bbuild a relationship and deeper understanding of what conditions corals need to keep corals alive, but nothing can beat seeing thriving corals in their natural habitat.
For information about our Destination dive trips leave a comment below or email me.