For some time now I've had a deep curiosity and interest in all the corals that we don't regularly see in our home aquariums, namely the non-photosynthetic and azooxanthellate corals. Unlike the photosynthetic corals that can get most of their nutrition from light and benefit from small amounts of feeding, the Azoox corals are entirely dependent on food particles going into their mouths.
My 'in-tank' collection of Azoox corals currently includes mostly solitary, large polyp species such as Dendrophyllia, a Rhizo and a Flabellum coral. These corals are placed in a high flow, low light corner of my tank where they catch plenty of the broadcast foods such as flake and frozen for the entire tank, and are easy to reach with target feeding.
However a few weeks ago I received two Azoox coral colonies, both of which have numerous and much smaller polyps and corallites. From experience I know that these are the types of corals which will 'hang on' and receive a bare minimum of food to stay alive in the main display. But I don't want these corals to survive, I want them to thrive with big juicy polyps that are so fat that they have to stay open nearly all the time.
So I decided to try a different approach with these two corals, by gluing them to an acrylic bracket where they can be suspended in a dark part of the sump. I can easily reach in and remove these two colonies by only holding onto the acrylic bracket, so the corals are only minimally disturbed when they are removed from the water.
Just about every day I take these two corals and place them in the smallest container that they can both fit in, which happens to be a Juicy Juice bottle, and I give them the coral buffet of their dreams! I call this 'walking' my corals because it's about as close as I will ever get to putting these corals on a leash, but it is a good time for them to do their business.
At first the two colonies responded only slightly to being flooded with food but after two weeks of training, it almost seems like the corals open up even before the food is added. I offer the two sun corals a whole cube of some frozen coral food, with two drops of Polyp Booster to get maximum polyp expansion as well as 2ml of AcroPower as an extra supplement.
When the food is first added the water is very cloudy but after a half an hour, most of the polyps are wide open and the food particles are few enough to count. The weather is still mild so I've been able to leave the corals on their 'walk' for five to six hours and for the longer feedings it's possible to see the water cloud up again as the corals begin excreting their meals.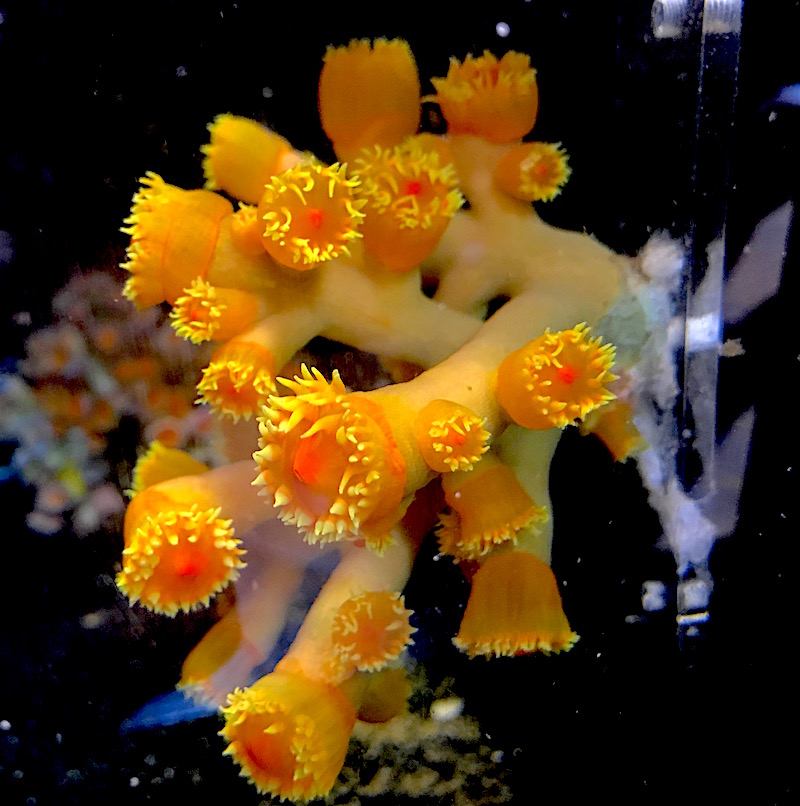 This approach to coral feeding is definitely hands on, but I don't mind 'handling' my corals and interacting with them in such a way that makes me pay attention to these two neat specimens. I don't think it is necessary to do this feeding walk everyday, and in fact I've noticed a greater feeding response on days that follow a period of non-feeding.
Right now I'm really trying to fatten up these freshly imported corals but in time I can see myself only walking these azoox corals once or twice a week. I look forward to testing this technique on other small polyp species of Azoox in the future and hopefully even a once weekly feeding will result in success with these bizarre corals for the long term.