Fluorescent Night Dive
There is nothing quite as exciting as a fluorescent night dive. And sure those two little words night dive might give some people the hibigeebies, but grab yourself a UV torch and strap on a yellow filter, and you'll be begging your guide to never end the dive.
The Lembeh Strait is famous for muck diving and an abundance of crazy critters, but you can also find lots of rare and unusual corals which come to life after dark.

The Science Behind Fluorescent Corals
Corals get their colors in two ways. Corals have photosynthetic marine algae living inside their cells which convert sunlight into energy for the coral. The brownish green color you see in corals under normal daylights is from these algae called zooxanthellae. When corals are bleached, they turn white because they expel the zooxanthellae.
But then there are the blues, the greens, purples, and reds which come from a family of Nobel prize-winning fluorescent proteins. Without overwhelming you with science, the short answer is there is protein pigment in the tissue of corals which absorbs light in one color, and re-emits the light in a different color. These pigments look different under white light, daylight, and blue light.


But the fluorescent magic happens when you shine a long wavelength light source, ultraviolet or blue light, at the coral. Under long wavelength of light, the protein re-emits a fluorescent pigment as biofluorescence that glows a bright neon color.
Underwater if you are just using a UV light you will see the coral glow psychedelic shades of blue, pink, and purple. And if you add a yellow filter over your mask or camera the colors will be green, yellows, and reds. This color is invisible under normal light conditions and you can only see it when you excite the pigments using shorter wavelengths of light such as blue or ultraviolet.
The image below shows the difference between corals under UV light to the naked eye and UV to the camera with a yellow filter. To learn more about bioluminescence and fluorescence we recommend visiting the Luminescence Lab website.

Fluoro Gear
To get the fluoro effect you will need a UV light. And if you're afraid of night dives don't worry you can still see fluoro colors during the day although the effect is not as striking. If you are just diving for fun without a camera, a yellow filter is not required, it's only when you want to start taking pictures that this secondary accessory comes in handy.

The UV light I use is a Sola NightSea by Light and Motion. The NightSea has a super bright 3000mW flood and 1700mW spot beam with three light intensity settings.
This is the third UV light we've tested and find the NightSea has the brightest beam and best color rendition. The other UV lights we tried were more on the purple side and had narrow light beams.
I actually carry a UV light with me on every dive, day or night, as the UV brings out colorful neon colors visible to the naked eye. With a UV light during the day you can see blues, pinks, greens, and purples, however, cameras have a difficult time capturing these colors and most photos will end up solid blue.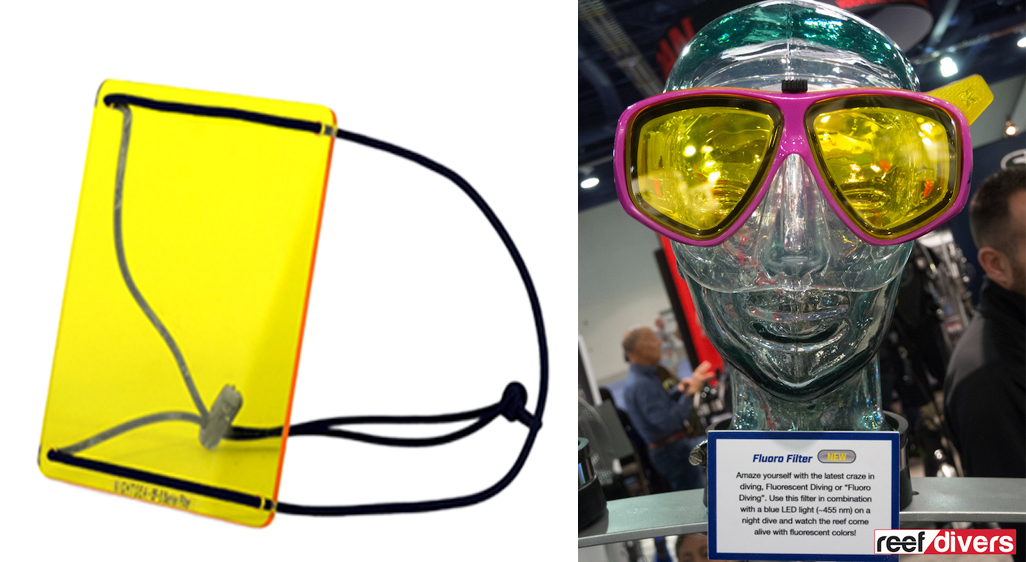 You can buy a yellow filter that clips onto your light, covers your camera lens, or fits overtop of your goggles, and companies like XS Scuba even make a mask with a removable fluoro lens cover.
If you are interested in fluoro diving check with a dive center before you arrive to see if they offer this trippy night dive experience. And if you're really excited by this idea, then I would recommend buying your own fluoro gear and never diving without it!