The Seachem Tidal power filter was one of our favorite products of 2017 but I realized I never really dove into why I think this device is so great. The saltwater & reef aquarium hobby tends to exalt the more high tech avant-garde approaches to setting up aquariums but sometimes you just can't beat the simplest, tried & true, no frills power filter.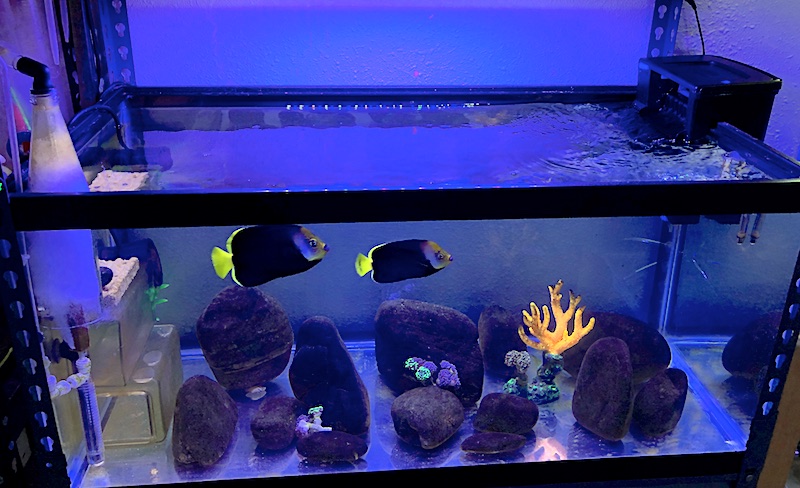 I've been using the Seachem Tidal on my Black Phantom Angelfish tank for four months now, and even longer on my African Cichlid tank, and this device is really a dream for pure & reliable performance. If you think a power filter doesn't apply to your style of reefing, definitely read through my top 10 reasons to love this device, because you might be surprised at how useful it can be.
Quiet – The motor doesn't make a peep, a neat variable size blade impeller both increases efficiency and reduces noise.
Gentle Spillway – it's not just the motor that is quiet, the spillway is also specially engineered to minimize splashing and reduce noise.
High Flow – The spillway is not just for reducing noise, but it also directs water flow in a very satisfying way across the water surface to increase water movement in the aquarium
Adjustable Flow – The adjustment dial on the top left of each Seachem Tidal power filter is about as close as you're going to get to a 'feed button' on controllable pumps. I turn this down when I'm feeding to reduce filtering food, or when servicing the media and filter pads.
Adjustable subsurface/surface intake – Being able to redirect the intake of the pump driving the Seachem Tidal is one of the most important features that helps make it shine as a saltwater filter. We all know how important it is to have surface agitation and skimming, especially in saltwater tanks.
Self-Priming – Having to listen to a pump prime itself is one of the most annoying noises in the world. So not having to worry about priming is really a pleasure.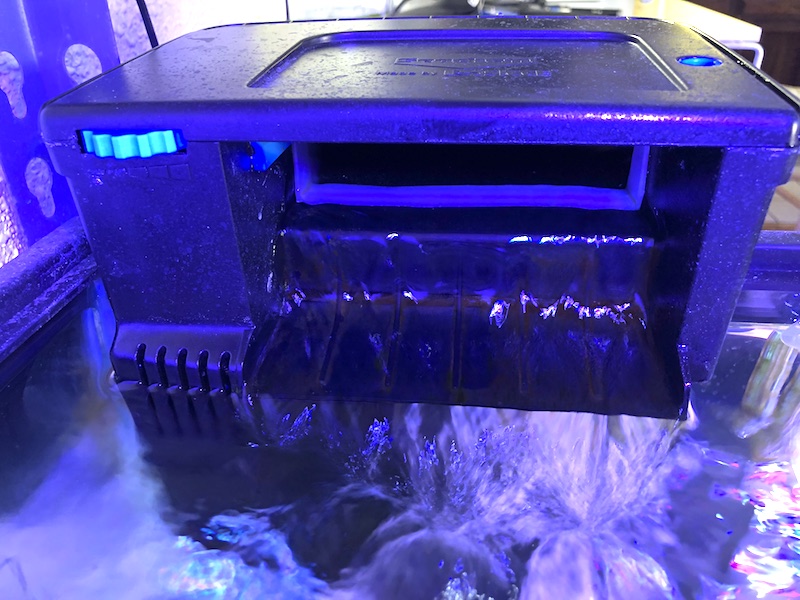 Big Removable Media Basket – The huge removable media basket of the Seachem Tidal is what makes it a powerhouse, basically a media reactor in power filter form. Together with the waterproof, self-priming pump, you can use this device as a much more convenient media reactor in certain kinds of sump, I'm thinking very hard about trying this on my main reef!
Clogged Indicator – The clogged indicator is something I thought wouldn't 'initiate' unless the filter is completely clogged. But I've been impressed by how sensitive and useful it has been in alerting me that it's time to clean up.
Good Material – There's no doubt that Hagen AquaClears last a long time but their material can get brittle after decades of use. The supple plastic used in the Seachem Tidal is both strong and supple and should hold up even longer.
Warranty – The product support for the Seachem Tidal is kind of bonkers – you get three year warranty out of the box and another two if you register your product. That's five years of guaranteed product support which is basically unheard of for a hobby that mixes water and electricity.
I'm sure there's still some aquarists chuckling at the thought of using a 'lowly' power filter for a saltwater aquarium. But in a time when so many of our devices are electronic, DC controllable, wireless etc., it's nice to know there's still some modern versions of workhorse products being designed and engineered and the Seachem Tidal is a power filter I plan to keep in my aquarium toolbox for many years to come.