Pairing and monogamy is nearly always associated with sex and reproduction but it turns out that some species of butterflyfish have a different reason to pair up. Competition on tropical reefs is intense for virtually all resources, and there's always something ready to eat your food and kick you out of your space.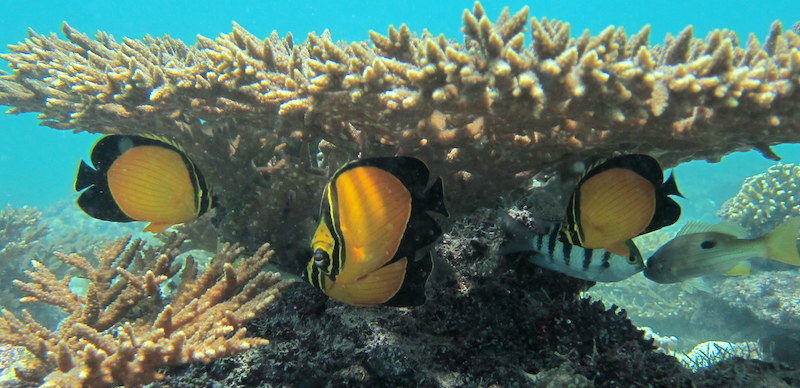 But coral feeding butterflyfish have devised an ingenious way to protect their patch of the reef, while conserving energy doing so. A recent paper was published demonstrating that the oval butterflyfish, Chaetodon lunulatus, and the Triangle butterflfyfish, Chaetodon baronessa, both use different techniques to defend their favorite coral heads to graze on.
Interestingly, pairs of these two species work together to chase away competitors and together they can defend more reef space while using less energy. In the Oval butterflyfish it is primarily the male that does most of the chasing, allowing the female to save resources for producing eggs. Meanwhile in the triangle butterflyfish both sexes, and even pairs of two immature fish or fishes of the same sexes work together to defend a territory.
It's no surprise that fish pairs fight to protect what they consider theirs, but what is interesting about these pairs of butterflyfish is that one of the ways that they conserve energy is by coordinating their swimming. Special body motions and swimming cues hep to synchronize aggressive behavior towards unwanted intruders, helping to shoo off trespassers quickly without having to give too much chase.
It's fascinating to learn that these common reef fish have special behavior to help them succeed on the reef, and perhaps this is something that can be considered for long term maintenance of these species. What is surprising about this research is not that these butterflyfish defend their territory, plenty of fish and other animals do that – it's that they have to defend their territory in a coordinated way to conserve energy.
Obligate corallivores have mostly proven unsuitable for aquarium life because even when they do eat, they tend to waste away.Perhaps a special setup with pairs of fish who can conserve their energy will be the key to unlocking successful keeping of these beautiful species in an aquarium environment. [Nature]