Bangka Island
Bangka Island is known as a nonphotosynthetic coral paradise. Scuba divers and vacationers are attracted to the Robinson Crusoe island to get away from the hustle, relax on a white sand beach, and jump in the flow for a chance to dive amongst brightly colored soft corals.
Bangka Island is located off the northern tip of the Sulawesi peninsula. The island has a tranquil vibe, and something just keeps us going back again and again to this remote paradise. This most recent trip was sponsored by Polyp Lab as part of a coral spotting expedition to document the diverse coral habitats around the island.

The geographic position of Bangka Island means it is exposed to strong daily currents. These currents bring nutrients from the deepsea carrying planktons which feed the abundant nonphotosynthetic corals and colorful soft corals.
Soft Corals
Soft corals as the name implies are soft flexible bodied corals filled with a jelly-like mesoglea and rigid spiny structures called sclerites which give them shape. Soft corals are abundant in all corners of the ocean with over 1500 documented species.
Soft corals can be considerably more difficult to identify than hard corals as some species come down to the shape of the spiny sclerites inside the jelly body. If you have been reading my articles for some time you will know we focus most of our content on hard coral identification as they tend to be much simpler to identify.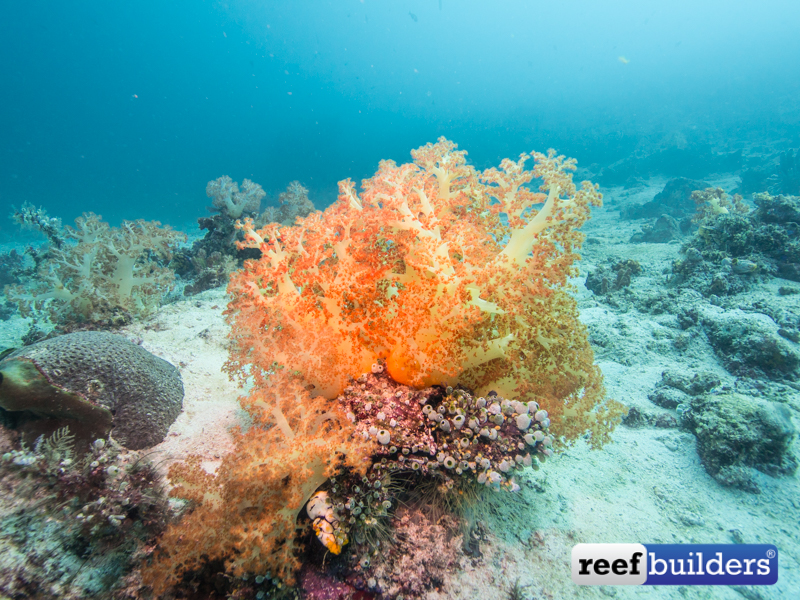 One day we will tackle soft coral identification but until then this article will give you a simple introduction to a few common species around Bangka island and a few fun facts to impress your friends with coral knowledge!
The biggest difference between hard and soft corals is that hard corals are based on a six-fold symmetry while soft corals are based on an eightfold symmetry. Meaning hard corals have polyps with multiples of six while soft corals always have eight tentacles.
Soft Coral Feeding
As with hard corals, most soft corals are photosynthetic and get their nutritional requirements through this symbiotic photosynthetic relationship. There are some soft coral species, which are completely nonphotosynthetic and catch planktons and other organic matter drifting in the currents.
In fact, all corals soft, hard, photosynthetic or nonphotosynthetic catch and eat food, it just depends how much energy they need to get from feeding vs. photosynthesis.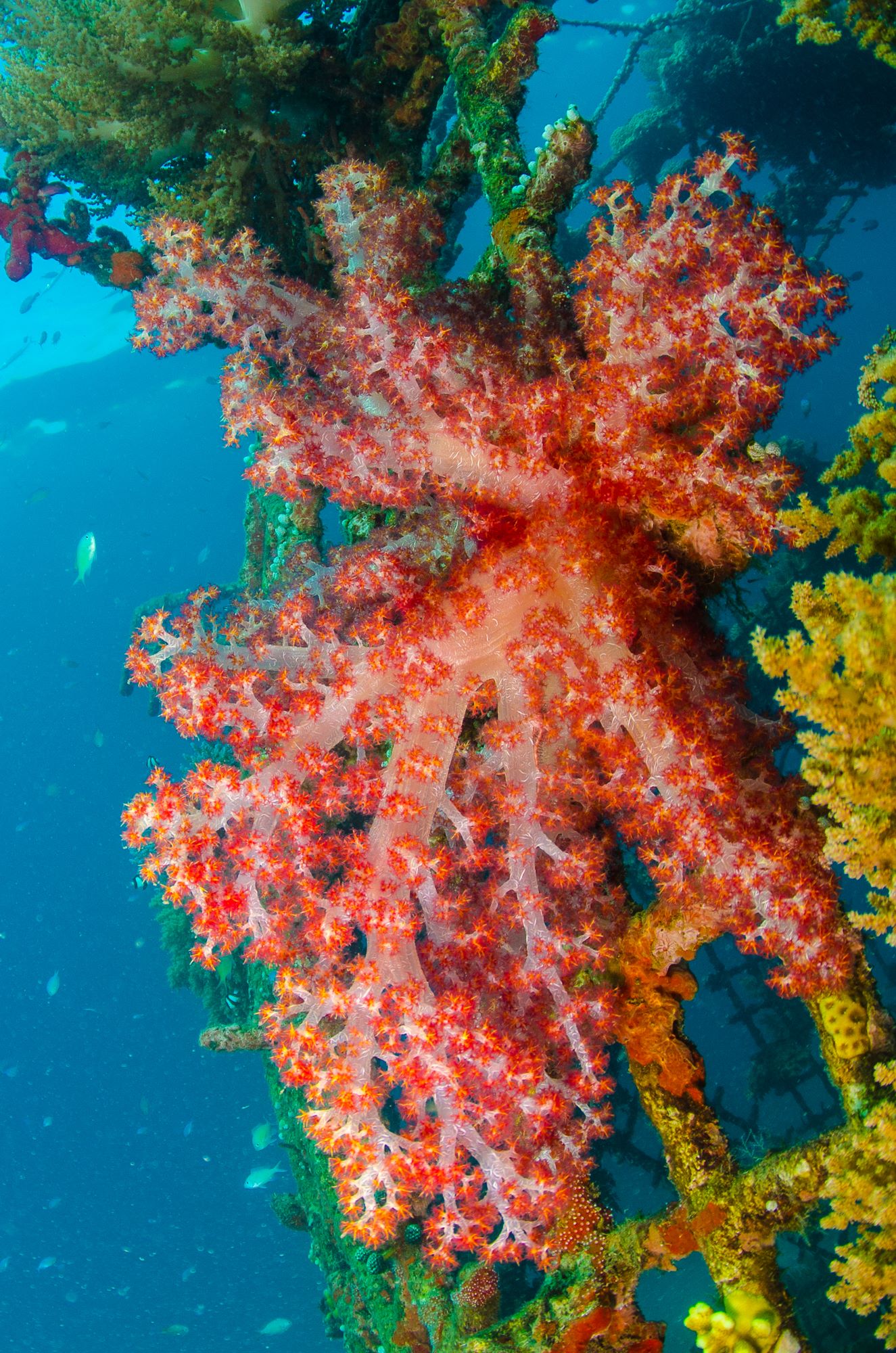 One fun fact we learned in Bangka while diving with Vincent Chalias, was that the soft corals common around Bangka (Dendronephthya) are adapted to only open up when the current is at a certain velocity. To much current, or to little current and the colorful corals are nothing more than a shriveled branch. But it's when the current is just right that Bangka diving is at it's finest. This precise velocity of water is more important for some genera but less critical for others.
And since we're on the topic of fun facts, another nugget of coral knowledge we got from Vincent was that these species of soft coral actually feed from the back of their polyps. While open and inflated the corals with orient themselves with the current so that nutrient-rich planktons flow across and become trapped on the back of the polyp. From there tiny cilia direct the particles around one of the eight pineals toward the center of the polyp into the mouth.
Diving Around Bangka

Around Bangka island are several pinnacles, the perfect dive for spotting soft corals. The pinnacles jut up from the seafloor creating a holdfast for corals smack dab in the current.
If you are visiting Sulawesi as part of the Passport to Paradise trip, the Bunaken Walls are a great place to refresh your drift diving skills. Currents pick up considerably around the pinnacles and reef walls of Bangka Island so you want to be prepared for this style of drift diving.
The most common soft corals you will find are Dendronephthya. And depending on the daily condition they can be open and puffy or small little nubs.
As you move closer toward the island the bathymetry shallows out into patchy reef flats. Here you can find a mix of hard and soft corals, but it's the soft corals that steal the show at Bangka. Pastel colored leather corals, dominating the shallow reefs around Bangka with carnation corals, Dendronephthya are found hanging out in the current.
Leather Corals
We've never seen so many colors of leather corals as we have in Bangka.
There is an exceptional dive site at the back of Bangka Island called Tanjung Merah, which isn't often on the dive roster and can only be accessed with calm weather. This site is best at high or rising tide.
The dive starts with shallow fields of leather corals between 6 and 15 feet (2-5m) deep, heading down to more hard corals past 15 feet (5m). Unfortunate we weren't able to revisit this site on our most recent trip due to weather, but it still stands out as one of the best coral spotting dives around the island.
Closer to the Bangka Island Hotel you will find Tanjung Usi. This drift dive starts along rocky pinnacles for the chance to see nonphotosynthetic Dendronephthya and ends on a colorful leather coral reef close to the Bangka house reef.
And to be honest, on our most recent trip we had a slight love affair with the Bangka House Reef, opting for several house reefs dives over boat dives. The house reef is great with a high diversity of corals with Acropora that break the surface of the water at low tide, large polyp Euphyllia corals between 16-23 feet (5-7m) deep and big table Acropora corals along the reef slope.
After five dives on the house reef we were still finding new corals including an amazing colony of Micromussa. Just because this house reef is a shore entry dive doesn't make it any less of a site then the surrounding reefs. If you find yourself in Bangka make sure to schedule AT LEAST one house reef dive.
We want to thanks Murex Dive Resorts for showing us around Sulawesi and Polyp Lab for being a part of this expedition. Next week we're heading back to the mainland to look at the stony boulder coral habitat of Northern Sulawesi.