Remotely Operated Underwater Drones
The popularity of underwater drones has exploded within the past two years, and it seems every other month a new device pops up in our kickstarter feed or finds its way to our inbox.
We will admit to having a soft spot for these high tech gadgets and have seen many of them in real life at various dive trade shows, as their development unfolds. So we decided it was time to put this list together of ten underwater drones currently available for consumer grade underwater exploration.
We could write a separate article for more advanced or prosumer grade devices but kept this list portable devices with similar depth and spec offerings. This list is in no particular order and prices are subject to change.
Features
All but two of these underwater drones (iBubble and Biki not included) connect to the surface with a tether. Tethers connect to a remote which connects to a smartphone or tablet for navigation. Many of these new drones feature Live Streaming capabilities from your smartphone at HD 1080p, and underwater video recording at 4K.
What's important to note about these drones is as of September 2018 only a handful can be purchased, while over half of the devices are still in a pre-order stage. However, we feel the time is right to list them as ready for sale, as many are nearing their forecasted delivery dates.
---
Ten Underwater Video Drones You Can Buy For Ocean Exploration
---
1. Open ROV Trident
Open ROV are the original creators when it comes to consumer-grade underwater video drones. Their latest Trident Drone stands to be their most advanced. The trend of underwater drones has exploded within the past two years and Open ROV were the first to offer an underwater vehicle design with the public in mind.
The Trident promises to be easy to use and streamline form makes is quick underwater. Open ROV has a track record of delivering a working product which is important to consider when ordering one of the many new drones available.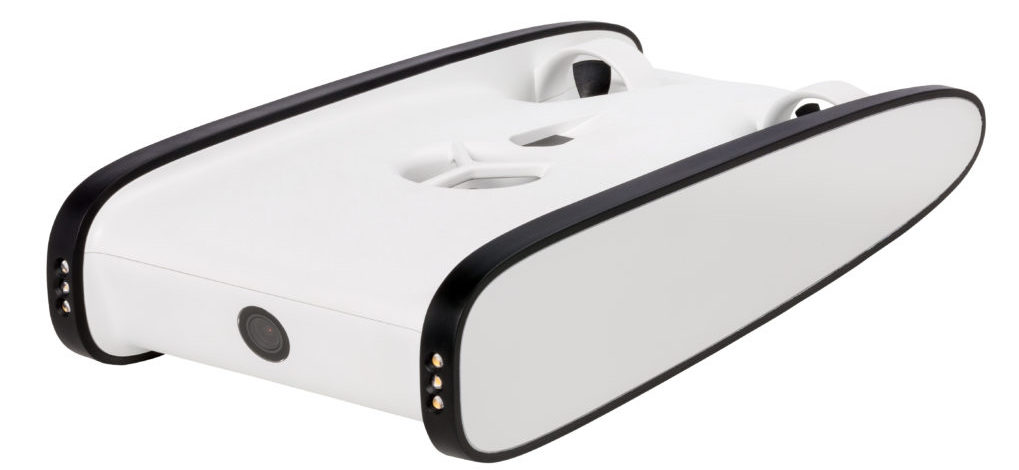 Max Depth 100m 
Dive Time 3Hr 
Speed 2m/s 
Live Video 1080p 
360 Lumen Light
Made in USA
Starting at $1449 USD
---
2. YouCan Robot BW Space
BW Space in the new kid on the block, but comes with some truly incredible features. BW Space is one of the deepest diving consumer-grade drones on the market with a depth rating up to 100m with the option of a 150m tether to accommodate this depth.
BW Space also features two bright 1380 lumen lights and a 1080p camera. Upcoming models of this drone are said to have a follow me mode and the ability to live stream your dive, while connected to the onboard tether.

Max Depth 100m 
Battery Life 2-7h 
Speed 2m/s 
Live Video1080p, 4K 
2 x 1380 Lumen Light
Made in China
Starting at $1749 USD
---
3. Navatics Mito
We first spotted the Navatics Drone when it made it's North American debut in early 2017. From a university project, the brainchild of three engineering students from Hong Kong, to a full fledges underwater vehicle we are excited to see how Navatics Mito handles in the water.
Mito comes with an onboard 4K camera with an advanced stabilization algorithm for buttery smooth footage. Mito also comes with a waterproof swappable battery system to easily extend your dive time. All with a compact animal-friendly form factor that fits in your backpack.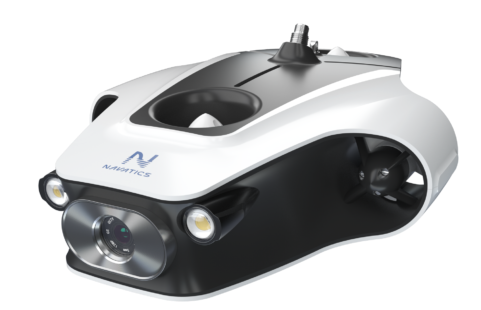 Max Depth 40m 

Battery Life 2-4h

Speed 2m/s 

Live Video 1080p, 4K 

2 x 1000 Lumen Lights

Made in Hong Kong
Starting at $1999 USD
---
4. GLADIUS Drone
If you need a drone today GLADIUS is your best bet as they have already shipped unites around the globe. The GLADIUS drone is portable and user-friendly capable of diving to a depth of 100 meters (with the purchase of a longer tether).
Onboard Ultra HD 1080P/4K quality photo and video directly to internal storage or live stream your dive in real-time. The GLADIUS can be used for scuba diving, underwater photography, sea fishing or yacht entertainment.

Max Depth 100m 
Battery Life 1-6h
Speed 2m/s 
Live Video 1080p, 4K 
2 x 1200 Lumen Light
Made in China
Starting at $1499 USD
---
5. iBubble
The iBubble is an autonomous follow me drone which does not connect to the surface with a tether. iBubble lets you film yourself and your surrounding while diving without any cables to the surface. Instead a diver syncs a tracking unit to the device and then attaches it to their BCD to have the iBubble follow them around the dive site.
The iBubble is still in development however, the team has completed successful open water testing and we are hopeful to see working devices delivered to customers. We first spotted the iBubble at DEMA and wrote about it here.
iBubble drone comes with a GoPro attachment instead of an onboard camera. This allows users to continue to upgrade their capturing device independently from the drone. The onboard computer and control device sync with the GoPro software allowing users to activate the camera, video and other recording features.

Max Depth 60m
Battery Life 1h
Speed 1.5m/s 
Video GoPro Hero3 and up  
2 x 1000 Lumen Lights
Made in France
Starting at $3299 USD
---
6. Fathom One
Fathom One is the smallest most portable drone of the bunch. The Fathom One is designed to be extremely easy to use and highly portable. It is currently the smallest and least expensive underwater drone on the market.
The side propellors of Fathom One are built to be removed so the device packs up even smaller, fitting into a simple backpack. Coming from experience we would be most excited to have Fathom One in our underwater gadget arsenal, as portability is really a lifesaver when traveling around the world.
While other drones may have deeper diving capabilities, often portability is the key to getting the most use out of your device. Fathom One also features a Picatinny rail system on the bottom of the drone so you can attach different lights or cameras for expanding the drone's capabilities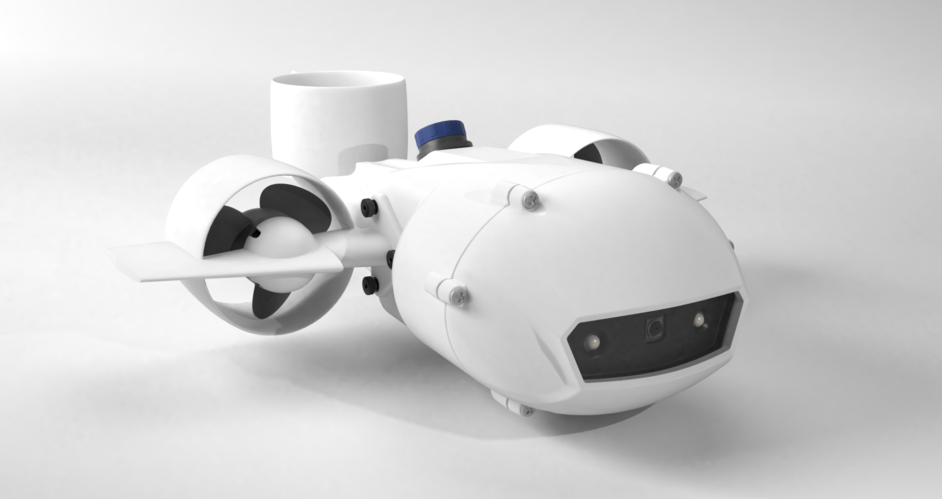 Max Depth 45m
Battery Life 2h
Speed 1.5m/s 
Video 1080p

Made in 

USA
Price $999 USD
---
7. Deep Trekker DTG2
The DTG2 is a commercial grade mini ROV which is comparable in specs to the consumer grade ROV on this list. One thing that stands out with the Deep Trekker DTG2 is the internal HD camera, with a 330 degree field of view so you can inspect below, above, behind or in front of you, and see the live feed directly to your handheld controller.
All DTG2 Packages include the same DTG2 ROV, but you can also add different your accessories sutable to your needs. To get started, select your ideal package, and then customize with the best options for you.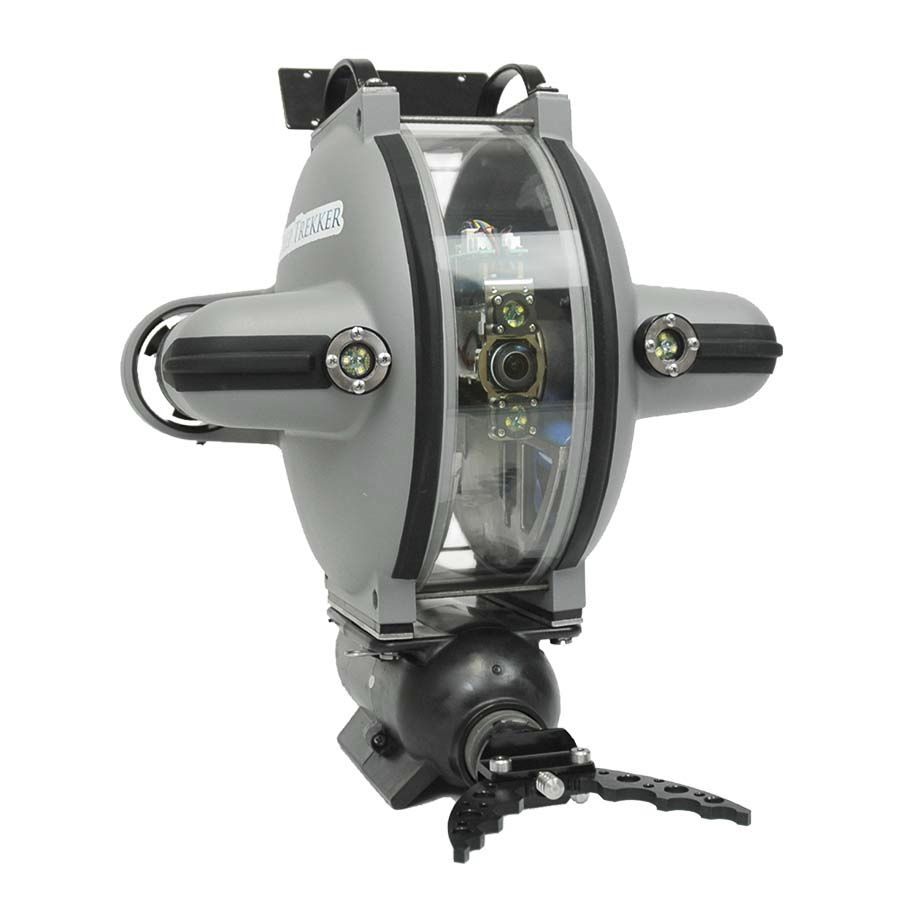 Max Depth 100m
Battery Life 6-8h
Speed 1.2m/s 
Video 1080p 
Lights starting at 700 Lumens
Made in Canada
Starting at $3899 USD
---
8. Blueye Robotics
The Blueye Robotic drone has the look of a consumer grade model with features of a professional grade unit. Blueye can dive to an impressive 150m the deepest of any drone on our list and comes with an extra bright 3300 lumen light.
The Blueye Underwater robot is the most powerful drone of our ten mentioned on this list on and comes with a price tag to match. Asides from its use for scuba dive exploration, the Blueye robot can be used for envrionmental monitoring, inspections on boats, ports and marinas, as well as aquaculture farms and the shipping industry.

Max Speed 150m
Battery Life 2h
Speed 2m/s
Video 1080p 

3300 Lumen Light

Made in Norway
Starting at $6000 USD
---
9. PowerRay Drone
PowerRay a new drone which only just came to our attention while writing this article. It is developed by PowerVision which has a line on robotics devices for land and sea.
PowerRay has some unique features including a detachable ball-shaped sonar device called the PowerSeeks which clips into the bottom of the drone and can be used to detecting bottom composition as well as fish life.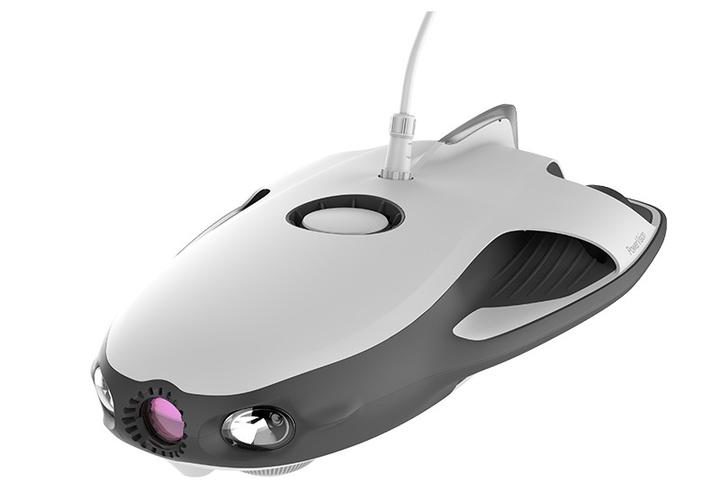 Max depth 30m
Battery Life 1h
Speed 1.5m/s
Live Video 1080p, 4K
450 Lumen Light 
Made in China
Starting at $1488 USD

 
---
10. Biki Robosea
We couldn't forget Biki the robotic underwater fish! BIKI is an unmanned underwater vehicle which propels itself through the water like a fish. Not only is this the cutest underwater drone we've come across. It also has a powerful onboard camera capable of capturing 4K footage.
Biki comes with obstacle avoidance and a gimble to stabilize camera shakiness.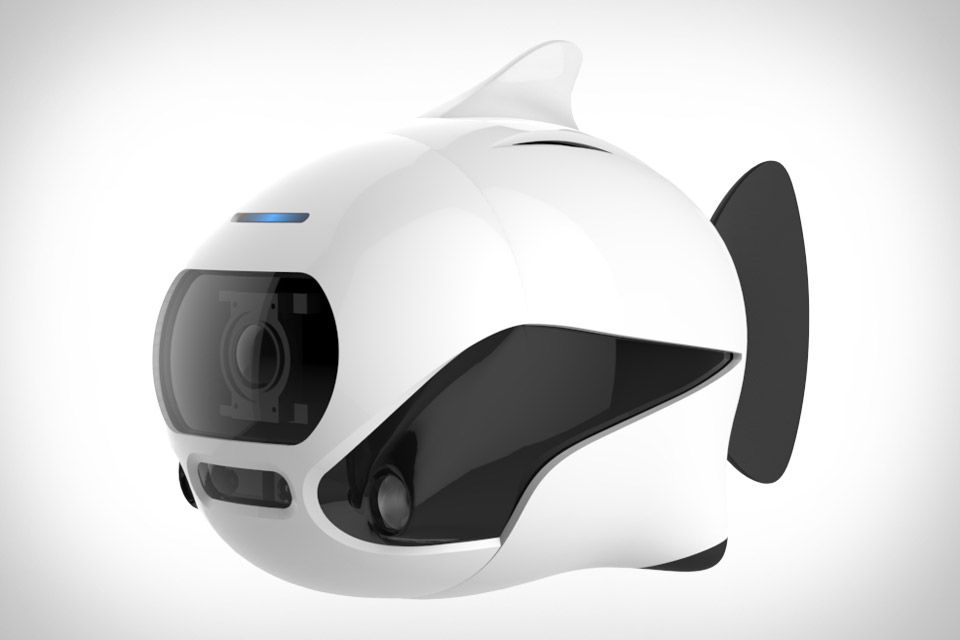 Max Depth 60m
Battery Life 1h
Speed 1.5m/s 
Video GoPro Hero3 and up  
2 x 114 Lumen Light
Made in China
Starting at $999 USD