The soft corals of Xeniidae is a family containing many aquarium favorites such as Xenia, Anthelia, Cespitularia, and today we can add two more genera, Conglomeratusclera and Caementabunda. Those two genus names are a handful for even for experienced latin practicers and while you don't have to remember them, what you should know is that there's lots more diversity in the genus Cespitularia than previously thought.
Conglomeratusclera is the name of the new genus erected to elevate the species formerly known as Cespitularia coerulea to full generic status. Conglomeratusclera coerulea is not readily identified by its external appearance but instead was recognized as unique by the shape of its sclerites.
You may have spied scanning electron micrograph (SEM) images of sclerites in other corals looking more or less spikey. But what is special about Conglomeratusclera is that it has sclerites which are pretty much spherical, occasionally conglomerating into bundles of spheres, hence the generic name.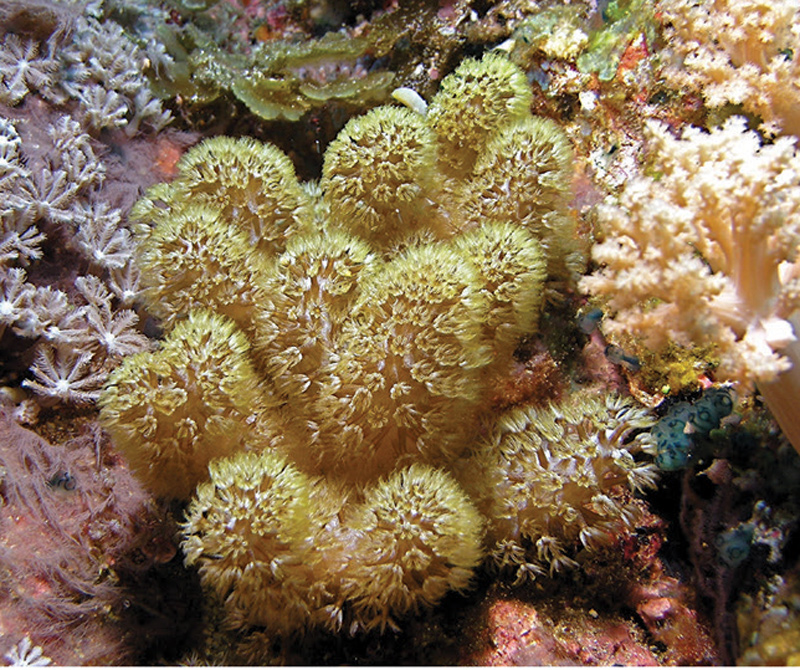 Meanwhile the slightly-easier-to-pronounce Caementabunda has soft flaccid colonies which are semi encrusting, with single unbranched lobes projecting from the substrate. This new genus is identified base on its slcerites as well, they too look like little balls but even closer examination reveals a structure which appears to be made of tiny little pieces called 'microscleres'.
Both Caementabunda and Conglomeratusclera are photosynthetic like the closely related Cespitularia ZooKeysand are found in Taiwan & the West Pacific, but closer examination of soft coral colonies should reveal their presence over a wider geographic range. The two new genera are described by Benayahu et. al. in the latest edition of .