The winter chill is in the air and is a good time to ensure our coral and fish are nice and toasty warm. With warmth on our minds, I thought it might be a good idea to take a crack at putting together a list of Top 7 Aquarium Heaters for your reef aquarium.
This list is by no means a rigorous engineering comparison, rather its a list of the top aquarium heaters we've encountered from our own experiences as well as looking at popular products across a series of online platforms ranked in no particular order.
Eheim JAGER TruTemp Aquarium Heater
We wouldn't have this column today if it weren't for Eugen Jäger, who first invented the submersible aquarium heater. Besides being named after the inventor, the Eheim JAGER TruTemp Aquarium Heater remains one of the top aquarium heaters in the market today. My first "true" aquarium of my adulthood included an Eheim Ebo-Jager heater upon a high recommendation from my LFS. Over the years, the reputation has stood up as a quality and affordable heater while making several small upgrades over the years. The biggest selling point for this version is the ability to calibrate the heater and a safety mechanism that turns the heater off its its out of water.
Cobalt Aquatics Neo-Therm Submersible Heater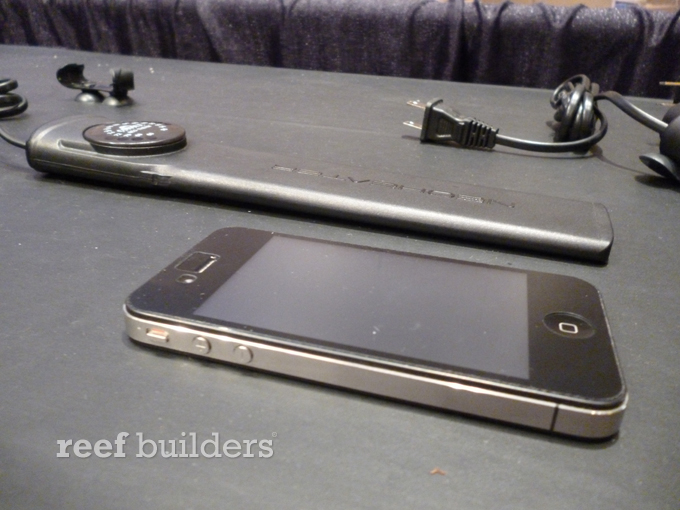 Every so often there is a nice surge in innovation in the heater category and around seven years ago we were introduced to the Cobalt Neo-Therm and its innovative design — a low profile, shatterproof, easy to program and with thermal protection to boot. The Cobalt Neo-Therm is a great choice for any size aquarium if you are looking for something you can easily tuck into a smaller space and solid performance.
Fluval E-Series Heater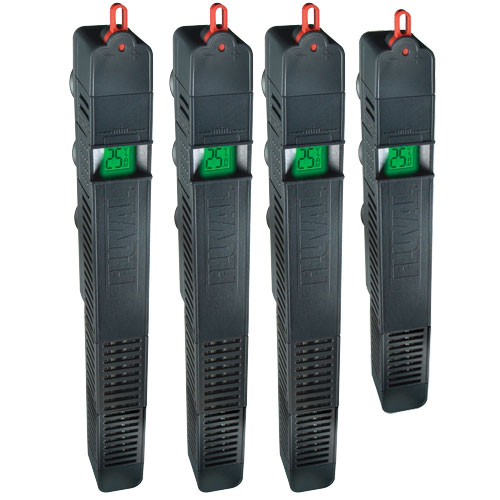 It has been eight years since the Fluval E-Series Heater came on the market and is still a viable heater from another industry stalwart. Back then, the black "stealth" look was pretty drastic compared to the glass and titanium heaters we were used too, plus wasn't it about time we killed the arbitrary dial for an LCD screen? The Fluval E-Series heater has dual temperature sensors and temperature selection to the nearest 0.5 degree.
Aqueon Pro Aquarium Heater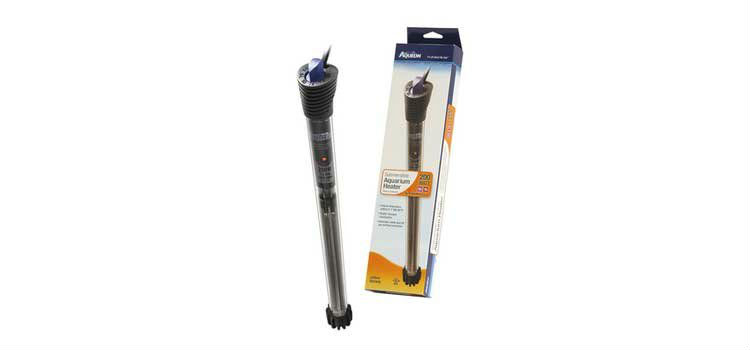 Sure Aqueon may be better known as a "generalist" and "affordable" aquarium company as one of the main companies in the Central Pet catalog services the big box stores, but the Aqueon Pro Aquarium Heater gets solid reviews and comes in at a respectable price for a shatterproof heater. Some knocks for the temperature dial, but its accurate and this can easily be solved using a temperature controller of some sort.
Via Aqua Titanium Heater
The Via Aqua Titanium Heater had a bit of a refresh a few years ago that saw the changes to its internal programming of the heater thermostat. Unlike most of the other heaters in this post, the Via Aqua Titanium Heater offboards the temperature sensor and heater controls. This allows you to move the temperature sensor away from the heater itself and gives you easier access to the controls. This heater also will recall the last set temperature in case of a power outage. This is a particularly attractive option if you don't have a full-fledged aquarium controller and want to move beyond the single unit approach.
JBJ True Temp Titanium Heater
In case you haven't noticed a trend, there isn't a lot of "new" heaters coming to the market. Most companies settle on a few lines and bring incremental updates. JBJ first unveiled its JBJ True Temp Titanium heater about 10 years ago and they're still solid, but a bit more expensive that your glass varieties. Titanium heaters offer a few benefits, faster and more uniform heating, shatterproof and are corrosion resistant. Like the Via Aqua, the JBJ True Temp heater features a remote temperature probe that can be placed up to five feet away, a digital heater controller (accurate and precise to +/- 0.5° F), a safety guard and a smart memory to recall settings in a power outage.
Hydor Theo Submersible Heater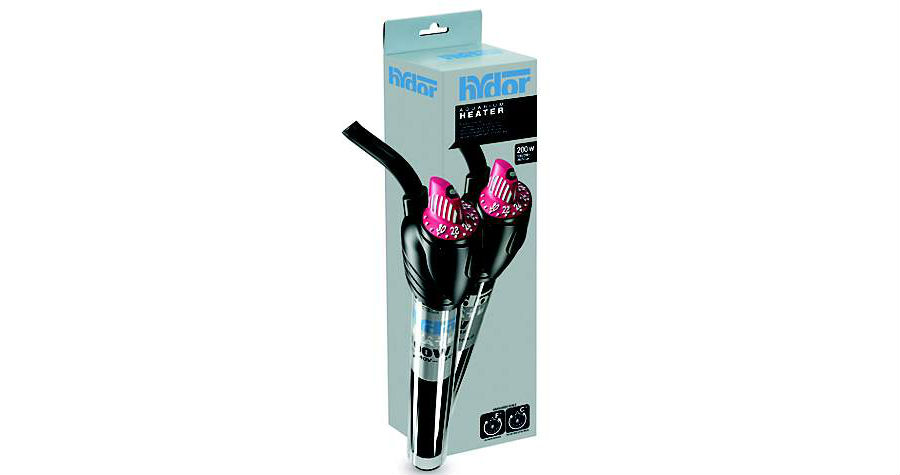 The Hydor Theo Submersible Heater is another option from the Italian company. It shares many of the similar traits as other submersible heaters — shatterproof glass, fully submersible and affordable. Some of the differentiation is Hydor's patented PTC (Positive Temperature Coefficient) heating element vs. the typical wired coil. Available since the 1990s, the it is made up of a special carbon-based ink applied to a plastic film. Some traditional heaters can reach unsafe levels if pulled out of the water while in the on position and can shatter the tube or cause excessive heat and a fire. The PTC will note the difference and shut it down before it becomes an issue.