The Kamoer X1 Micropump is a new liquid metering device which packs a ton of features in a small size and a tiny price to match. At $59 we'd be pretty happy with the Kamoer X1 if it performed a very basic suite of functions for a single channel dosing pump, like ya know, just dose the tank like it's supposed to.
However the Kamoer X1 has pretty lofty ambitions being that it's wirelessly controllable via bluetooth which opens up a whole world of possibilities. With the available smartphone apps the Kamoer X1 can be calibrated for accuracy, and programmed for up to 6,000 ml per day, at 12 user defined intervals.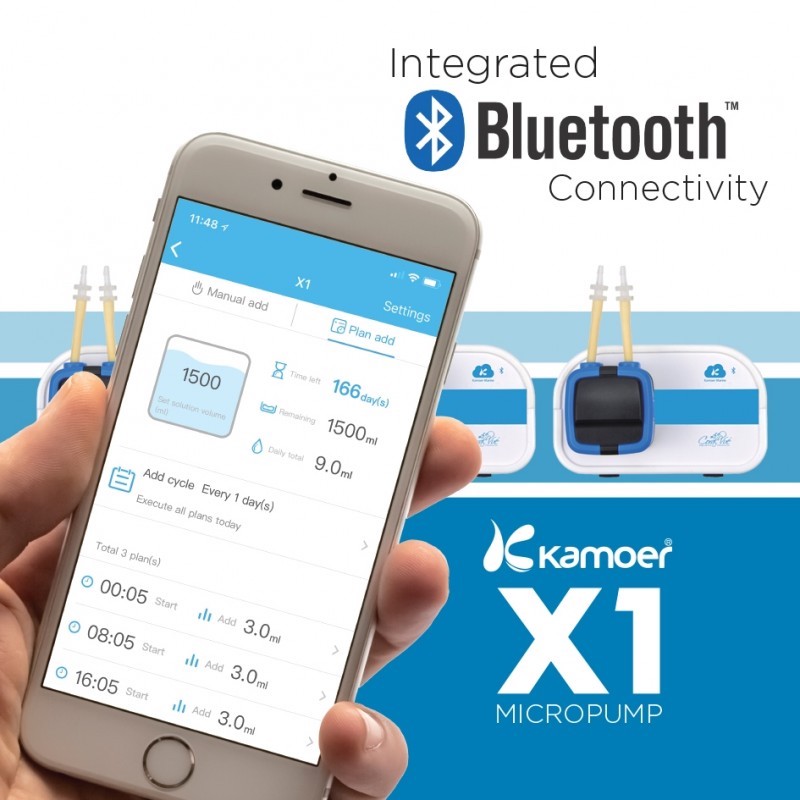 A single channel of dosing is great for dosing one element, top off or for feeding a reactor, but with the app you can essentially link up multiple Kamoer X1 micropumps to cover the whole spectrum of additives that reef tanks need. Hardware-wise, you can also link up multiple X1 Micropumps to use the same power supply, probably up to four.
The one thing that you don't get with the Kamoer X1 Micropump is any kind of manual control so you'd better be ok with using your mobile device for all controls and programming. Did we mention this little powerhouse is only $59.99? For that price, as long as the user experience is extremely smooth the Kamoer X1 Micropump is going to be one hard dosing pump to beat. [CoralVue]