The fluted moon corals formerly of the special Barabbatoia genus may have been re-reclassified back into Favia, but that doesn't really change how much we love them in reef tanks. This group of moon corals (Faviids), first 'championed' by Ocean Reefs Marine Aquariums (ORMA) of Western Australia, are unique in that each colony has a variable appearance, both in terms of coloration but also the degree to which the corallites are developed.
As the common name implies, fluted moon corals can develop highly exert corallites – sometimes the corallites and the colony are the classic example of a nice Favia with neat, evenly spaced corallites, other times they begin to grow into corallites on top of little buttons. Occasionally the corallites of fluted moon corals can be so prominent that they more closely resemble Caulastrea candy corals than a normal Favia.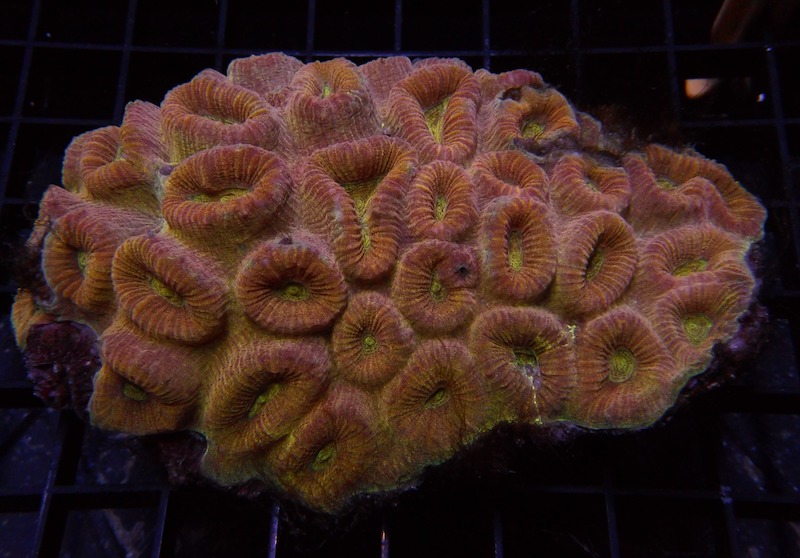 Shape is an intriguing quality of any coral but what makes Favia amicorum interesting as an aquarium coral is the wild range of colors that they can have and develop. ORMA has been collecting these corals from distinct habitats of West Australia where this species occurs in a dizzying array of colors ranging from gold to green to orange to red, with colored mouths, variable striping, they're really quite variable. Real talk though, we can't think of any other species of moon coral that gets anywhere near gold or orange in coloration!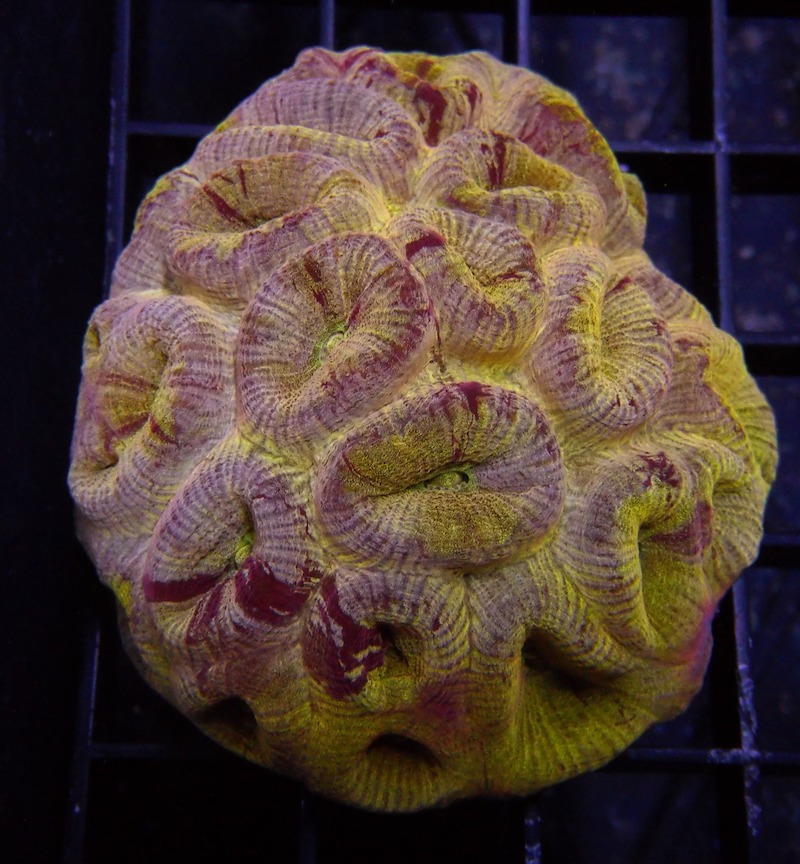 More than that, the colors of these fluted moon corals has a unique lustrous quality, not quite metallic but really different from other Favias and can almost appear to change color depending on the lighting and viewing angle. We've been growing out a few colonies of flute-moons since they really hit our radar last fall and have had great results keeping them in moderate flow and subdued lighting, in an area of the aquarium where they have good access to food which is placed in the tank.
We've got a gold, a green and an orange specimen of the coral formerly known as Barabbatoia but this sampling is barely scratching the surface of what is possible with Favia amicorum. If you happen to notice your local aquarium or reef store receive a shipment of corals from West Australia, definitely keep an eye out for this sleeper coral – they're not as flashy as what some reefers are used to but with proper reef husbandry and TLC you will end up with a colony of a truly unique coral.
Editor's Note: First of all, if you've actually read to the end, good for you! Secondly, it's important to mention that these pictures might appear somewhat muted compared to what you've seen online lately, that's because, wait for it . . . they are not photoshopped! These corals look even better in real life, kudos to Ocean Reefs Marine Aquariums for being honest in their photography.