It has been an incredible couple of weeks for rare angelfish news but nothing can top the mind blowing collection of deepwater species that Quality Marine just received from the Cook Islands. Those of you up to date on your rare fish geography might remember that this group of South Pacific Islands is home to some of the most exotic and rarest tropical reef fish.
This is especially true in the depths where the peppermint angelfish was first discovered, the Narcosis angelfish as well, and there's an assortment of crazy beautiful Plectranthias, Ventralis anthias, the wild yellow mystery wrasse, and yet another virtually unknown angelfish, Genicanthus spinus. It's still a little hard to believe but not only did Quality Marine receive a sampling of some of these fish including the holiest of holy grails, the peppermint angelfish, but they also acquired the only living specimen of the Pitcairn angelfish known for the last two decades.
As we already know the peppermint angelfish lives in extremely deep water usually between 350 to 450 feet deep where the habitat is dark and quite dim. In this environment there is no red light to display the namesake red bars of the near mythical Paracentropyge boylei. A fish this rare and this beautiful is out of reach for all but the most affluent of rare fish collectors, or public aquariums with strong ties to a trained team of rebreather divers but with all of the pygmy angelfish breeding that's been happening lately, it's hopefully only a matter of time until the peppermint angelfish of experienced Pomacanthid breeders.
There's no fish that can question the peppermint angelfish's title for 'most exotic fish' ever but since it is such a high profile species, Paracentropyge boylei gets more than its fair share of air time. The bigger 'novelty' on Quality Marine's recent import is the first Pitcairn Angelfish in recent memory.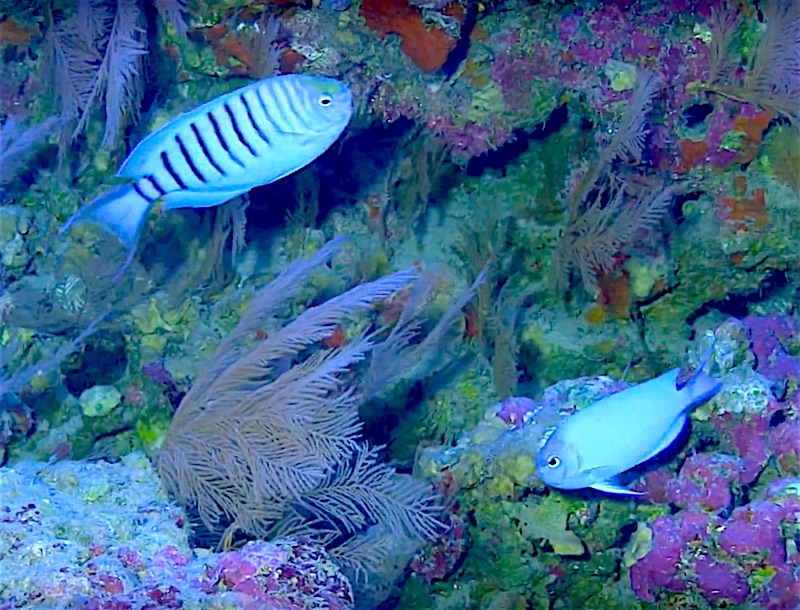 Genicanthus spinus is a true endemic of the South Pacific Ocean and gets its common name of Pitcairn Angelfish from the super remote tiny group of islands where they were first discovered and collected. A couple of years ago we got our first good look at Genicanthus spinus filmed on a deep dive in the Cook Islands by Dr. Rich Pyle & Co. and this was the first time the Pitcairn angelfish was documented on video to this degree.
While this single female individual is mostly absent of any pattern, its ghostly blue-white coloration gives it a mystical appearance, with nary a hint of the radical pattern it might develop as a male. All swallowtail angelfish of the Genicanthus genus are sexually dichromatic, and they start out life as female individuals.
A single male swallowtail angelfish leads a harem of lesser-colored females and if something happens to the male, the largest female will quickly transition to male coloration, size, and behavior. It is expected, or at least hoped, that Quality Marine's historic first Pitcairn Angelfish specimen will be provided with the environmental cues and triggers to stimulate the sex change to a male specimen, mostly by housing it with other smaller, similar species of Genicanthus.
The rarity and cost of the peppermint and Pitcairn angelfish will ensure that these very rare fish only make it into the hands of very dedicated and capable saltwater aquarists. The Cook Islands hold a very special place in the collective of rare fish fanciers so it's very exciting to see Quality Marine continuing to invest in this unique south pacific location, and we can't wait to see what they'll bring in next.